Metal Vapor Chemistry Related to Molecular Metals
Part of the Nato Conference Series book series (NATOCS, volume 1)
Abstract
One of the apparent requirements for the production of new molecular metals is the use of "flat" molecules.1 Bulky three dimensional substituents do not allow formation of stacked molecular layers as found in the noteworthy example TTF-TCNQ. By studying metal atom (vapor) reactions with flat ligands, we anticipated the production of new two dimensional organometallics in the absence of normal three dimensional stabilizing ligands. The following types of metal — "flat ligand" complexes have been considered, and successfully synthesized. So far our results have progressed to the stage of doing the syntheses and elucidating the structural properties and chemistry of these species. Very little has been done to date regarding electrical properties of these molecules or their charge transfer complexes.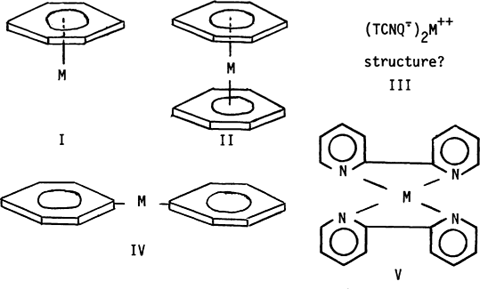 Keywords
North Dakota 58202 
Coordinative Unsaturation 
Arene Ligand 
Charge Transfer Salt 
Molecular Metal 
These keywords were added by machine and not by the authors. This process is experimental and the keywords may be updated as the learning algorithm improves.
Copyright information
© Plenum Press, New York 1979