Stalking the Elusive Cognitive Map
The Development of Children's Representations of Geographic Space
Part of the Human Behavior and Environment book series (HUBE, volume 3)
Abstract
Most mornings you manage to find your way from home to office. This "way-finding" typically is accomplished around diversions, occlusions, and traffic, without a compass or road map, and, most important, without getting lost. Similarly, most mornings our children get from home to school without getting lost, even though the routes that children take on their journeys often are not direct (see Figure 1). Both adults and school-age children, then, seem to be able to get from a starting point to a not-simultaneously-perceivable endpoint in large environments, without navigational aids and without getting lost. In contrast, in Western society we rarely perrnit 3- and 4-year-olds to make such a journey, in spite of various protections (e.g., street-crossing guards). Societal wisdom tells us that the very young child, unlike his slightly older sibling, has limited way-finding skills—that he cannot travel between two points unless the end can be seen from the outset.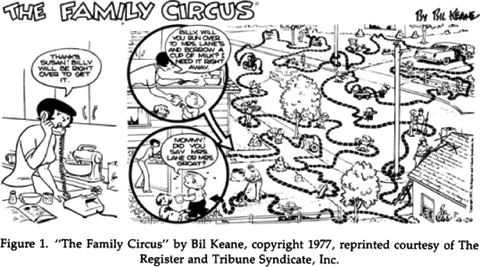 Keywords
Spatial Representation 
Spatial Knowledge 
Spatial Layout 
Experimental Child Psychology 
Egocentric Frame 
These keywords were added by machine and not by the authors. This process is experimental and the keywords may be updated as the learning algorithm improves.
Copyright information
© Plenum Press, New York 1978