Abstract
Intravital observations of the microcirculation in various skeletal muscles have revealed that the red cell velocity in the capillaries at the resting state is neither steady nor uniform. It often fluctuates rhythmically so that capillaries alternate in their extent of opening periodically (Cardon et al., 1970; Prewitt and Johnson, 1976; Lindbom et al., 1980). Fig. 1 shows an example of red cell velocity changes measured at a capillary in the rabbit tenuissimus muscle suffused with oxygenated Tyrode solution (Shibata et al., 1983). Under physiological conditions of the ambient oxygen tension (PO2, 30–50 mmHg) and pH (7.3–7.4), the frequency of cyclic velocity changes was in the range of 0.05 – 0.2 Hz which was slower than the respiration rate of the animal. Although the mechanism inducing such periodic velocity changes is not completely clear, it is obvious that this phenomenon directly affects the gaseous transport and other nutrient supply to the tissue. For instance, tissue PO2 in the skeletal muscle has been reported to fluctuate with a similar frequency (Whalen and Nair, 1967). Nevertheless, the physiological significance of this phenomenon in transcapillary substance exchange has not been well investigated yet.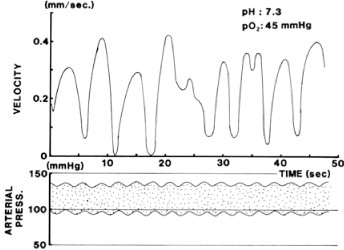 Keywords
Steady State Model 
Intermittent Flow 
Tissue Space 
Intercapillary Distance 
Perfuse Capillary Density 
These keywords were added by machine and not by the authors. This process is experimental and the keywords may be updated as the learning algorithm improves.
Copyright information
© Plenum Press, New York 1985