Abstract
Certain normal immune functions decline with age in humans, guinea pigs, hamsters, rats, and mice (Walford, 1969; Sigel and Good, 1972) ( ure 1). The onset, magnitude, and rate of decline, however, vary with the type of immune function and the species. It is clinically important that with a decrease in immunologic vigor, the incidence of infections, autoimmune and immune complex diseases, and cancer increases (Walford, 1969; Mackay, 1972; Good and Yunis, 1974) (Figure 2), as is the case in immunodeficient newborns and immunosuppressed adults (Fudenberg
et al
, 1971; Penn and Starzl, 1972; Good, 1975). What is not clear is whether the diseases compromise normal immune functions, or whether a decline in normal immune functions to threshold levels predisposes individuals to diseases. We favor the latter explanation because of the following observations: (a) the onset of decline in thymus-derived T-cell-dependent immune functions can occur as early as sexual maturity when the thymus begins to involute (Makinodan and Peterson, 1962), which is long before immunodeficiency diseases of the elderly are manifested; (b) immunodeficiency, wasting disease, amyloidosis, and autoimmunity in neonatally thymectomized mice and in genetically susceptible mice can be prevented, or at times even reversed, by reconstituting them with young but not old, syngeneic thymus or spleen grafts (Yunis
et al
, 1964; Fabris
et al.
, 1972); (c) adult humans subjected to immunosuppressive drug therapy are many times more vulnerable to cancer than are normal adults (Cerilli and Hatten, 1974); (d) patients with primary immunodeficiencies in which the immunity systems fail to develop normal vigor are vulnerable to autoimmunity, amyloidosis, and certain forms of cancer (Good and Yunis, 1974); and (e) cessation of immunosuppressive therapy following inadvertent transplantation of cancer along with renal transplant leads to the prompt rejection of the tumor and even of widely disseminated cancer (Zukoski
et al.
, 1970).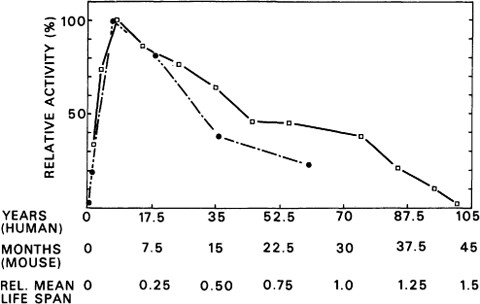 Keywords
Spleen Cell 
Aged Mouse 
Young Mouse 
Primary Immunodeficiency Disease 
Thymus Cell 
These keywords were added by machine and not by the authors. This process is experimental and the keywords may be updated as the learning algorithm improves.
Copyright information
© Plenum Publishing Corporation 1977