Abstract
Bond energies of the carbon-sulfur double bond in carbon disulfide or in carbon oxysulfide and the carbon-oxygen double bond in carbon dioxide are 128 and 192 kcal/mole, respectively. Since bond energies of general carbon-sulfur and carbon-oxygen single bonds are 65 and 85.5 kcal/mole respectively, there exists more than 40 kcal/mole of difference between carbon-sulfur and carbon-oxygen π-bond energies1. The difference is undoubtedly due to the low efficiency of 2p-3p π-overlapping in comparison with that of 2p-2p. Because of the inherent antibonding interactions, as shown in Fig.5.1, π-bonds from 2p and 3p orbitals are less favorable than from two 2p orbitals. The difference in bond energies of general carbon-carbon single and double bonds is 60–65 kcal/mole, which is comparable to that of carbon-sulfur bonding. This indicates that the resonance energy in a thiocarbonyl group is great enough to compensate for the unfavorable energies of 2p–3p π-overlapping. Note that no carbon-silicon double bond has been found yet in stable compounds.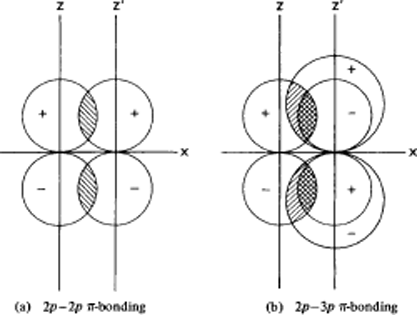 Keywords
Dimethyl Acetylene Dicarboxylate 
Oxygen Analogue 
Thione Form 
Thiocarbonyl Group 
Thiocarboxylic Acid 
These keywords were added by machine and not by the authors. This process is experimental and the keywords may be updated as the learning algorithm improves.
Copyright information
© Plenum Press, New York 1977