Abstract

Once you have a collection of observations from your environmental study, you should thoroughly examine the data in as many ways as possible and relevant. When the first widely available commercial statistical software packages came out in the 1960s, the emphasis was on statistical summaries of data, such as means, standard deviations, and measures of skew and kurtosis. It is still true that "a picture is worth a thousand words," and no amount of summary or descriptive statistics can replace a good graph to explain your data. John Tukey coined the acronym EDA, which stands for Exploratory Data Analysis. Helsel and Hirsch (1992), USEPA (2006a), and Millard et al. (2014) give a good overview of statistical and graphical methods for exploring environmental data. Cleveland (1993, 1994) and Chambers et al. (1983) are excellent general references for methods of graphing data. This chapter discusses the functions available in EnvStats for producing summary statistics and graphs to describe and look at environmental data.
Keywords
Reference Area

Guidance Document

Strip Chart

Fitted Regression Line

Quantile Plot
These keywords were added by machine and not by the authors. This process is experimental and the keywords may be updated as the learning algorithm improves.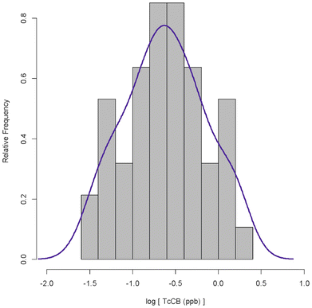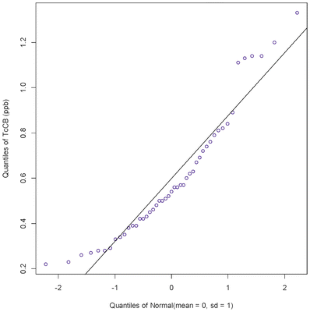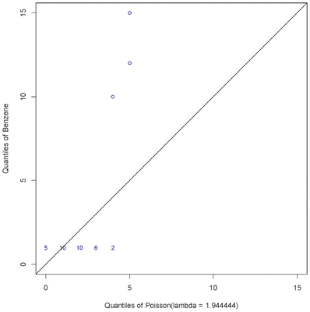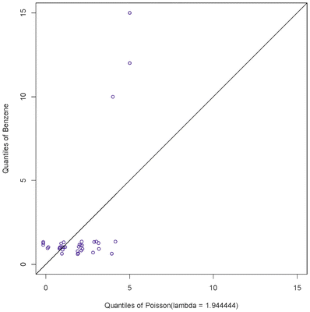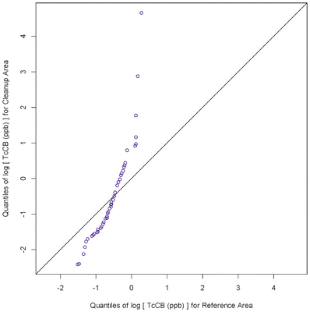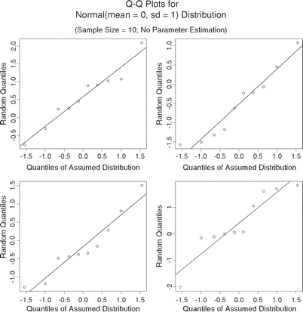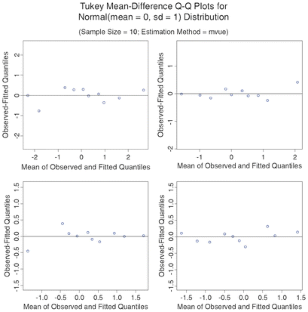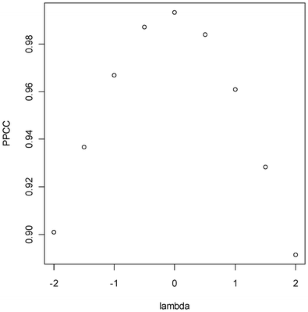 References
Berthouex, P.M., and L.C. Brown. (2002). Statistics for Environmental Engineers. Second Edition. Lewis Publishers, Boca Raton, FL.

Box, G.E.P., and D.R. Cox. (1964). An Analysis of Transformations (with Discussion). Journal of the Royal Statistical Society, Series B 26(2), 211−252.

Chambers, J.M., W.S. Cleveland, B. Kleiner, and P.A. Tukey. (1983). Graphical Methods for Data Analysis. Duxbury Press, Boston, MA, 395 pp.

Cleveland, W.S. (1993). Visualizing Data. Hobart Press, Summit, NJ, 360 pp.

Cleveland, W.S. (1994). The Elements of Graphing Data. Revised Edition. Hobart Press, Summit, NJ, 297 pp.

Draper, N., and H. Smith. (1998). Applied Regression Analysis. Third Edition. John Wiley & Sons, New York.

Gilbert, R.O. (1987). Statistical Methods for Environmental Pollution Monitoring. Van Nostrand Reinhold, New York, 320 pp.

Helsel, D.R., and R.M. Hirsch. (1992). Statistical Methods in Water Resources Research. Elsevier, New York, 522 pp.

Hoaglin, D.C. (1988). Transformations in Everyday Experience. Chance 1, 40−45.

Johnson, N.L., S. Kotz, and A.W. Kemp. (1992). Univariate Discrete Distributions. Second Edition. John Wiley & Sons, New York, 565 pp.

Johnson, R.A., and D.W. Wichern. (2007). Applied Multivariate Statistical Analysis. Sixth Edition. Prentice-Hall, Englewood Cliffs, NJ.

Michael, J.R., and W.R. Schucany. (1986). Analysis of Data from Censored Samples. In D'Agostino, R.B., and M.A. Stephens, eds. Goodness-of-Fit Techniques. Marcel Dekker, New York, 560 pp., Chapter 11, 461−496.

Millard, S.P., P. Dixon, and N.K. Neerchal. (2014). Environmental Statistics with R. CRC Press, Boca Raton, Florida.

Nelson, W. (1982). Applied Life Data Analysis. John Wiley & Sons, New York, 634 pp.

Shumway, R.H., A.S. Azari, and P. Johnson. (1989). Estimating Mean Concentrations under Transformations for Environmental Data with Detection Limits. Technometrics 31(3), 347−356.

USEPA. (1992c). Statistical Analysis of Ground-Water Monitoring Data at RCRA Facilities: Addendum to Interim Final Guidance. Office of Solid Waste, U.S. Environmental Protection Agency, Washington, D.C. Currently available as part of: Statistical Training Course for Ground-Water Monitoring Data Analysis, EPA/530-R-93-003, which may be obtained through the RCRA Docket (202/260-9327).

USEPA. (1994a). Guidance for the Data Quality Objectives Process, EPA QA/G-4. EPA/600/R-96/005. Office of Research and Development, U.S. Environmental Protection Agency, Washington, D.C.

USEPA. (2006a). Data Quality Assessment: Statistical Methods for Practitioners, EPA QA/G-9S. EPA/240/B-06/003, February 2006. Office of Environmental Information, U.S. Environmental Protection Agency, Washington, D.C.

USEPA. (2009). Statistical Analysis of Groundwater Monitoring Data at RCRA Facilities: Unified Guidance. EPA 530-R-09-007, March 2009. Office of Resource Conservation and Recovery, Program Implementation and Information Division, U.S. Environmental Protection Agency, Washington, D.C.

van Belle, G., L.D. Fisher, P.J. Heargerty, and T. Lumley. (2004). Biostatistics: A Methodology for the Health Sciences. Second Edition. John Wiley & Sons, New York.

Wilk, M.B., and R. Gnanadesikan. (1968). Probability Plotting Methods for the Analysis of Data. Biometrika 55, 1−17.

Zar, J.H. (2010). Biostatistical Analysis. Fifth Edition. Prentice-Hall, Upper Saddle River, NJ.
Copyright information

© 2013 Springer Science+Business Media New York
About this chapter
Cite this chapter
Millard, S.P. (2013). Looking at Data. In: EnvStats. Springer, New York, NY. https://doi.org/10.1007/978-1-4614-8456-1_3