Abstract
Across mainland Southeast Asia, rock art sites often coexist with sacred shrines and temples of Buddhism and Hinduism. We examine the coexistence of rock art with religious shrines in Myanmar, Thailand, Cambodia, and Laos. The rock art of Southeast Asia has rarely been directly dated, but most of them are thought to be from the prehistoric period. The introduction of Buddhism and Hinduism in the early Christian Era (CE) reconfigured these painted landscapes for their own use, where they are still in use today, either in harmony or as indifference to the earlier rock art. Is this coexistence confluence or coincidence? We discuss the various commonalities and differences among these sites and suggest that these sites may always have been regarded as "powerful" or "spiritual" sites in one way or another.
Keywords
Religious Activity

Stone Tool

Sandstone Formation

Rock Shelter

Buddha Statue
These keywords were added by machine and not by the authors. This process is experimental and the keywords may be updated as the learning algorithm improves.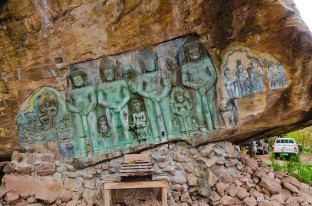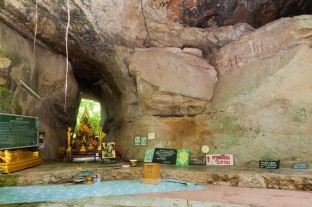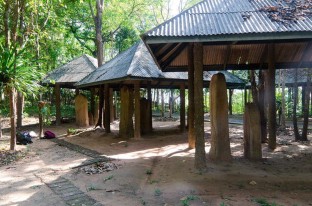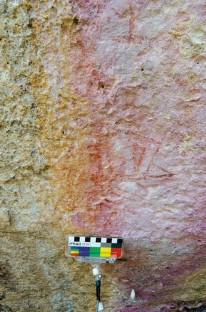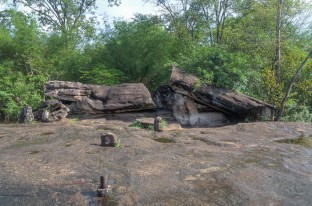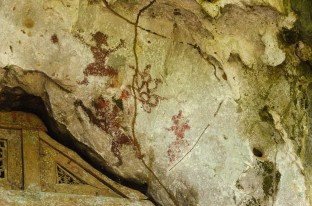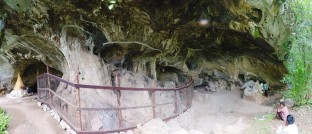 References
Aubert, M., O'Connor, S., McCulloch, M., Mortimer, G., Watchman, A., & Richer-Laflèche, M. (2007). Uranium-series dating rock art in East Timor. Journal of Archaeological Science, 34, 991–996.

Aung, T. (1971). The "Neolithic" culture of the Padah-lin Caves. Asian Perspectives, 14, 123–133.

Barnes, G. L. (1999). Buddhist landscapes of East Asia. In W. Ashmore & A. B. Knapp (Eds.), Archaeologies of landscape: Contemporary perspectives. Malden, MA: Blackwell.

Boulbet, J. (1979). Le Phnom Kulen Et Sa Région. Paris: Ecole Francaise D'Extreme Orient.

Faulstich, P. (1988). From ashes to gravestones: The Charcoal drawings of Gua Badak, Malaysia. In C. Pearson & B. K. Swartz (Eds.), Rock art and posterity. Melbourne, VIC: Australian Rock Art Association.

Garnier, F. (1873). Voyage d'exploration en Indo-Chine, Le Tour du Monde. Paris: Hachette et Cie.

Heng, T. (2011). Kulen Mountain Rock Art: An Initial Assessment. SPAFA Journal, 21, 29–34.

Higham, C., & Thosarat, R. (2012). Early Thailand. Bangkok: River Books.

Jessup, H. I. (2008). The rock shelter of Peuong Kumnu and Visnu Images on Phnom Kulen. In E. A. Bacus, I. C. Glover, & P. D. Sharrock (Eds.), Interpreting Southeast Asia's past: Monument, image and text. Singapore: NUS Press.

Miksic, J. N. (2007). Historical dictionary of Southeast Asia. Lanham, MA: Scarecrow Press.

Mokhtar, S., & Taçon, P. S. C. (2011). The recent rock drawings of Lenggong Valley, Perak, Malaysia. Antiquity, 85, 459–475.

Moore, E. H. (2007). Early landscapes of Myanmar. Bangkok: River Books.

Munier, C. (1998). Sacred rocks and Buddhist caves in Thailand. Bangkok: White Lotus.

Stark, M. T. (2004). Pre-Angkorian and Angkorian Cambodia. In I. Glover & P. Bellwood (Eds.), Southeast Asia: From prehistory to history. London: Routledge.

Sukkham, A., Taçon, P. S. C., & Tan, N. H. (2011). Rock art of Phrayanaga (Viking) cave, Southern Thailand: The illustration of ancient vessels. Asia-Pacific Regional Conference on Underwater Cultural Heritage, 8–12 November 2011, Manila, Philippines. The MUA Collection.

Taçon, P. S. C. (2011). Kulen Mountain rock art: An initial assessment and report to APSARA, Siem Reap, Cambodia. Gold Coast, QLD: Griffith University.

Taçon, P. S. C., Aung, D. Y. Y., & Thorne, A. (2004). Myanmar prehistory: Rare rock-markings revealed. Archaeology in Oceania, 39, 138–139.

Taçon, P. S. C., & Tan, N. H. (2012). Recent rock art research in Southeast Asia and Southern China. In P. Bahn & N. Franklin (Eds.), Rock art news of the World IV (pp. 207–214). Oxford: Oxbow Books.
Acknowledgements
The bulk of the data gathered for this research was funded by the Australian National University as part of Tan's Ph.D. research. Griffith University partly funded Taçon's research in Cambodia and Thailand. Several government agencies have been instrumental in facilitating the research, namely, the Apsara Authority (Cambodia); the National Research Council of Thailand and the Fine Arts Department (Thailand); the Ministry of Information, Culture and Tourism (Laos); and the Department of Archaeology, National Museum and Library of the Ministry of Culture (Myanmar). Thanks also to Jutinach Bowonsachoti, Gem Boyle, David Brotherson, Ea Darith, Nicholas Gani, Heng Piphal, Heng Than U Hla Shwe, Im Sokrithy, Khieu Chan, Lagh Udam Ransei, U Man Thit Nien, Amphone Monephachan, Muong Chan Raksmey, Sakada Sakhouen Duangpond Kanya Singhasen, Atthasit Sukkham, Watinee Tanompolkrang, Sulatt Win, Charmaine Wong, the Robert Christie Centre of the University of Sydney, and the Archaeology Unit of the Institute of Southeast Asian Studies.
Copyright information
© 2014 Springer Science+Business Media New York
About this chapter
Cite this chapter
Tan, N.H., Taçon, P.S.C. (2014). Rock Art and the Sacred Landscapes of Mainland Southeast Asia. In: Gillette, D., Greer, M., Helene Hayward, M., Breen Murray, W. (eds) Rock Art and Sacred Landscapes. One World Archaeology, vol 8. Springer, New York, NY. https://doi.org/10.1007/978-1-4614-8406-6_5