Abstract
Women who have a high-risk family history of breast or ovarian cancer or carry deleterious genetic mutations develop these malignancies at a higher rate and younger age than the general population. Prophylactic interventions—including tamoxifen use and bilateral salpingo-oophorectomy—can reduce the risk of developing breast and ovarian cancer but are undertaken during reproductive years and may compromise young patients' ability to have children. Thus, these young women—called "previvors"—face difficult decisions regarding the balance between preventive treatment and future childbearing and breastfeeding. Oncofertility may particularly benefit this group of women, by allowing them to take a proactive approach that integrates cancer prevention and fertility preservation concerns. In this chapter, we discuss when the issue of fertility might be raised during a high-risk consultation. We also present two case examples illustrating the importance of discussing fertility preservation with patients at high risk for developing breast or ovarian cancer.
Keywords
Ovarian Cancer

Lynch Syndrome

Preimplantation Genetic Diagnosis

BRCA Mutation Carrier

Fertility Preservation
These keywords were added by machine and not by the authors. This process is experimental and the keywords may be updated as the learning algorithm improves.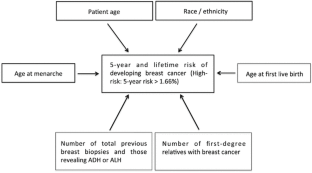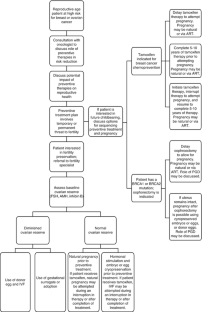 References
Antoniou A, Pharoah PD, Narod S, et al. Average risks of breast and ovarian cancer associated with BRCA1 or BRCA2 mutations detected in case Series unselected for family history: a combined analysis of 22 studies. Am J Hum Genet. 2003;72:1117–30.

National Cancer Institute. PDQ genetics of breast and ovarian cancer. Bethesda, MD: National Cancer Institute; 2012.

Chen S, Parmigiani G. Meta-analysis of BRCA1 and BRCA2 penetrance. J Clin Oncol. 2007;25:1329–33.

Lindor NM, McMaster ML, Lindor CJ, Greene MH. Concise handbook of familial cancer susceptibility syndromes—second edition. J Natl Cancer Inst Monogr. 2008;1–93.

Pharoah PD, Day NE, Duffy S, Easton DF, Ponder BA. Family history and the risk of breast cancer: a systematic review and meta-analysis. Int J Cancer. 1997;71:800–9.

Stratton JF, Pharoah P, Smith SK, Easton D, Ponder BA. A systematic review and meta-analysis of family history and risk of ovarian cancer. Br J Obstet Gynaecol. 1998;105:493–9.

Hartmann LC, Sellers TA, Frost MH, et al. Benign breast disease and the risk of breast cancer. N Engl J Med. 2005;353:229–37.

Ashbeck EL, Rosenberg RD, Stauber PM, Key CR. Benign breast biopsy diagnosis and subsequent risk of breast cancer. Cancer Epidemiol Biomarkers Prev. 2007;16:467–72.

American Cancer Society. Breast cancer facts & figures 2011–2012. Atlanta, GA: American Cancer Society; 2011.

Dunn BK, Ford LG. Breast cancer prevention: results of the National Surgical Adjuvant Breast and Bowel Project (NSABP) breast cancer prevention trial (NSABP P-1: BCPT). Eur J Cancer. 2000;36 Suppl 4:S49–50.

Davies C, Pan H, Godwin J, et al. Long-term effects of continuing adjuvant tamoxifen to 10 years versus stopping at 5 years after diagnosis of oestrogen receptor-positive breast cancer: ATLAS, a randomised trial. Lancet. 2013;381(9869):805–16.

Abusief ME, Missmer SA, Ginsburg ES, Weeks JC, Partridge AH. The effects of paclitaxel, dose density, and trastuzumab on treatment-related amenorrhea in premenopausal women with breast cancer. Cancer. 2010;116:791–8.

Port ER, Montgomery LL, Heerdt AS, Borgen PI. Patient reluctance toward tamoxifen use for breast cancer primary prevention. Ann Surg Oncol. 2001;8:580–5.

Ruddy K, Mayer E, Partridge A. Patient adherence and persistence with oral anticancer treatment. CA Cancer J Clin. 2009;59:56–66.

McCowan C, Shearer J, Donnan PT, et al. Cohort study examining tamoxifen adherence and its relationship to mortality in women with breast cancer. Br J Cancer. 2008;99:1763–8.

Hulvat MC, Jeruss JS. Fertility preservation options for young women with breast cancer. Curr Opin Obstet Gynecol. 2011;23:174–82.

Bast Jr RC, Hennessy B, Mills GB. The biology of ovarian cancer: new opportunities for translation. Nat Rev Cancer. 2009;9:415–28.

Rebbeck TR, Lynch HT, Neuhausen SL, et al. Prophylactic oophorectomy in carriers of BRCA1 or BRCA2 mutations. N Engl J Med. 2002;346:1616–22.

Narod SA, Risch H, Moslehi R, et al. Oral contraceptives and the risk of hereditary ovarian cancer. Hereditary Ovarian Cancer Clinical Study Group. N Engl J Med. 1998;339:424–8.

Campfield Bonadies D, Moyer A, Matloff ET. What I wish I'd known before surgery: BRCA carriers' perspectives after bilateral salipingo-oophorectomy. Fam Cancer. 2011;10:79–85.

Cullinane CA, Lubinski J, Neuhausen SL, et al. Effect of pregnancy as a risk factor for breast cancer in BRCA1/BRCA2 mutation carriers. Int J Cancer. 2005;117:988–91.

Kotsopoulos J, Librach CL, Lubinski J, et al. Infertility, treatment of infertility, and the risk of breast cancer among women with BRCA1 and BRCA2 mutations: a case-control study. Cancer Causes Control. 2008;19:1111–9.

Jeruss JS. Discussing fertility preservation with breast cancer patients. Cancer Treat Res. 2010;156:461–6.

Gail MH, Brinton LA, Byar DP, et al. Projecting individualized probabilities of developing breast cancer for white females who are being examined annually. J Natl Cancer Inst. 1989;81:1879–86.

Braems G, Denys H, De Wever O, Cocquyt V, Van den Broecke R. Use of tamoxifen before and during pregnancy. Oncologist. 2011;16:1547–51.

Hershman DL, Kushi LH, Shao T, et al. Early discontinuation and nonadherence to adjuvant hormonal therapy in a cohort of 8,769 early-stage breast cancer patients. J Clin Oncol. 2010;28:4120–8.

Grunfeld EA, Hunter MS, Sikka P, Mittal S. Adherence beliefs among breast cancer patients taking tamoxifen. Patient Educ Couns. 2005;59:97–102.

Gradishar WJ, Hellmund R. A rationale for the reinitiation of adjuvant tamoxifen therapy in women receiving fewer than 5 years of therapy. Clin Breast Cancer. 2002;2:282–6.

Delozier T, Switsers O, Genot JY, et al. Delayed adjuvant tamoxifen: ten-year results of a collaborative randomized controlled trial in early breast cancer (TAM-02 trial). Ann Oncol. 2000;11:515–9.

Love RR, Olsen MR, Havighurst TC. Delayed adjuvant tamoxifen in postmenopausal women with axillary node-negative breast cancer: mortality over 10 years. J Natl Cancer Inst. 1999;91:1167–8.

Practice Committees of American Society for Reproductive Medicine; Society for Assisted Reproductive Technology. Mature oocyte cryopreservation: a guideline. Fertil Steril. 2012;99(1):37–43.

Quinn GP, Vadaparampil ST, Tollin S, et al. BRCA carriers' thoughts on risk management in relation to preimplantation genetic diagnosis and childbearing: when too many choices are just as difficult as none. Fertil Steril. 2010;94:2473–5.

Quinn G, Vadaparampil S, Wilson C, et al. Attitudes of high-risk women toward preimplantation genetic diagnosis. Fertil Steril. 2009;91:2361–8.

Vadaparampil ST, Quinn GP, Knapp C, Malo TL, Friedman S. Factors associated with preimplantation genetic diagnosis acceptance among women concerned about hereditary breast and ovarian cancer. Genet Med. 2009;11:757–65.
Acknowledgements
This work was supported by the Oncofertility Consortium NIH 5UL1DE019587 and the Specialized Cooperative Centers Program in Reproduction and Infertility Research NIH U54HD076188.
Copyright information
© 2014 Springer Science+Business Media New York
About this chapter
Cite this chapter
Llarena, N.C., Jeruss, J.S. (2014). Fertility Communication and High-Risk Patients. In: Woodruff, T., Clayman, M., Waimey, K. (eds) Oncofertility Communication. Springer, New York, NY. https://doi.org/10.1007/978-1-4614-8235-2_5
DOI: https://doi.org/10.1007/978-1-4614-8235-2_5

Published:

Publisher Name: Springer, New York, NY

Print ISBN: 978-1-4614-8234-5

Online ISBN: 978-1-4614-8235-2

eBook Packages: MedicineMedicine (R0)