Abstract

The coupling of upstream oxidative processes (glycolysis, beta-oxidation, CAC turnover) to mitochondrial oxidative phosphorylation (OXPHOS) under the driving conditions of energy demand by the cell results in the liberation of free energy as ATP. Perturbations in glycolytic CAC or OXPHOS can result in pathology or cell death. To better understand whole body energy expenditure during chronic ketosis, we used a diet-induced rat model of ketosis to determine if high-fat-carbohydrate-restricted "ketogenic" diet results in changes in total energy expenditure (TEE). Consistent with previous reports of increased energy expenditure in mice, we hypothesized that rats fed ketogenic diet for 3 weeks would result in increased resting energy expenditure due to alterations in metabolism associated with a "switch" in energy substrate from glucose to ketone bodies. The rationale is ketone bodies are a more efficient fuel than glucose. Indirect calorimetric analysis revealed a moderate increase in VO2 and decreased VCO2 and heat with ketosis. These results suggest ketosis induces a moderate uncoupling state and less oxidative efficiency compared to glucose oxidation.
Keywords
Energy Expenditure

Ketone Body

Ketogenic Diet

Respiratory Quotient

Citric Acid Cycle
These keywords were added by machine and not by the authors. This process is experimental and the keywords may be updated as the learning algorithm improves.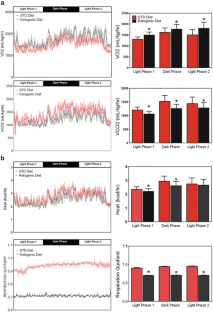 References
Puchowicz MA, Zechel J, Valerio J et al (2008) Neuroprotection in diet induced ketotic rat brain following focal ischemia. J Cereb Blood Flow Metab 28(12):1907–1916

Tagliabue A, Bertoli S, Trentani C, Borrelli P, Veggiotti P (2012) Effects of the ketogenic diet on nutritional status, resting energy expenditure, and substrate oxidation in patients with medically refractory epilepsy: a 6-month prospective observational study. Clin Nutr 31(2):246–249

Jornayvaz F, Jurczak M, Lee H et al (2010) A high-fat, ketogenic diet causes hepatic insulin resistance in mice, despite increasing energy expenditure and preventing weight gain. Am J Physiol Endocrinol Metab 299(5):E808–E815

Kennedy A, Pissios P, Otu H et al (2007) A high-fat, ketogenic diet induces a unique metabolic state in mice. Am J Physiol Endocrinol Metab 292(6):E1724–E1739

Willi S, Oexmann M, Wright N, Collop N, Key LL Jr (1998) The effects of a high-protein, low-fat, ketogenic diet on adolescents with morbid obesity: body composition, blood chemistries, and sleep abnormalities. Pediatrics 101(1 Pt 1):61–67

McCabe B, Bederman I, Croniger C, Millward C, Norment C, Previs S (2006) Reproducibility of gas chromatography-mass spectrometry measurements of 2H labeling of water: application for measuring body composition in mice. Anal Biochem 350(2):171–176

Veech R (2004) The therapeutic implications of ketone bodies: the effects of ketone bodies in pathological conditions: ketosis, ketogenic diet, redox states, insulin resistance, and mitochondrial metabolism. Prostaglandins Leukot Essent Fatty Acids 70(3):309–319

Sullivan P, Rippy N, Dorenbos K, Concepcion R, Agarwal A, Rho J (2004) The ketogenic diet increases mitochondrial uncoupling protein levels and activity. Ann Neurol 55(4):576–580

Li Q, Tomcik K, Zhang S, Puchowicz MA, Zhang GF (2012) Dietary regulation of catabolic disposal of 4-hydroxynonenal analogs in rat liver. Free Radic Biol Med 52(6):1043–1053

Xu K, LaManna JC, Puchowicz MA (2012) Neuroprotective properties of ketone bodies. Adv Exp Med Biol 737:97–102
Acknowledgments

This research has been supported by the National Institutes of Health, Mouse Metabolic Phenotyping Center, MMPC U24 DK76174.
Copyright information

© 2013 Springer Science+Business Media New York
About this paper
Cite this paper
Prince, A., Zhang, Y., Croniger, C., Puchowicz, M. (2013). Oxidative Metabolism: Glucose Versus Ketones. In: Van Huffel, S., Naulaers, G., Caicedo, A., Bruley, D.F., Harrison, D.K. (eds) Oxygen Transport to Tissue XXXV. Advances in Experimental Medicine and Biology, vol 789. Springer, New York, NY. https://doi.org/10.1007/978-1-4614-7411-1_43