Abstract
John Launer presents 'narrative-based supervision' (NBS) as a method for discussing complex and challenging medical cases with peers and trainees. NBS is part of a comprehensive approach to family medicine developed in the United Kingdom in the last twenty years called narrative-based primary care. Narrative-based primary care regards all conversations with patients or between professionals as collaborations for creating useful patient narratives. Almost every skill that makes for an effective patient encounter is also applicable for colleagues engaging with one another. NBS is used in one-to-one conversations with peers and learners, in small groups, and in large groups with or without facilitators. This chapter describes the origin and principles of narrative-based primary care, their application to clinical encounters, the skills involved (with numerous clinician-patient and clinician-clinician vignettes), and how these skills are used in peer supervision to improve caregiving. The companion chapter is 'Training in Narrative-Based Supervision: Conversations Inviting Change.'
Keywords
Uterine Cancer

Narrative Approach

Supervision Group

Narrative Medicine

Narrative Interview
These keywords were added by machine and not by the authors. This process is experimental and the keywords may be updated as the learning algorithm improves.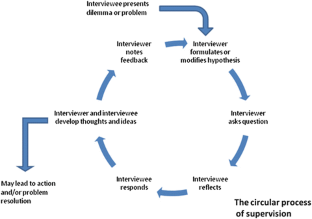 References
Bateson, G. (1972). Steps to an ecology of mind. New York: Ballantine.

Berger, P., & Luckmann, T. (1966). The social construction of reality. London: Allen Lane.

Brody, H. (1994). 'My story is broken: Can you help me fix it?' Medical ethics and the joint construction of narrative. Literature and Medicine, 13, 79–92.

Bruner, J. (1990). Acts of meaning. Cambridge: Harvard University Press.

Cecchin, G. (1987). Hypothesising, circularity and neutrality revisited: An invitation to curiosity. Family Process, 26, 405–413.

Charon, R. (2001) The patient–physician relationship. Narrative medicine: a model for empathy, reflection, profession and trust. Journal of the American Medical Association, 286, 1897–902.

Charon, R. (2006). Narrative medicine: Honoring the stories of illness. Oxford: Oxford University Press.

Frank, A. (2001). Experiencing illness through storytelling. In S. Tooms (Ed.), Handbook of phenomenology and medicine. New York: Springer.

Gabbay, J., & LeMay, A. (2010). Practice-based evidence for healthcare: Clinical mindlines. London: Routledge.

Gergen, K., & Davis, K. (Eds.). (1985). The social construction of the person. New York: Springer.

Gergen, K., & McNamee, S. (1992). Therapy as social construction. London: Sage.

Gosling, R., & Turquet, P. (1964). The training of general practitioners. In R. Gosling, D. Miller, et al. (Eds.), The use of small groups in training. London: Codicote.

Greenhalgh, T., & Hurwitz, B. (1998). Narrative-based medicine: Dialogue and discourse in clinical practice. London: BMJ Books.

Halpern, H., & McKimm, J. (2010). Supervision. In J. McKimm, & T. Swanwick (Eds.), Clinical teaching made easy. London: Quay Books. http://www.faculty.londondeanery.ac.uk/e-learning/supervision/the-use-of-questions. Accessed 28 Mar 2012.

Harre, R. (1986). The social construction of emotions. Oxford: Blackwell.

Hunter, K. M. (1991). Doctors' stories: The narrative structure of medical knowledge. Princeton: Princeton University Press.

Kalitzkus, V., & Matthiessen, P. (2009). Narrative-based medicine: Potential, practice and pitfalls. The Permanente Journal 13, 80–6. http://xnet.kp.org/permanentejournal/winter09/narrativemedicine.html. Accessed 28 Mar 2012.

Launer, J. (1995). A social constructionist approach to family medicine. Family Systems Medicine, 13, 379–389.

Launer, J. (1996). 'You're the doctor, doctor!' Is social constructionism a helpful stance in general practice consultations? Journal of Family Therapy, 18, 255–267.

Launer, J. (2002). Narrative-based primary care: A practical guide. Abingdon: Radcliffe.

Launer, J. (2006). New stories for old: Narrative-based primary care in the United Kingdom. Family Systems and Health, 24, 336–344.

Launer, J., & Halpern, H. (2006). Reflective practice and clinical supervision: An approach to promoting clinical supervision among general practitioners. Work Based Learning in Primary Care, 4, 171–173.

Launer, J., & Lindsey, C. (1997). Training for systemic general practice: A new approach from the Tavistock Clinic. The British Journal of General Practice: The Journal of the Royal College of General Practitioners, 47, 543–546.

Launer, J., Blake, S., & Daws, D. (2005). Reflecting on reality: Psychotherapists at work in primary care. London: Karnac.

London Deanery. Supervision skills for clinical teachers. http://www.faculty.londondeanery.ac.uk/supervisionskills-for-clinical-teachers. Accessed 28 Mar 2012.

Miller, L. (2012). Medical conversations inviting change. Context, 19, 16–19.

Palazzoli, S. M., Boscolo, L., Cecchin, G., et al. (1980). Hypothesising-circularity- neutrality: Three guidelines for the conductor of the session. Family Process, 19, 3–12.

Ricoeur, P. (1984). Time and narrative (Vol. 1). Chicago: University of Chicago Press.

Tomm, K. (1988). Interventive interviewing: Part III. Intending to ask lineal, circular, strategic or reflexive questions? Family Process, 27, 1–15.
Copyright information
© 2013 Springer Science+Business Media New York
About this chapter
Cite this chapter
Launer, J. (2013). Narrative-Based Supervision. In: Sommers, L., Launer, J. (eds) Clinical Uncertainty in Primary Care. Springer, New York, NY. https://doi.org/10.1007/978-1-4614-6812-7_7
DOI: https://doi.org/10.1007/978-1-4614-6812-7_7

Published:

Publisher Name: Springer, New York, NY

Print ISBN: 978-1-4614-6811-0

Online ISBN: 978-1-4614-6812-7

eBook Packages: MedicineMedicine (R0)