Abstract
Infantile acropustulosis is an inflammatory, neutrophilic dermatosis of the palms and soles, seen primarily in children in the first 1–2 years of life. The diagnosis is usually clinical—identified by recurrent crops of vesicopustules developing over the palms and soles extending up over the dorso-ventral margin and wrist, but not onto the rest of the body. Lesions can be triggered by scabies or hand-foot-mouth disease. Identification of the former and therapy of the same may be necessary. Therapy traditionally involves usage of mid- to high-potency topical corticosteroids. Systemic dapsone has been used, but dosages are limited by hemolysis and careful G6PD screening is needed, given that deficiency is an X-linked recessive disorder in Black, Middle Eastern, and Asian children. Resolution by age 3 is generally universal.
Keywords
Infantile acropustulosis

Inflammatory

Neutrophilic dermatosis

Palms

Soles

Vesicopustules

Dorso-ventral margin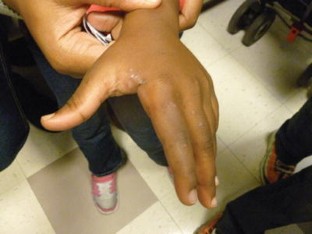 References
Newton JA, Salisbury J, Marsden A, McGibbon DH. Acropustulosis of infancy. Br J Dermatol. 1986;115:735–9.

Jarratt M, Ramsdell W. Infantile acropustulosis. Arch Dermatol. 1979;115:834–6.

Laude TA. Skin disorders in black children. Curr Opin Pediatr. 1996;8:381–5.

Mancini AJ, Frieden IJ, Paller AS. Infantile acropustulosis revised: history of scabies and response to topical corticosteroids. Pediatr Dermatol. 1998;15:337–41.

Lowy G, Serapião CJ, Oliveira MM. Childhood acropustulosis. A study of 10 cases. Med Cutan Ibero Lat Am. 1986;14:171–6.

Palungwachira P. Infantile acropustulosis. Australas J Dermatol. 1989;30:97–100.

Jennings JL, Burrows WM. Infantile acropustulosis. J Am Acad Dermatol. 1983;9:733–8.

Good LM, Good TJ, High WA. Infantile acropustulosis in internationally adopted children. J Am Acad Dermatol. 2011;65:763–71.

Vignon-Pennamen MD, Wallach D. Infantile acropustulosis. A clinicopathologic study of six cases. Arch Dermatol. 1986;122(10):1155–60.

Falanga V. Infantile acropustulosis with eosinophilia. J Am Acad Dermatol. 1985;13:826–8.

McFadden N, Falk ES. Infantile acropustulosis. Cutis. 1985;36:49–51.

Namba C, Murakami M, Hanakawa Y, Tohyama M, Shirakata Y, Tauchi H, Sayama K. Infantile generalized pustular psoriasis: Successful disease control with intermittent etretinate. J Dermatol. 2014;41:403–6.

Minkis K, Aksentijevich I, Goldbach-Mansky R, Magro C, Scott R, Davis JG, Sardana N, Herzog R. Interleukin 1 receptor antagonist deficiency presenting as infantile pustulosis mimicking infantile pustular psoriasis. Arch Dermatol. 2012;148:747–52.

Kahn G, Rywlin AM. Acropustulosis of infancy. Arch Dermatol. 1979;115:831–3.

Braun-Falco M, Stachowitz S, Schnopp C, Ring J, Abeck D. Infantile acropustulosis successfully controlled with topical corticosteroids under damp tubular retention bandages. Acta Derm Venereol. 2001;81:140–1.

Kimura M, Higuchi T, Yoshida M. Infantile acropustulosis treated successfully with topical maxacalcitol. Acta Derm Venereol. 2011;91:363–4.
Copyright information
© 2015 Springer Science+Business Media New York
About this chapter
Cite this chapter
Silverberg, N.B. (2015). Infantile Acropustulosis. In: Silverberg, N., Durán-McKinster, C., Tay, YK. (eds) Pediatric Skin of Color. Springer, New York, NY. https://doi.org/10.1007/978-1-4614-6654-3_36
DOI: https://doi.org/10.1007/978-1-4614-6654-3_36

Published:

Publisher Name: Springer, New York, NY

Print ISBN: 978-1-4614-6653-6

Online ISBN: 978-1-4614-6654-3

eBook Packages: MedicineMedicine (R0)