Abstract

In this paper, the effect of piezoelectric shunt damping (PSD) on chatter vibrations in turning process is studied. Chatter is a self-excited type of vibration that develops during machining due to process-structure dynamic interactions resulting in modulated chip thickness. Chatter is an important problem, since it results in poor surface quality, reduced productivity and reduced tool life. The regenerative chatter results from phase differences between two subsequent passes of the cutting tool and occurs earlier than mode coupling chatter in most cases. In regenerative chatter theory, stability limit in the cutting process is inversely proportional to the negative real part of frequency response function (FRF) of the cutting tool-workpiece assembly. If the negative real part of the FRF at the cutting point can be decreased, depth of cut, in other words productivity rates, will increase. In piezoelectric shunt damping method, an electrical impedance is connected to a piezoelectric transducer which is bonded to the main structure. In this study, resistive – inductive – capacitive shunt circuit is used, whose elements are optimized with genetic algorithm to minimize the real part of the FRF for certain target frequencies. Afterwards, the effect of the optimized piezoelectric shunt damping on the absolute stability limit of the cutting process is investigated.
Keywords
Chatter

Absolute stability limit

Piezoelectric shunt damping

Genetic algorithm

Turning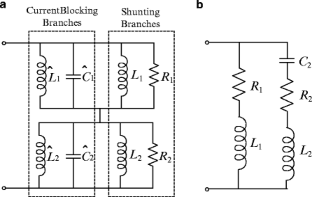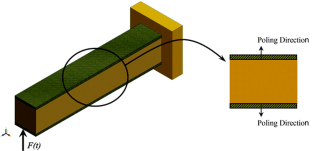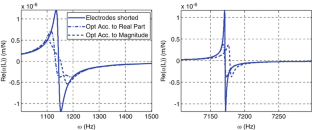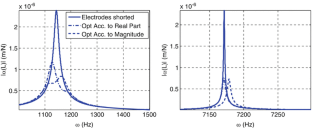 References
Tobias SA (1965) Machine tool vibration. Wiley, New York, pp 143–337

Tlusty J (2000) Manufacturing processes and equipment. Prentice Hall, Upper Saddle River, pp 559–579

Hagood NW, von Flotow A (1991) Damping of structural vibrations with piezoelectric materials and passive electrical networks. J Sound Vib 146(2):243–268

Wu SY (1998) Method for multiple mode shunt damping of structural vibration using a single PZT transducer. In: Proceedings of the SPIE symposium on smart structures and materials – smart structures and intelligent systems, San Diego, pp 159–167

Wu SY (1998) Piezoelectric shunts for simultaneous vibration reduction and damping of multiple vibration modes, U.S. patent 5,783,898

Behrens S, Moheimani SOR, Fleming AJ (2003) Multiple mode current flowing passive piezoelectric shunt controller. J Sound Vib 266(5): 929–942

Fleming AJ, Moheimani SOR, Behrens S (2003) Reducing the inductance requirements of piezoelectric shunt damping circuit. Smart Mater Struct 12(1):57–64

Hollkamp JJ (1994) Multimodal passive vibration suppression with piezoelectric materials and resonant shunts. J Intell Mater Syst Struct 5:49–57

Moheimani SOR, Fleming AJ (2006) Piezoelectric transducer for vibration control and damping. Springer, Berlin, pp 73–92

Erturk A, Inman DJ (2008) Piezoelectric shunt damping for chatter suppression in machining processes In: Proceedings of the ISMA 2008 international conference on noise and vibration engineering, Leuven

Erturk A, Inman DJ (2011) Piezoelectric energy harvesting, Wiley, Chichester, pp 49–97

The MathWorks, Inc., (2012) Optimization toolbox user's guide, version 6.2, Natick
Acknowledgements

The authors would like to thank Dr. Alper Erturk for his contribution in the selection of this research topic.
Copyright information

© 2014 The Society for Experimental Mechanics
About this paper
Cite this paper
Yigit, U., Cigeroglu, E., Budak, E. (2014). Chatter Reduction in Turning by Using Piezoelectric Shunt Circuits. In: Allemang, R., De Clerck, J., Niezrecki, C., Wicks, A. (eds) Topics in Modal Analysis, Volume 7. Conference Proceedings of the Society for Experimental Mechanics Series. Springer, New York, NY. https://doi.org/10.1007/978-1-4614-6585-0_39
DOI: https://doi.org/10.1007/978-1-4614-6585-0_39

Published:

Publisher Name: Springer, New York, NY

Print ISBN: 978-1-4614-6584-3

Online ISBN: 978-1-4614-6585-0

eBook Packages: EngineeringEngineering (R0)