Abstract

We examined the acute effect of physical exercise on prefrontal cortex activity in older adults using functional near-infrared spectroscopy (NIRS). Fourteen older adults visited our laboratory twice: once for exercise and once for the control condition. On each visit, subjects performed working memory tasks before and after moderate intensity exercise with a cycling ergo-meter. We measured the NIRS response at the prefrontal cortex during the working memory task. We found that physical exercise improved behavioral performance of the working memory task compared with the control condition. Moreover, NIRS analysis showed that physical exercise enhanced the prefrontal cortex activity, especially in the left hemisphere, during the working memory task. These findings suggest that the moderate intensity exercise enhanced the prefrontal cortex activity associated with working memory performance in older adults.
Keywords
NIRS (near-infrared spectroscopy)

Physical exercise

Older adults

Working memory

Prefrontal cortex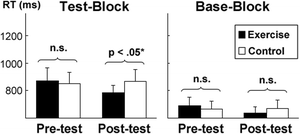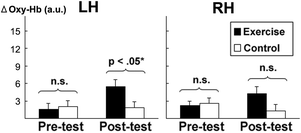 References
Kramer AF, Erickson KI, Colcombe SJ (2006) Exercise, cognition, and the aging brain. J Appl Physiol 101:1237–1242

Kamijo K, Hayashi Y, Sakai T et al (2009) Acute effects of aerobic exercise on cognitive function in older adults. J Gerontol 64B:356–363

Colcombe S, Erickson KI, Scalf PE et al (2006) Aerobic exercise training increases brain volume in aging humans. J Gerontol 61:1166–1170

Yanagisawa H, Dan I, Tsuzuki D et al (2010) Acute moderate exercise elicits increased dorsolateral prefrontal activation and improves cognitive performance with Stroop test. Neuroimage 50:1702–1710

Tsujii T, Yamamoto E, Ohira T et al (2007) Effects of sedative and non-sedative H1 antagonists on cognitive tasks: behavioral and near infrared spectroscopy (NIRS) examinations. Psychopharmacology 194:83–91

Tsujii T, Yamamoto E, Masuda S et al (2009) Longitudinal study of spatial working memory development in young children. Neuroreport 20:759–763

Tsujii T, Yamamoto E, Ohira T et al (2010) Antihistamine effects on prefrontal cortex activity during working memory process in preschool children: a near-infrared spectroscopy (NIRS) study. Neurosci Res 67:80–85

Murayama M (1922) Japanese standard values of respiratory and circulation in physical exercise (in Japanese). Jpn Circl J 56(suppl V):1514–1523

Delpy DT, Cope M, van der Zee P et al (1988) Estimation of optical pathlength through tissue from direct time of flight measurement. Phys Med Biol 33:1433–1442

Brahmbhatt SB, McAuley T, Barch DM (2008) Functional developmental similarities and differences in the neural correlates of verbal and nonverbal working memory tasks. Neuropsychologia 46:1020–1031
Acknowledgments

This study was supported by funds of the Japan Science and Technology Agency (JST), under Strategic Promotion of Innovative Research and Development Program and by the fund for Grant-in Aid for Scientific Research (B) and Young Scientist (B23300247) from the Ministry of Education, Culture, Sports, Science, and Technology (MEXT) in Japan.
Copyright information

© 2013 Springer Science+Business Media New York
About this paper
Cite this paper
Tsujii, T., Komatsu, K., Sakatani, K. (2013). Acute Effects of Physical Exercise on Prefrontal Cortex Activity in Older Adults: A Functional Near-Infrared Spectroscopy Study. In: Welch, W.J., Palm, F., Bruley, D.F., Harrison, D.K. (eds) Oxygen Transport to Tissue XXXIV. Advances in Experimental Medicine and Biology, vol 765. Springer, New York, NY. https://doi.org/10.1007/978-1-4614-4989-8_41