Abstract

For the last two decades, there had been remarkable advancement in understanding the role of complement regulatory proteins in autoimmune disorders and importance of complement inhibitors as therapeutics. Systemic lupus erythematosus is a prototype of systemic autoimmune disorders. The disease, though rare, is potentially fatal and afflicts women at their reproductive age. It is a complex disease with multiorgan involvement, and each patient presents with a different set of symptoms. The diagnosis is often difficult and is based on the diagnostic criteria set by the American Rheumatology Association. Presence of antinuclear antibodies and more specifically antidouble-stranded DNA indicates SLE. Since the disease is multifactorial and its phenotypes are highly heterogeneous, there is a need to identify multiple noninvasive biomarkers for SLE. Lack of validated biomarkers for SLE disease activity or response to treatment is a barrier to the efficient management of the disease, drug discovery, as well as development of new therapeutics. Recent studies with gene knockout mice have suggested that membrane-bound complement regulatory proteins (CRPs) may critically determine the sensitivity of host tissues to complement injury in autoimmune and inflammatory disorders. Case-controlled and follow-up studies carried out in our laboratory suggest an intimate relation between the level of DAF, MCP, CR1, and CD59 transcripts and the disease activity in SLE. Based on comparative evaluation of our data on these four membrane-bound complement regulatory proteins, we envisaged CR1 and MCP transcripts as putative noninvasive disease activity markers and the respective proteins as therapeutic targets for SLE. Following is a brief appraisal on membrane-bound complement regulatory proteins DAF, MCP, CR1, and CD59 as biomarkers and therapeutic targets for SLE.
Keywords
Membrane Cofactor Protein

Complement Regulatory Protein

Short Consensus Repeat

CD59 Transcript

Passive Arthus Reaction
These keywords were added by machine and not by the authors. This process is experimental and the keywords may be updated as the learning algorithm improves.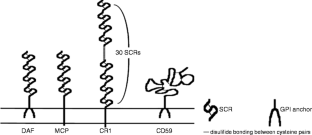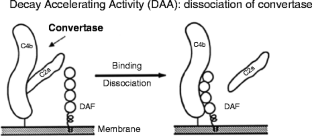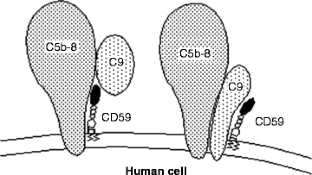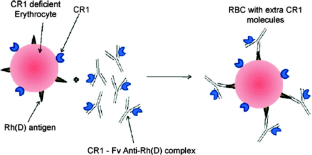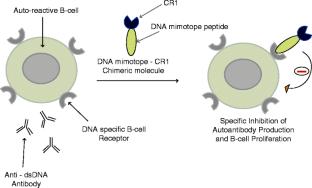 References
Ahearn JM, Fearon DT (1989) Structure and function of the C receptors, CR1 (CD35) and CR2 (CD21). Adv Immunol 46:183–219

Astier AL (2008) T-cell regulation by CD46 and its relevance in multiple sclerosis. Immunology 124(2):149–154

Astier A, Trescol-Biemont MC, Azocar O, Lamouille B, Rabourdin-Combe C (2000) Cutting edge: CD46, a new costimulatory molecule for T cells, that induces p120CBL and LAT phosphorylation. J Immunol 164:6091–6095

Arora M, Arora R, Tiwari SC, Das N, Srivastava LM (2000) Expression of complement regulatory proteins in diffuse proliferative glomerulonephritis. Lupus 9:127–131

Asghar SS, Pasch MC (2000) Therapeutic inhibition of the complement system. Y2K update. Front Biosci 5:E63–E81

Ballard L, Seya T, Teckman J, Lublin DM, Atkinson JP (1987) A polymorphism of the complement regulatory protein MCP (membrane cofactor protein or gp45-70). J Immunol 138(11):3850–3855

Bergelson JM, Mohanty JG, Crowell RL, St. John NF, Lublin DM, Finberg RW (1995) Coxsackievirus B3 adapted to growth in RD cells binds to decay-accelerating factor (CD55). J Virol 69(3):1903–1906

Birmingham DJ, Gavit KF, McCarty SM, Yu CY, Rovin BH, Nagaraja HN, Hebert LA (2006) Consumption of erythrocyte CR1 (CD35) is associated with protection against systemic lupus erythematosus renal flare. Clin Exp Immunol 143:274–280

Brodbeck WG, Liu D, Sperry J et al (1996) Localization of classical and alternative pathway regulatory activity within the decay accelerating factor. J Immunol 156:2528–2533

Byrne JL, Carter GI, Ellis I, Haynes AP, Russell NH (1997) Autologous GVHD following PBSCT, with evidence for a graft-versus-myeloma effect. Bone Marrow Transplant 20(6):517–520

Cashman SM, Ramo K, Kumar-Singh R (2011) A non membrane-targeted human soluble CD59 attenuates choroidal neovascularization in a model of age related macular degeneration. PLoS One 6(4):e19078

Cattaneo R (2004) Four viruses, two bacteria, and one receptor: membrane cofactor protein (CD46) as pathogens' magnet. J Virol 78:4385–4388

Christiansen D, Milland J, Thorley BR, McKenzie IF, Loveland BE (1996) A functional analysis of recombinant soluble CD46 in vivo and a comparison with recombinant soluble forms of CD55 and CD35 in vitro. Eur J Immunol 26(3):578–585

Clarkson NA, Kaufman R, Lublin DM, Ward T, Pipkin PA, Minor PD, Evans DJ, Almond JW (1995) Characterization of the echovirus 7 receptor: domains of CD55 critical for virus binding. J Virol 69(9):5497–5501

Cockburn IA, Mackinnon MJ, O'Donnell A, Allen SJ, Moulds JM, Baisor M, Bockarie M, Reeder JC, Rowe JA (2004) A human complement receptor 1 polymorphism that reduces Plasmodium falciparum rosetting confers protection against severe malaria. Proc Natl Acad Sci USA 101(1):272–277

Cole J, Housley GA, Dykman TR, MacDermott RP, Atkinson JP (1985) Identification of an additional class of C3-binding membrane proteins of human peripheral blood leukocytes and cell lines. Proc Natl Acad Sci USA 83:859

Cosio FG, Sedmak DD, Mahan JD, Nahman NS (1989) Localization of decay accelerating factor in normal and diseased kidneys. Kidney Int 36:100

Cosio FG, Shen XP, Birmingham DJ, Van Aman M, Hebert LA (1990) Evaluation of the mechanisms responsible for the reduction in erythrocyte complement receptors when immune complexes form in vivo in primates. J Immunol 145:4198–4206

Couser WG, Johnson RJ, Young BA, Yeh CG, Toth CA, Rudolph AR (1995) The effects of soluble recombinant complement receptor 1 on complement-mediated experimental glomerulonephritis. J Am Soc Nephrol 5:1888–1894

Davies A, Simmons DL, Hale G, Harrison RA, Tighe H, Lachmann PJ, Waldmann H (1989) CD59, an Ly-6 like protein expressed in human lymphoid cells, regulates the action of the complement membrane attack complex on homologous cells. J Exp Med 170:637

Davies KA, Hird V, Stewart S et al (1990) A study of in vivo immune complex formation and clearance in man. J Immunol 144:4613–4620

Davis LS, Patel SS, Atkinson JP, Lipsky PE (1988) Decay-accelerating factor functions as a signal transducing molecule for human T cells. J Immunol 141:2246–2252

Delibrias CC, Fischer E, Bismuth G, Kazatchkine MD (1992) Expression, molecular association, and functions of C3 complement receptors CR1 (CD35) and CR2 (CD21) on the human T cell line HPB-ALL. J Immunol 149:768–774

Diamond LE, McCurry KR, Martin MJ, McClellan SB, Oldham ER, Platt JL, Logan JS (1996) Characterization of transgenic pigs expressing functionally active human CD59 on cardiac endothelium. Transplantation 61(8):1241–1249

Dorig RE, Marcil A, Chopra A, Richardson CD (1993) The human CD46 molecule is a receptor for measles virus (Edmonston strain). Cell 75:295

Ducruet AF, Mocco J, Mack WJ, Coon AL, Marsh HC, Pinsky DJ, Hickman ZL, Kim GH, Connolly ES Jr (2007) Pre-clinical evaluation of an sLe x-glycosylated complement inhibitory protein in a non-human primate model of reperfused stroke. J Med Primatol 36:375–380

Dykman TR, Hatch JA, Aqua MS, Atkinson JP (1985) Polymorphism of the C3b/C4b receptor (CR1): characterization of a fourth allele. J Immunol 134:1787–1789

Elward K, Griffiths M, Mizuno M, Harris CL, Neal JW, Morgan BP, Gasque P (2005) CD46 plays a key role in tailoring innate immune recognition of apoptotic and necrotic cells. J Biol Chem 280:36342–36354

Endoh M, Yamashina M, Ohi H, Funahashi K, Ikuno T, Yasugi T, Atkinson JP, Okada H (1993) Immunohistochemical demonstration of membrane cofactor protein (MCP) of complement in normal and diseased kidney tissues. Clin Exp Immunol 94(1):182–188

Falk RJ, Dalmasso AP, Kim Y, Lam S, Michael A (1985) Radioimmunoassay of the attack complex of complement in serum from patients with systemic lupus erythematosus. N Engl J Med 312:1594–1599

Fearon DT (1979) Regulation of the amplification C3 convertase of human complement by an inhibitory protein isolated from human erythrocyte membrane. Proc Natl Acad Sci USA 76:5867–5871

Fearon DT (1980) Identification of the membrane glycoprotein that is the C3b receptor of the human erythrocyte, polymorphonuclear leukocyte, B lymphocyte, and monocyte. J Exp Med 152:20–30

Fearon DT, Kaneko I, Thomson GG (1981) Membrane distribution and adsorptive endocytosis by C3b receptors on human polymorphonuclear leukocytes. J Exp Med 153:1615–1628

Ferguson PJ, Reist CJ, Martin EN, Johnson C, Greene KL, Kuhn S, Niebur J, Emlen W, Taylor RP (1995) Antigen-based heteropolymers. A potential therapy for binding and clearing autoantibodies via erythrocyte CR1. Arthritis Rheum 38:190–200

Fernandez-Centeno E, de Ojeda G, Rojo JM, Portoles P (2000) Crry/p65, a membrane complement regulatory protein, has costimulatory properties on mouse T cells. J Immunol 164:4533–4542

Fingeroth JD, Heath ME, Ambrosino DM (1989) Proliferation of resting B cells is modulated by CR2 and CR1. Immunol Lett 21:291–301

Fodor WL, Williams BL, Matis LA, Madri JA, Rollins SA, Knight JW, Velander W, Squinto SP (1994) Expression of a functional human complement inhibitor in a transgenic pig as a model for the prevention of xenogeneic hyperacute organ rejection. Proc Natl Acad Sci USA 91(23):11153–11157

Fugier-Vivier I, Servet-Delprat C, Rivailler P, Rissoan MC, Liu YJ, Rabourdin-Combe C (1997) Measles virus suppresses cell-mediated immunity by interfering with the survival and functions of dendritic and T cells. J Exp Med 186:813

Fujita T, Inoue T, Ogawa K, Lida K, Tamura N (1987) The mechanism of DAF. DAF inhibits the assembly of the C3 convertases by dissociating C2a and Bb. J Exp Med 166:1221–1228

Ghiran I, Barbashov SF, Klickstein LB, Tas SW, Jensenius JC, Nicholson-Weller A (2000) Complement receptor 1/CD35 is a receptor for mannan-binding lectin. J Exp Med 192(12):1797–1808

Gray JX, Haino M, Roth MJ, Maguire JE, Jensen PN, Yarme A, Stetler-Stevenson MA, Siebenlist U, Kelly K (1996) CD97 is a processed, seven-transmembrane, heterodimeric receptor associated with inflammation. J Immunol 157:5438–5447

Grossman WJ, Verbsky JW, Barchet W, Colonna M, Atkinson JP, Ley TJ (2004) Human T regulatory cells can use the perforin pathway to cause autologous target cell death. Immunity 21:589–601

Gyimesi E, Bankovich AJ, Schuman TA, Goldberg JB, Lindorfer MA, Taylor RP (2004) Staphylococcus aureus bound to complement receptor 1 on human erythrocytes by bispecific monoclonal antibodies is phagocytosed by acceptor macrophages. Immunol Lett 95:185–192

Hamann J, Vogel B, van Schijndel GM, van Lier RA (1996) The seven-span transmembrane receptor CD97 has a cellular ligand (CD55, DAF). J Exp Med 184:1185–1189

Hamann L, Stamme C, Ulmer AJ, Schumann RR (2002) Inhibition of LPS-induced activation of alveolar macrophages by high concentrations of LPS-binding protein. Biochem Biophys Res Commun 295(2):553–560

Harris CL, Rushmere NK, Morgan BP (1999) Molecular and functional analysis of mouse decay accelerating factor (CD55). Biochem J 341(Pt 3):821–829

Hebert LA (1991) The clearance of immune complexes from the circulation of man and other primates. Am J Kidney Dis 17:352–361

Heine-Suner D, Diaz-Guillen MA, de Villena FP, Robledo M, Benitez J, Rodriguez de Cordoba S (1997) A high-resolution map of the regulator of the complement activation gene cluster on 1q32 that integrates new genes and markers. Immunogenetics 45:422–427

Hideshima T, Okada N, Okada H (1990) Expression of HRF20, a regulatory molecule of complement activation, on peripheral blood mononuclear cells. Immunology 69(3):396–401

Higgins PJ, Ko JL, Lobell R, Sardonini C, Alessi MK, Yeh CG (1997) A soluble chimeric complement inhibitory protein that possesses both decay-accelerating and factor I cofactor activities. J Immunol 158:2872–2881

Hindmarsh EJ, Marks RM (1998) Decay accelerating factor is a component of subendothelial extracellular matrix in vitro, and is augmented by activation of endothelial protein kinase C. Eur J Immunol 28:1052

Hirano A, Kurita-Taniguchi M, Katayama Y, Matsumoto M, Wong TC, Seya T (2002) Ligation of human CD46 with purified complement C3b or F(ab)2 of monoclonal antibodies enhances isoform-specific interferon gamma-dependent nitric oxide production in macrophages. J Biochem 132:83–91

Hoffmann EM (1969) Inhibition of complement by a substance isolated from human erythrocytes. I. Extraction from human erythrocyte stroma. Immunochemistry 6:391

Hoffmann EM, Etlinger HM (1973) Extraction of complement inhibitory factors from erythrocytes of non-human species. J Immunol 111:946

Holers VM, Cole JL, Lublin DM, Seya T, Atkinson JP (1985) Human C3b- and C4b-regulatory proteins: a new multi-gene family. Immunol Today 6:188

Holguin MH, Fredrick LR, Bernshaw NJ, Wilcox LA, Parker CJ (1989) Isolation and characterization of a membrane protein from normal human erythrocytes that inhibits reactive lysis of the erythrocytes of paroxysmal nocturnal hemoglobinuria. J Clin Invest 84(1):7–17

Hourcade D, Holers VM, Atkinson JP (1989) The regulators of complement activation (RCA) gene cluster. Adv Immunol 45:381–416

Huang Y, Smith CA, Song H, Morgan BP, Abagyan R, Tomlinson S (2005) Insights into the human CD59 complement binding interface toward engineering new therapeutics. J Biol Chem 280(40):34073–34079

Iida K, Nussenzweig V (1981) Complement receptor is an inhibitor of the complement cascade. J Exp Med 153:1138–1150

Iwata K, Seya T, Ariga H, Nagasawa S (1994) Expression of a hybrid complement regulatory protein, membrane cofactor protein decay accelerating factor on Chinese hamster ovary: comparison of its regulatory effect with those of decay accelerating factor and membrane cofactor protein. J Immunol 152:3436–3444

Jimenez-Perianez A, Ojeda G, Criado G, Sanchez A, Pini E, Madrenas J, Rojo JM, Portoles P (2005) Complement regulatory protein Crry/p65-mediated signaling in T lymphocytes: role of its cytoplasmic domain and partitioning into lipid rafts. J Leukoc Biol 78:1386–1396

Johnson NM, McNicol MW, Burton-Kee EJ, Mowbray JF (1981) Circulating immune complexes in tuberculosis. Thorax 36(8):610–617

Johnstone RW, Loveland BE, McKenzie IF (1993) Identification and quantification of complement regulator CD46 on normal human tissues. Immunology 79(3):341–347

Jones DR, Thompson RJ, Rao SA, Imrie H (1994) An enzyme-linked immunosorbent assay for complement regulatory proteins and membrane-bound immunoglobulins on intact red blood cells. J Immunol Methods 177(1–2):235–242

Jozsi M, Prechl J, Bajtay Z, Erdei A (2002) Complement receptor type 1 (CD35) mediates inhibitory signals in human B lymphocytes. J Immunol 168:2782–2788

Kalli KR, Hsu P, Fearon DT (1994) Therapeutic uses of recombinant complement protein inhibitors. Springer Semin Immunopathol 15:417–431

Kallstrom H, Liszewski MK, Atkinson JP, Jonsson AB (1997) Membrane cofactor protein (MCP or CD46) is a cellular pilus receptor for pathogenic Neisseria. Mol Microbiol 25:639

Kallstrom H, Islam MS, Berggren PO, Jonsson AB (1998) Cell signaling by the type IV pili of pathogenic Neisseria. J Biol Chem 273:21777

Karnauchow TM, Tolson DL, Harrison BA, Altman E, Lublin DM, Dimock K (1996) The HeLa cell receptor for enterovirus 70 is decay-accelerating factor (CD55). J Virol 70(8):5143–5152

Karp CL, Wysocka M, Wahl LM, Ahearn JM, Cuomo PJ, Sherry B, Trinchieri G, Griffin DE (1996) Mechanism of suppression of cell-mediated immunity by measles virus. Science 273:228

Katyal M, Sivasankar B, Ayub S, Das N (2003) Genetic and structural polymorphism of complement receptor 1 in normal Indian subjects. Immunol Lett 89:93–98

Kawano M, Seya T, Koni I, Mabuchi H (1999) Elevated serum levels of soluble membrane cofactor protein (CD46, MCP) in patients with systemic lupus erythematosus (SLE). Clin Exp Immunol 116:542–546

Kemper C, Atkinson JP (2007) T-cell regulation: with complements from innate immunity. Nat Rev Immunol 7:9–18

Kemper C, Chan AC, Green JM, Brett KA, Murphy KM, Atkinson JP (2003) Activation of human CD41cells with CD3 and CD46 induces a T-regulatory cell 1 phenotype. Nature 421:388–392

Kennedy SP, Rollins SA, Burton WV, Sims PJ, Bothwell AL, Squinto SP, Zavoico GB (1994) Protection of porcine aortic endothelial cells from complement-mediated cell lysis and activation by recombinant human CD59. Transplantation 57:1494–1501

Khera R, Das N (2009) Complement receptor 1: disease associations and therapeutic implications. Mol Immunol 46(5):761–772

Kinoshita T, Medof ME, Silber R, Nussenzweig V (1985) Distribution of decay accelerating factor in the peripheral blood of normal individuals and patients with paroxysmal nocturnal hemoglobinuria. J Exp Med 162:75

Kinoshita T, Medof ME, Nussenzweig V (1986) Endogenous association of decay-accelerating factor (DAF) with C4b and C3b on cell membranes. J Immunol 136(9):3390–3395

Klickstein LB, Wong WW, Smith JA, Weis JH, Wilson JG, Fearon DT (1987) Human C3b/C4b receptor (CR1): demonstration of long homologous repeating domains that are composed of the short consensus repeats characteristics of C3/C4 binding proteins. J Exp Med 165:1095–1112

Kojima A, Iwata K, Seya T, Matsumoto M, Ariga H, Atkinson JP, Nagasawa S (1993) Membrane cofactor protein (CD46) protects cells predominantly from alternative complement pathway-mediated C3-fragment deposition and cytolysis. J Immunol 151:1519

Kroshus TJ, Bolman RM III, Dalmasso AP, Rollins SA, Guilmette ER, Williams BL, Squinto SP, Fodor WL (1996) Expression of human CD59 in transgenic pig organs enhances organ survival in an ex vivo xenogeneic perfusion model. Transplantation 61:1513–1521

Kurita-Taniguchi M, Fukui A, Hazeki K et al (2000) Functional modulation of human macrophages through CD46 (measles virus receptor): production of IL-12 p40 and nitric oxide in association with recruitment of protein-tyrosine phosphatase SHP-1 to CD46. J Immunol 165:5143–5152

Lee SW, Bonnah RA, Higashi DL, Atkinson JP, Milgram SL, So M (2002) CD46 is phosphorylated at tyrosine 354 upon infection of epithelial cells by Neisseria gonorrhoeae. J Cell Biol 156:951–957

Li L, Spendlove I, Morgan J, Durrant LG (2001) CD55 is over-expressed in the tumour environment. Br J Cancer 84:80–86

Liszewski MK, Post TW, Atkinson JP (1991) Membrane cofactor protein (MCP or CD46): newest member of the regulators of complement activation gene cluster. Annu Rev Immunol 9:431–455

Liu CC, Ahearn JM (2009) The search for lupus biomarkers. Best Pract Res Clin Rheumatol 23(4):507–523

Liu J, Miwa T, Hilliard B, Chen Y, Lambris JD, Wells AD et al (2005) The complement inhibitory protein DAF (CD55) suppresses T cell immunity in vivo. J Exp Med 201(4):567–577

Longhi MP, Harris CL, Morgan BP, Gallimore A (2006) Holding T cells in check–a new role for complement regulators? Trends Immunol 27(2):102–108

Lublin DM, Liszewski MK, Post TW, Arce MA, Le Beau MM, Rebentisch MB, Lemons RS, Seya T, Atkinson JP (1988) Molecular cloning and chromosomal localization of human membrane cofactor protein (MCP): evidence for inclusion in the multi-gene family of complement regulatory proteins. J Exp Med 168:181

Ludford-Menting MJ, Thomas SJ, Crimeen B, Harris LJ, Loveland BE, Bills M, Ellis S, Russell SM (2002) A functional interaction between CD46 and DLG4: a role for DLG4 in epithelial polarization. J Biol Chem 277:4477–4484

Ludford-Menting MJ, Oliaro J, Sacirbegovic F et al (2005) A network of PDZ-containing proteins regulates T cell polarity and morphology during migration and immunological synapse formation. Immunity 22:737–748

Manchester M, Gairin JE, Patterson JB, Alvarez J, Liszewski MK, Eto DS, Atkinson JP, Oldstone MB (1997) Measles virus recognizes its receptor, CD46, via two distinct binding domains within SCR1-2. Virology 233(1):174–184

Manchester M, Eto D, Valsamakis A, Liton P, Fernandez-Munoz R, Rota PA, Bellini WJ, Forthal DN, Oldstone MB (2000) Clinical isolates of measles virus use CD46 as a cellular receptor. J Virol 74:3967

Manzi S, Rairie JE, Carpenter AB, Kelly RH, Jagarlapudi SP, Sereika SM et al (1996a) Sensitivity and specificity of plasma and urine complement split products as indicators of lupus disease activity. Arthritis Rheum 39:1178–1188

Manzi L, Montaño R, Abad MJ, Arsenak M, Romano E, Taylor P (2006) Expression of human soluble complement receptor 1 by a pig endothelial cell line inhibits lysis by human serum. Xenotransplantation 13(1):75–79

Marie JC, Astier AL, Rivailler P, Rabourdin-Combe C, Wild TF, Horvat B (2002) Linking innate and acquired immunity: divergent role of CD46 cytoplasmic domains in T cell induced inflammation. Nat Immunol 3:659–666

Marquart HV, Svendsen A, Rasmussen JM, Nielsen CH, Junker P, Svehag SE, Leslie RG (1995) Complement receptor expression and activation of the complement cascade on B lymphocytes from patients with systemic lupus erythematosus (SLE). Clin Exp Immunol 101:60–65

Matsuo S, Nishikage H, Yoshida F, Nomura A, Piddlesden SJ, Morgan BP (1994) Role of CD59 in experimental glomerulonephritis in rats. Kidney Int 46:191–200

McKusick VA (2001) The anatomy of the human genome: a neo-Vesalian basis for medicine in the 21st century. JAMA 286(18):2289–2295

Medof ME, Iida K, Mold C, Nussenzweig V (1982) Unique role of the complement receptor CR1 in the degradation of C3b associated with immune complexes. J Exp Med 156:1739–1754

Meri S, Morgan BP, Davies A, Daniels RH, Olavesen MG, Waldmann H, Lachmann PJ (1990) Human protectin (CD59), an 18,000–20,000 MW complement lysis restricting factor, inhibits C5b–8 catalysed insertion of C9 into lipid bilayers. Immunology 71:1

Meri S, Waldmann H, Lachmann PJ (1991) Distribution of protectin (CD59), a complement membrane attack inhibitor, in normal human tissues. Lab Invest 65(5):532–537

Metcalfe RA, McIntosh RS, Morgan BP, Levin JL, Weetman AP (1996) The effect of soluble complement receptor 1 (sCR1) and human thyroid antibodies on the course of experimental autoimmune thyroiditis in rats. Autoimmunity 23:1–8

Mikata S, Miyagawa S, Yoshitatsu M, Ikawa M, Okabe M, Matsuda H, Shirakura R (1998) Prevention of hyperacute rejection by phosphatidylinositol-anchored mini-complement receptor type 1. Transplant Immunol 6:107–110

Mitchell JA, Sim RB, Sim E (1989) CR1 polymorphism in hydralazine-induced systemic lupus erythematosus: DNA restriction fragment length polymorphism. Clin Exp Immunol 78:354–358

Miwa T, Maldonado MA, Zhou L, Sun X, Luo HY, Cai D, Werth VP, Madaio MP, Eisenberg RA, Song WC (2002) Deletion of decay-accelerating factor (CD55) exacerbates autoimmune disease development in MRL/lpr mice. Am J Pathol 161:1077–1086

Miyagawa S, Shirakura R, Matsumiya G, Nakata S, Matsuda H, Hatanaka M, Matsumoto M, Seya T (1994) Possibility of prevention of hyperacute rejection by DAF and CD59 in xenotransplantation. Transplant Proc 26(3):1235–1238

Miyagawa S, Shirakura R, Nakata S, Izutani H, Matsuda H, Iwata K, Nagasawa S, Terado A, Hatanaka M, Matsumoto M et al (1995) Effect of transfected MACIF (CD59) on complement-mediated swine endothelial cell lysis, compared with those of membrane cofactor protein (CD46) and decay-accelerating factor (CD55). Transplant Proc 27(1):328–329

Mizuno M, Nishikawa K, Spiller OB, Morgan BP, Okada N, Okada H, Matsuo S (2001) Membrane complement regulators protect against the development of type II collagen-induced arthritis in rats. Arthritis Rheum 44(10):2425–2434

Moran P, Beasley H, Gorrell A, Martin E, Gribling P, Fuchs H, Gillett N, Burton LE, Caras IW (1992) Human recombinant soluble decay accelerating factor inhibits complement activation in vitro and in vivo. J Immunol 149(5):1736–1743

Morgan BP, Meri S (1994) Membrane proteins that protect against complement lysis. Springer Semin Immunopathol 15:369–396

Moulds JM, Reveille JD, Arnett FC (1996) Structural polymorphisms of complement receptor 1 (CR1) in systemic lupus erythematosus (SLE) patients and normal controls of three ethnic groups. Clin Exp Immunol 105:302–305

Nangaku M (2003) Complement regulatory proteins: are they important in disease? J Am Soc Nephrol 14(9):2411–2413

Nangaku M, Alpers CE, Pippin J, Shankland SJ, Kurokawa K, Adler S, Morgan BP, Johnson RJ, Couser WG (1998) CD59 protects glomerular endothelial cells from immune-mediated thrombotic microangiopathy in rats. J Am Soc Nephrol 9:590–597

Naniche D, Varior-Krishnan G, Cervoni F, Wild TF, Rossi B, Rabourdin-Combe C, Gerlier D (1993) Human membrane cofactor protein (CD46) acts as a cellular receptor for measles virus. J Virol 67:6025

Nelson RA Jr (1953) The immune-adherence phenomenon; an immunologically specific reaction between microorganisms and erythrocytes leading to enhanced phagocytosis. Science 118(3077):733–737

Nicholson-Weller A, Burge J, Fearon DT, Weller PF, Austen KF (1982) Isolation of a human erythrocyte membrane glycoprotein with decay-accelerating activity for C3 convertases of the complement system. J Immunol 129:184

Nose M, Katoh M, Okada N, Kyogoku M, Okada H (1990) Tissue distribution of HRF20, a novel factor preventing the membrane attack of homologous complement, and its predominant expression on endothelial cells in vivo. Immunology 70:145

Ogelsby TJ, Allen CJ, Liszewski MK, Whiti DJG, Atkinson JP (1992) Membrane cofactor protein (CD46) protects cells from complement-mediated attack by an intrinsic mechanism. J Exp Med 175:1547

Okada N, Harada R, Fujita T, Okada H (1989) A novel membrane glycoprotein capable of inhibiting membrane attack by homologous complement. Int Immunol 1:205

Okada N, Liszewski MK, Atkinson JP, Caparon M (1995) Membrane cofactor protein (CD46) is a keratinocyte receptor for the M protein of the group A streptococcus. Proc Natl Acad Sci USA 92:2489

Oliaro J, Pasam A, Waterhouse NJ, Browne KA, Ludford-Menting MJ, Trapani JA, Russell SM (2006) Ligation of the cell surface receptor, CD46, alters T cell polarity and response to antigen presentation. Proc Natl Acad Sci USA 103:18685–18690

Oudin S, Libyh MT, Goossens D, Dervillez X, Philbert F, Reveil B, Bougy F, Tabary T, Rouger P, Klatzmann D, Cohen JH (2000) A soluble recombinant multimeric anti-Rh(D) single-chain Fv/CR1 molecule restores the immune complex binding ability of CR1-deficient erythrocytes. J Immunol 164:1505–1513

Petranka JG, Fleenor DE, Sykes K, Kaufman RE, Rosse WF (1992) Structure of the CD59-encoding gene: further evidence of a relationship to murine lymphocyte antigen Ly-6 protein. Proc Natl Acad Sci USA 89(17):7876–7879, Erratum in: Proc Natl Acad Sci USA 1993 Jun 15; 90(12):5878

Picard MD, Pettey CL, Marsh HC, Thomas LJ (2000) Characterization of N-linked oligosaccharides bearing sialyl lewis xmoieties on an alternatively glycosylated form of soluble complement receptor type 1 (sCR1). Biotechnol Appl Biochem 31(Pt 1):5–13

Price JD, Schaumburg J, Sandin C, Atkinson JP, Lindahl G, Kemper C (2005) Induction of a regulatory phenotype in human CD4+ T cells by streptococcal M protein. J Immunol 175:677–684

Qian YM, Haino M, Kelly K, Song WC (1999) Structural characterization of mouse CD97 and study of its specific interaction with the murine decay-accelerating factor (DAF, CD55). Immunology 98:303–311

Quigg RJ, Nicholson-Weller A, Cybulsky AV, Badalamenti J, Salant DJ (1989) Decay accelerating factor regulates complement activation on glomerular epithelial cells. J Immunol 142(3):877–882

Quigg RJ, Morgan BP, Holers VM, Adler S, Sneed AE 3rd, Lo CF (1995) Complement regulation in the rat glomerulus: crry and CD59 regulate complement in glomerular mesangial and endothelial cells. Kidney Int 48(2):412–421

Rabinovici R, Yeh CG, Hillegass LM, Griswold DE, DiMartino MJ, Vernick J, Fong KL, Feuerstein G (1992) Role of complement in endotoxin/plateletactivating factor-induced lung injury. J Immunol 149:1744–1750

Reid KBM, Bentley DR, Campbell RD, Chung LP, Sim RB, Kristensen T, Tack BF (1986) Complement system proteins which interact with Cab or C4b. A superfamily of structurally related proteins. Immunol Today 7:230

Richaud-Patin Y, Pérez-Romano B, Carrillo-Maravilla E, Rodriguez AB, Simon AJ, Cabiedes J, Jakez-Ocampo J, Llorente L, Ruiz-Argüelles A (2003) Deficiency of red cell bound CD55 and CD59 in patients with systemic lupus erythematosus. Immunol Lett 88(2):95–99

Ricklin D, Lambris JD (2007) Complement-targeted therapeutics. Nat Biotechnol 25(11):1265–1275

Rittershaus CW, Thomas LJ, Miller DP, Picard MD, Geoghegan-Barek KM, Scesney SM, Henry LD, Sen AC, Bertino AM, Hannig G, Adari H, Mealey RA, Gosselin ML, Couto M, Hayman EG, Levin JL, Reinhold VN, Marsh HC Jr (1999) Recombinant glycoproteins that inhibit complement activation and also bind the selectin adhesion molecules. J Biol Chem 274(16):11237–11244

Rodriguez de Cordoba S, Lublin DM, Rubenstein P, Atkinson JP (1985) Human genes for three complement components that regulate the activation of C3 are tightly linked. J Exp Med 161:1189

Rollins SA, Zhao J, Ninomiya H, Sims PJ (1991) Inhibition of homologous complement by CD59 is mediated by a species-selective recognition conferred through binding to C8 within C5b-8 or C9 within C5b-9. J Immunol 146(7):2345–2351

Roncarolo MG, Gregori S, Battaglia M, Bacchetta R, Fleischhauer K, Levings MK (2006) Interleukin-10-secreting type 1 regulatory T cells in rodents and humans. Immunol Rev 212:28–50

Rooney A, Davies A, Griffiths D, Williamst JD, Daviest M, Merit S, Lachmannt PJ, Morgan BP (1991) The complement-inhibiting protein, protectin (CD59 antigen), is present and functionally active on glomerular epithelial cells. Clin Exp Immunol 83:251–256

Rooney IA, Davies A, Morgan BP (1992) Membrane attack complex (MAC)-mediated damage to spermatozoa: protection of the cells by the presence on their membranes of MAC inhibitory proteins. Immunology 75(3):499–506

Ross GD, Lambris JD, Cain JA, Newman SL (1982) Generation of three different fragments of bound C3 with purified factor I or serum. I. Requirements for factor H vs CR1 cofactor activity. J Immunol 129:2051–2060

Ross GD, Yount WJ, Walport MJ, Winfield JB, Parker CJ, Fuller CR, Taylor RP, Myones BL, Lachmann PJ (1985) Disease-associated loss of erythrocyte complement receptors (CR1, C3b receptors) in patients with systemic lupus erythematosus and other diseases involving autoantibodies and/or complement activation. J Immunol 135:2005–2014

Santoro F, Kennedy PE, Locatelli G, Malnati MS, Berger EA, Lusso P (1999) CD46 is a cellular receptor for human herpesvirus 6. Cell 99:817

Seya T, Atkinson JP (1989) Functional properties of membrane cofactor protein of complement. Biochem J 264:581

Seya T, Turner JR, Atkinson JP (1986) Purification and characterization of a membrane protein (gp45-70) that is a cofactor for cleavage of C3b and C4b. J Exp Med 163:837

Seya T, Ballard L, Bora N, MacNearney T, Atkinson JP (1988) Distribution of membrane cofactor protein (MCP) of complement on human peripheral blood cells. Eur J Immunol 18:1289

Seya T, Okada M, Matsumoto M, Hong KS, Kinoshita T, Atkinson JP (1991) Preferential activation of the C5 convertase of the alternative complement pathway by factor I and membrane cofactor protein (MCP). Mol Immunol 28:1137

Shenoy-Scaria AM, Kwong J, Fujita T, Olszowy MW, Shaw AS, Lublin DM (1992) Signal transduction through decay-accelerating factor. Interaction of glycosyl-phosphatidylinositol anchor and protein tyrosine kinases p56lck and p59fyn 1. J Immunol 149:3535–3541

Shibata T, Cosio FG, Brimingham DJ (1991) Complement activation induces expression of decay accelerating factor on human mesangial cells. J Immunol 147:3901–3908

Shibuya T, Izuchi K, Kuroiwa A, Harada H, Kumamoto A, Shirakawa K (1991) Study on nonspecific immunity in pregnant women: II. Effect of hormones on chemiluminescence response of peripheral blood phagocytes. Am J Reprod Immunol 26(2):76–81

Sivasankar B, Dinda AK, Tiwari SC, Srivastava LM, Das N (2004) Modulation of urinary CR1 in systemic lupus erythematosus. Lupus 13:228–233

Smith RA (2002) Targeting anticomplement agents. Biochem Soc Trans 30(Pt6):1037–1041

Sogabe H, Nangaku M, Ishibashi Y, Wada T, Fujita T, Sun X, Miwa T, Madaio MP, Song WC (2001) Increased susceptibility of decay-accelerating factor deficient mice to anti-glomerular basement membrane glomerulonephritis. J Immunol 167:2791–2797

Sparrow RL, McKenzie IF (1983) Human 'Ia' antigen populations defined by monoclonal antibodies. J Immunogenet 10(3):179–189

Spendlove I, Li L, Carmichael J, Durrant L (1999) Decay accelerating factor(CD55): a target for cancer vaccines? Cancer Res 59:2282–2286

Spendlove I, Ramage JM, Bradley R, Harris C, Durrant LG (2006) Complement decay accelerating factor (DAF)/CD55 in cancer. Cancer Immunol Immunother 55(8):987–995

Stammberger U, Hamacher J, Hillinger S, Schmid RA (2000) sCR1sLe ameliorates ischemia/reperfusion injury in experimental lung transplantation. J Thorac Cardiovasc Surg 120:1078–1084

Sugita Y, Nakano Y, Tomita M (1988) Isolation from human erythrocytes a new membrane protein which inhibits the formation of complement transmembrane channels. J Biochem 147:633, Tokyo

Sugita Y, Ito K, Shiozuka K, Suzuki H, Gushima H, Tomita M, Masuho Y (1994) Recombinant soluble CD59 inhibits reactive haemolysis with complement. Immunology 82:34–41

Tamai H, Matsuo S, Fukatsu A, Nishikawa K, Sakamoto N, Yoshioka K, Okada N, Okada H (1991) Localization of 20-kDa homologous restriction factor (HRF20) in diseased human glomeruli. An immunofluorescence study. Clin Exp Immunol 84:256–262

Tarkowski A, Trollmo C, Seifert PS, Hansson GK (1992) Expression of decay-accelerating factor on synovial lining cells in inflammatory and degenerative arthritides. Rheumatol Int 12:201–205

Tas SW, Klickstein LB, Barbashov SF, Nicholson-Weller A (1999) C1q and C4b bind simultaneously to CR1 and additively support erythrocyte adhesion. J Immunol 163:5056–5063

Tone M, Walsh LA, Waldmann H (1992) Gene structure of human CD59 and demonstration that discrete mRNAs are generated by alternative polyadenylation. J Mol Biol 227(3):971–976

Tosello AC, Mary F, Amiot M, Bernard A, Mary D (1998) Activation of T cells via CD55: recruitment of early components of the CD3-TCR pathway is required for IL-2 secretion. J Inflamm 48:13–27

Turnberg D, Botto M, Lewis M, Zhou W, Sacks SH, Morgan BP, Walport MJ, Cook HT (2004) 59a deficiency exacerbates ischemia-reperfusion injury in mice. Am J Pathol 165(3):825–832

Vedeler C, Ulvestad E, Bjørge L, Conti G, Williams K, Mørk S, Matre R (1994) The expression of CD59 in normal human nervous tissue. Immunology 82(4):542–547

Voynova E, Tchorbanov A, Prechl J, Nikolova M, Baleva M, Erdei A, Vassilev T (2008) An antibody-based construct carrying DNA-mimotope and targeting CR1(CD35) selectively suppresses human autoreactive B-lymphocytes. Immunol Lett 116:168–173

Walport M, Ng YC, Lachmann PJ (1987) Erythrocytes transfused into patients with SLE and hemolytic anemia lose complement receptor type 1 from their cell surface. Clin Exp Immunol 69:501–505

Watanabe M, Morita Y, Mizuno M, Nishikawa K, Yuzawa Y, Hotta N, Morgan BP, Okada N, Okada H, Matsuo S (2000) CD59 protects rat kidney from complement mediated injury in collaboration with crry. Kidney Int 58(4):1569–1579

Weis JH, Morton CC, Bruns GAP, Weis JJ, Klickstein LB, Wong WW, Fearon DT (1987) A complement receptor locus: genes encoding C3b/C4b receptor and C3d/Epstein Barr virus receptor map to 1q32. J Immunol 138:312–315

Weisman HF, Bartow T, Leppo MK, Marsh HC Jr, Carson GR, Concino MF, Boyle MP, Roux KH, Weisfeldt ML, Fearon DT (1990a) Soluble human complement receptor type 1: in vivo inhibitor of complement suppressing post-ischemic myocardial inflammation and necrosis. Science 249(4965):146–151

Weiss L, Fischer E, Haeffner-Cavaillon N, Jouvin MH, Appay MD, Bariety J, Kazatchkine M (1989) The human C3b receptor (CR1). Adv Nephrol Necker Hosp 18:249–269

Williams AS, Mizuno M, Richards PJ, Holt DS, Morgan BP (2004) Deletion of the gene encoding CD59a in mice increases disease severity in a murine model of rheumatoid arthritis. Arthritis Rheum 50:3035–3044

Wilson JG, Murphy EE, Wong WW, Klickstein LB, Weis JH, Fearon DT (1986a) Identification of a restriction fragment length polymorphism by a CR1 cDNA that correlates with the number of CR1 on erythrocytes. J Exp Med 164:50–59

Zaffran Y, Destaing O, Roux A, Ory S, Nheu T, Jurdic P, Rabourdin-Combe C, Astier AL (2001) CD46/CD3 costimulation induces morphological changes of human T cells and activation of Vav, Rac, and extracellular signal-regulated kinase mitogenactivated protein kinase. J Immunol 167:6780–6785

Zhang H-F, Yu J, Bajwa E, Morrison SL, Tomlinson S (1999) Targeting of functional antibody-CD59 fusion proteins to a cell surface. J Clin Invest 103(1):55–61
Copyright information

© 2013 Springer Science+Business Media New York
About this chapter
Cite this chapter
Das, N., Biswas, B., Khera, R. (2013). Membrane-Bound Complement Regulatory Proteins as Biomarkers and Potential Therapeutic Targets for SLE. In: Lambris, J., Holers, V., Ricklin, D. (eds) Complement Therapeutics. Advances in Experimental Medicine and Biology, vol 735. Springer, New York, NY. https://doi.org/10.1007/978-1-4614-4118-2_4