Abstract
When you consider submitting your research for a conference presentation, it is wise to weigh the costs and benefits of the endeavor. The benefits include disseminating information to appreciative audiences, such as professors, students, clinicians, teachers, and other professionals interested in new ideas to assist them in their own work. As a personal gain, your audience may provide feedback on your research findings which may be invaluable to you in the development of your research program. Presenting research at conferences also allows for the opportunity to meet potential future advisors, employers, collaborators, and/or colleagues. Conferences are ideal settings for networking and, in fact, many conferences have forums organized for this exact purpose (e.g., job openings listed on a bulletin board and networking luncheons). The costs include the time commitment of writing and constructing the presentation, the potential for rejection from the reviewers, the cost of attending the conference, the anxiety inherent in formal presentations, and the time and expenses of traveling to the meeting. Although we do believe that the benefits of presenting at conferences outweigh the costs, you should consider the specific pros and cons for you, your research, the specific meeting, and your particular situation before embarking on this experience.
Keywords
Video Clip

Poster Presentation

Oral Presentation

Panel Discussion

Poster Session
These keywords were added by machine and not by the authors. This process is experimental and the keywords may be updated as the learning algorithm improves.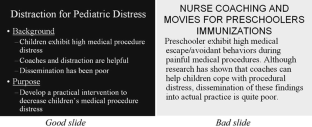 References
Cohen, J. (1990). Things I have learned (so far). American Psychologist, 45, 1304–1312.

Drotar, D. (2000). Presenting scientific data. In D. Drotar (Ed.), Handbook of research in pediatric and clinical child psychology (pp. 329–345). New York: Plenum.

Gorham, J., Cohen, S. H., & Morris, T. L. (1999). Fashion in the classroom III: Effects of instructor attire and immediacy in natural classroom interactions. Communication Quarterly, 47, 281–299.

Hoff, R. (1988). I can see you naked: A fearless guide to making great presentations. New York: Universal Press.

Skinner, B. F. (1953). Science and human behavior (pp. 242–256). New York: Macmillan.

Wilder, C. (1994). The presentations kit: Ten steps for selling your ideas. New York: Wiley.

Williams, J. B. W. (1995). How to deliver a sensational scientific talk. In W. Pequegnat & E. Stover (Eds.), How to write a successful research grant application: A guide for social and behavioral scientists (pp. 171–176). New York: Plenum.

Wolpe, J. (1977). The acquisition, augmentation and extinction of neurotic habits. Behaviour Research and Therapy, 15, 303–304.

Zerwic, J. J., Grandfield, K., Kavanaugh, K., Berger, B., Graham, L., & Mershon, M. (2010). Tips for better visual elements in posters and podium presentations. Educational Health (Abingdon), 23(2), 267–273.
Copyright information
© 2013 Springer Science+Business Media New York
About this chapter
Cite this chapter
Cohen, L.L., Greco, L., Martin, S. (2013). Presenting Your Research. In: Prinstein, M. (eds) The Portable Mentor. Springer, New York, NY. https://doi.org/10.1007/978-1-4614-3994-3_9