Abstract
We report the evidence of plasmonic-photonic resonances in hybrid metallo-dielectric quasi-crystal nanostructures composed of aperiodically-patterned low-contrast dielectric slabs backed on a metal layer. Via both experimental and numerical studies, we analyze the resonant phenomena with specific reference to the Ammann-Beenker octagonal tiling geometry. We show that, by comparison with standard periodic structures with the same filling factor, a richer spectrum of resonant modes may be excited, characterized by a distinctive plasmonic or photonic behavior. Concerning the possible applications, we explore their surface sensitivity to deposition of nanolayers of materials mimicking bio-molecular binding.
Keywords
Resonant Mode

Electron Beam Lithography

Periodic Case

Surface Sensitivity

Photonic Resonance
These keywords were added by machine and not by the authors. This process is experimental and the keywords may be updated as the learning algorithm improves.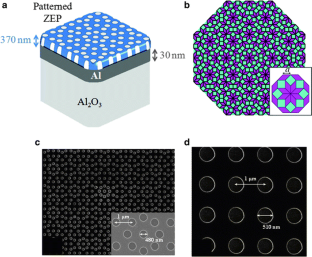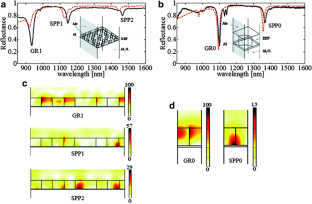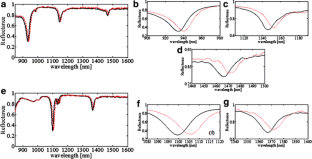 References
Maier SA (2007) Plasmonics: fundamentals and applications. Springer, Berlin

Joannopoulos JD, Johnson SG, Meade RD, Winn JN (2008) Photonic crystals: molding the flow of light, 2nd edn. Princeton University Press, Princeton

Fan S, Joannopoulos JD (2002) Analysis of guided resonances in photonic crystal slabs. Phys Rev B 65:235112

Yu X, Shi L, Han D, Zi J, Paul V, Braun PV (1910) High quality factor metallo dielectric hybrid plasmonic–photonic crystals. Adv Funct Mater 20:1910

Gopinath A, Boriskina SV, Feng N-N, Reinhard BM, Dal Negro L (2008) Photonic-plasmonic scattering resonances in deterministic aperiodic structures. Nano Lett 8:2423

Crescitelli A, Ricciardi A, Consales M, Esposito E, Granata C, Galdi V, Cutolo A, Cusano A (2012) Nanostructured metallo-dielectric quasi-crystals: towards photonic-plasmonic resonance engineering. Adv Funct Mater 22(20):4389–4398
Copyright information
© 2014 Springer Science+Business Media New York
About this paper
Cite this paper
Ricciardi, A. et al. (2014). Analysis of Plasmonic-Photonic Resonances in Hybrid Metallo-dielectric Quasi-Crystals. In: , et al. Sensors. Lecture Notes in Electrical Engineering, vol 162. Springer, New York, NY. https://doi.org/10.1007/978-1-4614-3860-1_10
DOI: https://doi.org/10.1007/978-1-4614-3860-1_10

Published:

Publisher Name: Springer, New York, NY

Print ISBN: 978-1-4614-3859-5

Online ISBN: 978-1-4614-3860-1

eBook Packages: EngineeringEngineering (R0)