Abstract

Morphological properties of primo vascular system were characterized by a high resolution light microscopy that makes structural features with size of ∼100 nm clearly visible. High visibility and advanced contrast of the smallest features in the image are due to enhancement of high spatial frequencies in the optical transfer function. We have isolated primo nodes (PN), vessels (PV), and capillaries from the surface of organs in the peritoneal cavity of rats. These structures correspond to Bonghan corpuscle, ducts, and ductules, discovered by B.H. Kim in the early 1960s. The non-fixed samples stained with acridine orange and Bouin fixed and H&E stained slides were observed, photographed, and analyzed. The primo vessel is composed of 1–20 primo-capillaries of 3–25 μm in diameter. A thin external envelope of primo-capillary is composed of muscle-like endothelial cells with rod-shape 15–20 μm nuclei directed along the capillary axis. The primo-capillaries carry a liquid that contains granules and cell-like structures rich in nucleic acids. The bundle of primo-capillaries of the primo vessel is laid into an external jacket composed of endothelial cells with 6–12 μm spindle-like or oval nuclei. The primo nodes are oval-shape of 0.1–0.5 mm along the short and 0.5–1 mm along the long axis, on both ends connected to primo vessels of 3–6 cm in length and 40–100 μm in diameter. The primo node is essentially the interlacement of broadened and branched primo-capillaries covered with a 5–40 μm thick capsule. A single capillary bundle (B) of the incoming (afferent) vessel enters the node, branches into additional bundles, and fills the node interior by tightly spun and folded bundles. Capillaries converge, narrow, and come out from the node as a single bundle of the efferent primo vessel. The structural features of primo nodes, vessels, and capillaries observed with a high resolution light microscope are very different from those observed in blood and lymphatic vascular samples. Specifically, the jacketed architecture of primo vessels has no known parallel in other vascular systems.
Keywords
Acridine Orange

Illumination System

Capillary Bundle

Basophilic Granule

Capillary Axis
These keywords were added by machine and not by the authors. This process is experimental and the keywords may be updated as the learning algorithm improves.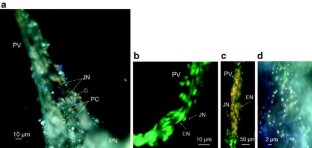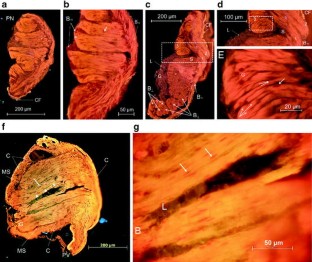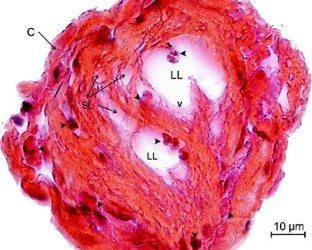 References
Hoizey D, Hoizey M (1988) A history of Chinese medicine. Edinburgh University Press, Edinburgh

NIH (1998) NIH consensus conference. Acupuncture. JAMA 280:1518–1524

Kim BH (1964) On the Kyungrak System. Foreign Language Publishing House, Pyongyang, DPRK (available at the Duke University Libraries)

Kim BH (1965) Kyungrak system and Sanal theory. Medical Literature, Pyongyang, DPRK (Russian)

Darras J-C, Albaredo P, de Vernejoul P (1993) Nuclear medicine investigation of transmission of acupuncture information. Acupunct Med 11:22–28

Zhang WB, Tian YY, Li H, Tian JH, Luo MF, Xu FL, Wang GJ, Huang T, Xu YH, Wang RH (2008) A discovery of low hydraulic resistance channel along meridians. J Acupunct Meridian Stud 1:20–28

Richard F, Hobbs MD III (2009) The biophysics of acupuncture: emerging patterns. From selected studies. Med Acupunct 21(4):251–256

Lee B-C, Bae K-H, Jhon G-J, Soh K-S (2009) Bonghan system as mesenchymal stem cell niches and pathways of macrophages in adipose tissues. J Acupunct Meridian Stud 2:79–82

Soh K-S (2009) Bonghan circulatory system as an extension of acupuncture meridians. J Acupunct Meridian Stud 2:93–106

Yoo JS, Kim HB, Ogay V, Lee B-C, Ahn S, Soh K-S (2009) Bonghan ducts as possible pathways for cancer metastasis. J Acupunct Meridian Stud 2:118–123

Chan SHH (1984) What is being stimulated in acupuncture – evaluation of the existence of specific substrate. Neurosci Biobehav Rev 8:25–33

Zhao Z-Q (2008) Neural mechanism underlying acupuncture analgesia. Prog Neurobiol 85:355–375

Vainrub A, Pustovyy O, Vodyanoy V (2006) Resolution of 90 nm (lambda/5) in an optical transmission microscope with an annular condenser. Opt Lett 31:2855–2857

Richardson TM (1988) Test slides: diatoms to divisions – what are you looking at? Proc Roy Microsc Soc 22:3–9

Shin H-S, Johng H-M, Lee B-C, Cho S-I, Soh K-S, Baik K-Y, Yoo J-S, Soh K-S (2005) Feulgen reaction study of novel threadlike structures (Bonghan ducts) on the surfaces of mammalian organs. Anat Rec B New Anat 284:35–40

Vodyanoy V (2009) Demonstration of Bonghan corpuscles and ducts in rabbits and rats by Korean scientists. J Acupunct Meridian Stud 2:169

Born M, Wolf E (1999) Principles of optics, 7th edn. Cambridge University Press, Cambridge

Martin LC (1966) The theory of the microscope. Elsevier, New York

Vodyanoy V, Pustovyy O, Vainrub A (2007) High resolution light microscopy of nanoforms. vol 6694. Proceedings of SPIE – The International Society for Optical Engineering, pp 1–12

Vodyanoy, V, Vainrub, A, Pustovyy, O (2009) High resolution optical microscope with cardioid condenser for brightfield and darkfield illumination. US Patent 7,542,203

Sung B, Kim MS, Lee BC, Yoo JS, Lee SH, Kim YJ, Kim KW, Soh KS (2008) Measurement of flow speed in the channels of novel threadlike structures on the surfaces of mammalian organs. Naturwissenschaften 95:117–124

Shayan R, Achen MG, Stacker SA (2006) Lymphatic vessels in cancer metastasis: bridging the gaps. Carcinogenesis 27:1729–1738

Kim BH (1965) The Sanal theory. J Acad Med Sci (DPR Korea) 108:39–62

Lee BC, Yoo JS, Ogay V, Kim KW, Dobberstein H, Soh KS, Chang BS (2007) Electron microscopic study of novel threadlike structures on the surfaces of mammalian organs. Microsc Res Tech 70:34–43

Ogay V, Bae KH, Kim KW, Soh K-S (2009) Comparison of the characteristic features of Bonghan ducts, blood and lymphatic capillaries. J Acupunct Meridian Stud 2:107–117

Baik KY, Ogay V, Jeoung SC, Soh K-S (2009) Visualization of Bonghan microcells by electron and atomic force microscopy. J Acupunct Meridian Stud 2:124–129

Baik KY, Sung B-K, Lee B-C, Johng H-M, Ogay V, Nam TJ, Shin H-S, Soh K-S (2004) Bonghan ducts and corpuscles with DNA-contained granules on the internal organs-surfaces of rabbits. J Int Soc Life Inform Sci 22:598–601

Ogay V, Baik Ku Y, Lee B-C, Soh K-S (2006) Characterization of DNA-containing granules flowing through the meridian-like system on the internal organs of rabbits. Acupunct Electrother Res 31:13–31

Sung B, Kim MS, Corrigan A, Donald AM, Soh KS (2009) In situ microextraction method to determine the viscosity of biofluid in threadlike structures on the surfaces of mammalian organs. Phys Rev E Stat Nonlin Soft Matter Phys 79(2 Pt 1):022901

Lee SJ, Lee B-C, Nam CH, Lee W-C, Jhang S-U, Park HS, Soh K-S (2008) Proteomic analysis for tissues and liquid from Bonghan ducts on rabbit intestinal surfaces. J Acupunct Meridian Stud 1:97–109
Acknowledgments

This work was supported by John R. Fetzer Memorial Trust, Inc. The author is grateful to John C. Dennis, Ludmila Globa, Oleg Pustovyy, Christopher Moore, Iryna Sorokulova, and Edward Morrison for help and encouragement, and Kwang-Sup Soh, Byung-Cheon Lee, and Min Su Kim for assistance and advice.
Copyright information

© 2012 Springer Science+Business Media, LLC
About this paper
Cite this paper
Vodyanoy, V. (2012). Characterization of Primo Nodes and Vessels by High Resolution Light Microscopy. In: Soh, KS., Kang, K., Harrison, D. (eds) The Primo Vascular System. Springer, New York, NY. https://doi.org/10.1007/978-1-4614-0601-3_12