Abstract
Nutritional surveys in many areas of the world have revealed that approximately one-third of children living in developing countries are either moderately or severely undernourished. Malnutrition, often associated with infection, is a primary or contributing cause of one-half of the deaths of young children under five years of age (Puffer and Serrano, 1973). It is also recognized that the problem of malnutrition is like an iceberg. Mild and subclinical deficiencies of nutrients outnumber overt syndromes by 10:1. There is a continuum between good nutrition and gross malnutrition, and many shades of gray fill the transitional space between white and black. In industrialized countries, kwashiorkor or marasmus are rare; less severe nutritional deficits, however, which are either primary or secondary to chronic systemic disease, are not uncommon, especially in deprived segments of the population (Zee et al. 1970; U. S. Department of Health, Education and Welfare, 1972; Nutrition Canada, 1973). Clinicians have long suspected that the malnourished were more susceptible to infection and that deterioration in nutrition is a frequent complication of infection. Clinical, epidemiological, and experimental data support the concept of a synergistic interrelationship between nutritional deficiency and infectious illness (Scrimshaw et al., 1968). That such interactions are mediated through altered im-munocompetence is relatively recent knowledge (Chandra and Newberne, 1977; Suskind, 1977).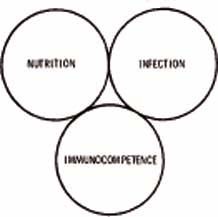 Keywords
Nutritional Deficiency 
Malnourished Child 
Infectious Illness 
Cutaneous Hypersensitivity 
Paracortical Area 
These keywords were added by machine and not by the authors. This process is experimental and the keywords may be updated as the learning algorithm improves.
Copyright information
© Plenum Press, New York 1979