Reverse Bennett's Fracture
Abstract
The fracture-dislocation at the base of the fifth metacarpal is analogous to Bennett's fracture of the thumb (Fig. 13-1 A). Because of the obliquity of the fracture line, the obliquity of the metacarpal hamate joint, and the pull of the extensor carpi ulnaris, this fracture-dislocation tends to be unstable and to displace, much in the same fashion as the first metacarpal in a Bennett's fracture and with similar functional impairment.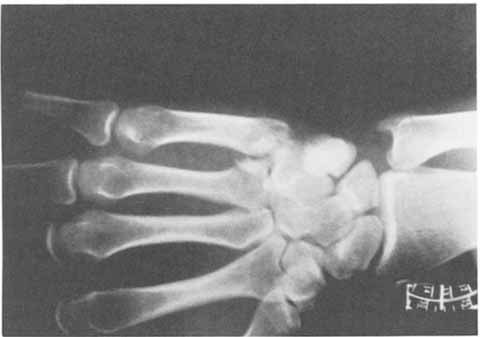 Keywords
Closed Reduction 
Stable Fixation 
Percutaneous Pinning 
Intraarticular Fracture 
Metacarpal Base 
These keywords were added by machine and not by the authors. This process is experimental and the keywords may be updated as the learning algorithm improves.
Copyright information
© Springer-Verlag New York Inc. 1986