Abstract
An individual elementary/atomic particle kept at rest in free space for extended periods, is an ideal object for high resolution spectroscopy. All external causes for line broadening or shifts such as 1. and 2. order Doppler and transit time effects as well as Zeeman or Stark effects are eliminated for such a system. This ideal has been approximated most closely so far in experiments on an individual Ba
+
ion localized in a Paul (rf) quadrupole trap to ∿2000Å by optical side band cooling and made visible, all accomplished by means of laser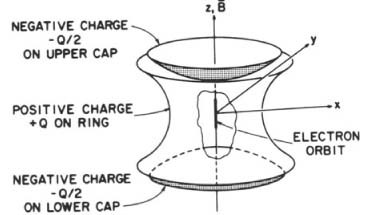 beams. High resolution spectroscopy on an individual electron/positron localized to <200 µm by rf side band cooling in a Penning trap employing a 50 kG field has already yielded the most precise data on the magnetic moments of these particles and also provided a severe test of the CPT theorem for
charged
elementary particles. Furthermore, localization of an elementary particle in space is one of the most fundamental problems in physics and worthy of study on its own merit.
Keywords
Cyclotron Frequency 
Axial Motion 
Axial Resonance 
Cyclotron Motion 
High Resolution Spectroscopy 
These keywords were added by machine and not by the authors. This process is experimental and the keywords may be updated as the learning algorithm improves.
Copyright information
© Plenum Press, New York 1983