Abstract
Anal fissure occurs predominantly in young adults but it is sometimes seen in infants and children. It is a longitudinal ulcer in the skin-lined part of the anal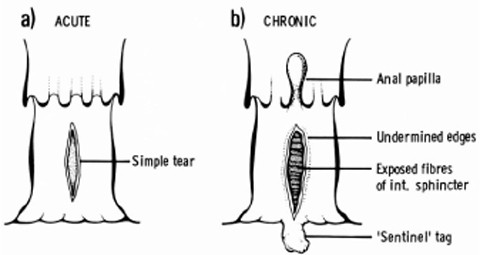 canal which probably starts as a simple tear. The edges become undermined and the base deepens to expose the circular fibres of the internal sphincter (Fig. 5.2). An anal papilla may develop at the level of the dentate line and a redundant skin tag at the distal end of the fissure (sentinel pile). Fissure is associated with a low fistula-in-ano or intersphincteric abscess in 5%–10% of cases and is the commonest anal lesion associated with Crohn's disease.
Keywords
Anal Fissure 
Anal Fistula 
Internal Opening 
Pilonidal Sinus 
Hidradenitis Suppurativa 
These keywords were added by machine and not by the authors. This process is experimental and the keywords may be updated as the learning algorithm improves.
Copyright information
© Springer-Verlag Berlin Heidelberg 1985