Abstract
George Abell passed away several years ago but one of the most enduring legacies he has left astronomy is a catalog of galaxy groups that he compiled in the 1950s. Abell examined the Palomar Sky Survey plates to find clusters of galaxies. Values were assigned according to the richness of the number of galaxies and the distance of the cluster. He found that the magnitude of the tenth-brightest galaxy was a good indicator of the relative brightness of the cluster. This groundbreaking work has stood the test of time as a valuable system for evaluating galaxy clusters.
Table 10.1
contains information on the 32 dosest Abell galaxy groups, the ones assigned distance values of "0" or "1". Brian Skiff has observed many of these clusters over the years and has informed me that this is a very reasonable criterion for making a list of the best and brightest galaxy clusters. Brian is very knowledgeable and so it is this criterion I chose for the listing in the table.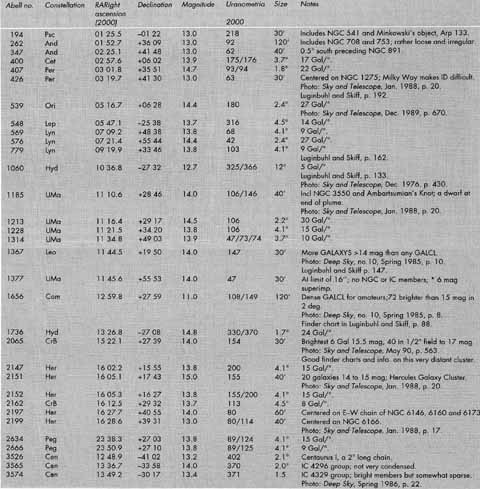 Keywords
Galaxy Cluster 
Bright Galaxy 
Faint Galaxy 
Bright Core 
Excellent Site 
These keywords were added by machine and not by the authors. This process is experimental and the keywords may be updated as the learning algorithm improves.
Copyright information
© Springer-Verlag London 2000