Abstract
Over the past several years, skutterudite compounds have been extensively studied due to their high thermoelectric performance in the intermediate temperature range between 500 K and 1000 K.
1-5
Potential automotive applications of these materials include waste heat recovery from exhaust gases and radiators. For example, the exhaust temperature of a four-cylinder engine under normal operating conditions is about 800 K, a temperature at which high thermoelectric figure of merit is observed for skutterudite compounds. In addition to the broad materials studies, prototype generators were built in the US,
6,7
Japan,
8,9
and Europe.
10
CoSb
3
-based skutterudites have particularly been the focal point of research mainly because of the abundance of the constituent elements. The chemical formula for binary skutterudites is MX
3
, where the metal atom M can be Co, Ir or Rh, and the pnicogen atom X can be P, As, or Sb. Binary skutterudite compounds crystallize in a body-centered-cubic structure with space group
Im3,
and the crystal structure contains large voids at the
a
positions (12-coordinated); each M atom is octahedrally surrounded by X atoms forming a MX
6
octahedron (see
Fig. 1
). They are semiconductors with small band gaps (~ 100 meV), high carrier mobilities, and modest thermopowers. Detailed structural and electronic properties can be found in two recent reviews.
11,12
Despite their excellent electronic properties, they possess thermal conductivities (~ 10 W/mK at room temperature) that are too high to compete with the state-of-the-art thermoelectric materials.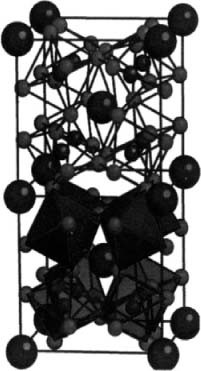 Keywords
Thermoelectric Material 
Hole Concentration 
Lattice Thermal Conductivity 
Total Thermal Conductivity 
Electronic Thermal Conductivity 
These keywords were added by machine and not by the authors. This process is experimental and the keywords may be updated as the learning algorithm improves.
Copyright information
© Springer Science+Business Media New York 2003