Abstract

There are ∼10,000 species of birds in the world. Of these, there are ∼820 diverse species that live on or near water, many of whom dive when foraging for food. At one end of the diving continuum, diving ducks of the family Anatidae, which contains 158 species of ducks, geese, and swans, can dive to depths of tens of meters for seconds up to a minute or two. At the other end of the continuum is the family Spheniscidae, which includes 17 species of penguins. The most extreme diver among all birds, the Emperor penguin, can dive to depths of 500 m and remain submerged for over 20 min (Meir et al. 2008). As our oceans and waterways become increasingly noisy, it is important to consider the potential impact of this noise on these birds. Although vision is surely important to birds, many of these diving bird species dive to depths where there is little light available, often dive at night, and forage cooperatively (Croxall et al. 1988; Hunt et al. 1993; Kooyman et al. 1992; Speckman et al. 2003). These behaviors probably depend on a sense other than vision. The use of sound for communication, navigation, and foraging in many marine mammals and fish makes hearing a prime candidate. Indeed, hearing is quite important for many diving bird species in the air. Both Emperor and King penguins identify their partners through individually distinctive vocalizations among several thousands of unrelated birds in the tightly packed, noisy colony (Aubin et al. 2000; Jouventin 1982). However, whether diving birds use their hearing in support of similar behaviors underwater is unclear.
Keywords
Noise Exposure

King Penguin

Emperor Penguin

Diving Duck

Hooded Seal
These keywords were added by machine and not by the authors. This process is experimental and the keywords may be updated as the learning algorithm improves.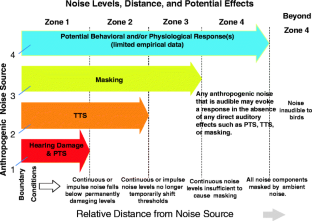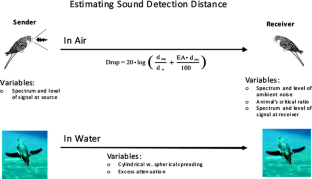 References
Aubin T, Jouventin P, Hildebrand C (2000) Penguins use the two-voice system to recognize each other. Proc R Soc Lond Ser B Biol Sci 267:1081–1087.

Brandt JF, Hollien H (1967) Underwater hearing thresholds in man. J Acoust Soc Am 42:1966–1971.

Croxall JP, Davis RW, O'Connell MJ (1988) Diving patterns in relation to diet of gentoo and macaroni penguins at South Georgia. Condor 90:157–167.

Dawson C, Vincent JFV, Jeronimidis G, Rice G, Forshaw P (1991) Heat transfer through penguin feathers. J Theor Biol 199: 291–295.

Dooling RJ, Lohr B Dent ML (2000) Hearing in birds and reptiles. In: Dooling RJ, Popper AN, Fay RR (eds) Comparative hearing: Birds and reptiles. Springer-Verlag, New York, pp 308–359.

Dooling RJ, Popper AN (2007) The effects of highway noise on birds. Report for The California Department of Transportation, Division of Environmental Analysis, Sacramento, CA. Available via http://www.dot.ca.gov/hq/env/bio/files/caltrans_birds_10-7-2007b.pdf.

Gleich O, Dooling RJ, Manley GA (2005) Audiogram, body mass and basilar papilla length: correlations in birds and predictions for extinct archosaurs. Naturwissenshaften 92:595–598.

Hunt GL, Harrison NM, Piatt JF (1993) Foraging ecology as related to the distribution of planktivorous auklets in the Bering Sea. In: Vermeer K, Briggs KT, Morgan KH, Siegel-Causey D (eds) The status, ecology and conservation of marine birds of the North Pacific. Can Wildl Serv Spec Publ Ottawa, pp 18–26.

Jouventin P (1982) Visual and vocal signals in penguins, their evolution and adaptive characters. Adv Ethol 24:1–149.

Kooyman GL, Cherel Y, Le Maho Y, Croxall JP, Thorson PH, Ridoux V, Kooyman CA (1992) Diving behavior and energetics during foraging cycles in king penguins. Ecol Monogr 62):143–163.

Kooyman GL, Gentry RL, Bergman WP, Hammel HT (1976) Heat loss in penguins during immersion and compression. Comp Biochem Physiol A 54:75–80.

Meir JU, Stockard TK, Williams CL, Ponganis KV, Ponganis PJ (2008) Heart rate regulation and extreme bradycardia in diving emperor penguins. J Exp Biol 211:1169–1179.

Parvin SJ, Nedwell JR (1995) Underwater sound perception by divers and the development of an underwater noise weighting scale. J Soc Underwater Technol 21:12–19.

Ryals BM, Dooling RJ, Westbrook E, Dent ML, MacKenzie A, Larsen ON (1999) Avian species differences in susceptibility to noise exposure. Hear Res 131:71–88.

Sadé J, Handrich Y, Bernheim J, Cohen D (2008) Pressure equilibration in the penguin middle ear. Acta Oto-Laryngol 128:18–21.

Speckman SG, Piatt JF, Springer AM (2003) Deciphering the social structure of marbled murrelets from behavioral observations at sea. Waterbirds 26:266–274.

Trainer JE (1946) The auditory acuity of certain birds. Unpublished dissertation, Cornell University, Ithaca, NY.

Wever EG, Herman PN, Simmons JA, Hertzler DR. (1969) Hearing in the blackfooted penguin, Spheniscus demerus, as represented by the cochlear potentials. Proc Natl Acad Sci USA 63:676–680.
Copyright information

© 2012 Springer Science+Business Media, LLC
About this paper
Cite this paper
Dooling, R.J., Therrien, S.C. (2012). Hearing in Birds: What Changes From Air to Water. In: Popper, A.N., Hawkins, A. (eds) The Effects of Noise on Aquatic Life. Advances in Experimental Medicine and Biology, vol 730. Springer, New York, NY. https://doi.org/10.1007/978-1-4419-7311-5_17