Abstract
Sphingolipid (SPL) metabolism (Fig. 1) serves a key role in the complex mechanisms regulating cellular stress responses to environment. Several SPL metabolites, especially ceramide (Cer), sphingosine (Sph) and sphingosine1-phosphate (S1P) act as key bioactive molecules governing cell growth and programmed cell death (Fig. 2). Perturbations in sphingolipids of one type may enhance or interfere with the action of another. To monitor changes in SPL composition therefore, reliable analytical methods are necessary.
Here we present the liquid chromatography tandem mass spectrometry (LC-MS/MS) approach for simultaneous qualitative and quantitative monitoring of SPL components (classes and molecular species) in biological material as an effective tool to study sphingolipid signaling events. The LC-MS/MS methodology is the only available technique that provides high specificity and sensitivity, along with a wealth of structural identification information.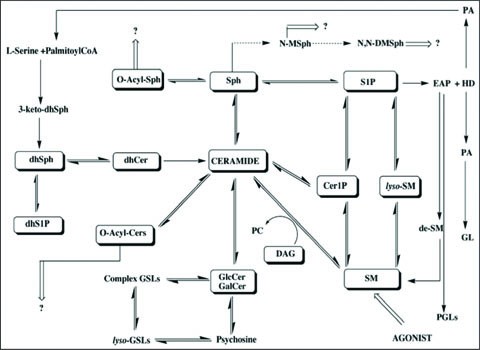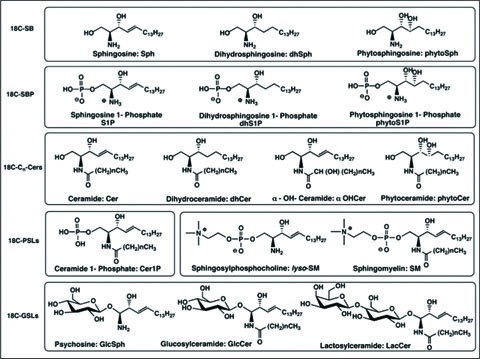 Keywords
Molecular Species 
Multiple Reaction Monitoring 
Collision Induce Dissociation 
Sphingoid Base 
Chemical Noise 
These keywords were added by machine and not by the authors. This process is experimental and the keywords may be updated as the learning algorithm improves.
Copyright information
© Landes Bioscience and Springer Science+Business Media 2010