Epidural Anesthesia: New Indications for an Old Technique?
Abstract
Fernand Cathélin (1873–1929) and Jean Athanase Sicard (1872–1929) were the pioneer researchers who independently tried to establish an analgesic technique via the epidural space. Cathélin, however, was the first to report experiences in blocking the last sacral and coccygeal nerves using an anesthetic solution (which is still unknown). Although Cathélin was able to apply this technique in the treatment of various urological diseases, he failed to produce effective anesthesia for surgical procedures [1]. Now, about one century later, epidural anesthesia is a widely used and accepted technique for perioperative analgesia in thoracic, abdominal, and orthopedic surgery. In addition, epidural anesthesia is often applied in women during labor and delivery and represents a useful approach in the treatment of chronic pain (especially related to pancreatic cancer and pancreatitis). Moreover, besides providing effective pain relief, epidural anesthesia represents a reliable and reversible neural deafferentation technique that effectively contributes to a reduction in the surgical stress response [2]. The clinical effects of thoracic epidural anesthesia are primarily related to a segmental sympathetic blockade [3]. In this context, it is note- worthy that epidural anesthesia is linked to vasodilation in the blocked area and a reflex increase in sympathetic activity outside the anesthetized segments [4]. Current evidence supports the concept that only thoracic epidural anesthesia exerts positive effects on cardiopulmonary and gastrointestinal functions. This book chapter is not exhaustive, but aims to summarize the current knowledge on the effects of epidural anesthesia on pain management, cardiopulmonary and gastrointestinal functions, as well as the immune system and outcome (Fig. 1.).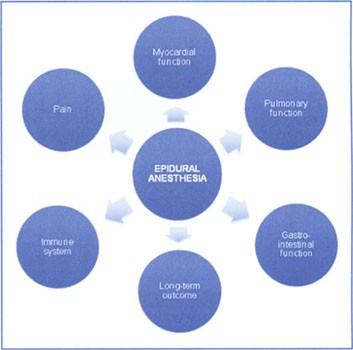 Keywords
Epidural Analgesia 
Epidural Anesthesia 
Epidural Catheter 
Epidural Hematoma 
Epidural Abscess 
These keywords were added by machine and not by the authors. This process is experimental and the keywords may be updated as the learning algorithm improves.
Copyright information
© Springer Science + Business Media Inc. 2010