Doppler-Based Renal Resistive Index: A Comprehensive Review
Abstract
Renal sonography is performed routinely to assess renal and collecting system morphology. B-mode sonography provides valuable information on anatomic features including kidney size (longitudinal diameter and parenchyma thickness) and appearance (kidney margins and echogenicity of the parenchyma, cortex, medulla, and papillae); presence and degree of hydronephrosis; and presence of stones, calcification, cysts, or solid masses. However, B-mode sonography does not evaluate kidney function. Renal Doppler, in contrast, helps to assess renal perfusion and renal function of native or transplanted kidneys (Fig. 1). Renal Doppler is valuable for assessing large arterial or venous abnormalities and has been suggested for evaluating changes in intrarenal perfusion due to diseases of the renal parenchyma [1, 2, 3, 4, 5]. The Doppler-based renal resistive index is a recently suggested tool for assessing changes in renal perfusion in critically ill patients [6, 7, 8] and for predicting acute kidney injury (AKI) in patients with severe sepsis [9]. However, many factors influence the renal resistive index and should be taken into account when interpreting resistive index values in critically ill patients [10].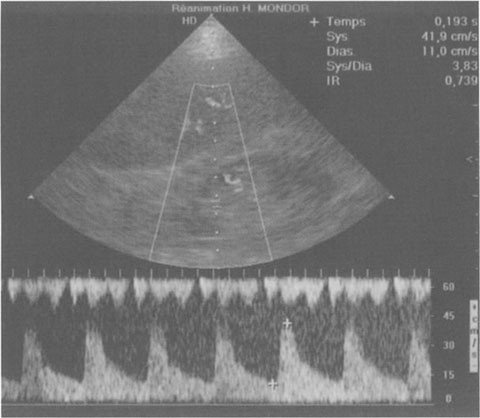 Keywords
Acute Kidney Injury 
Resistive Index 
Renal Blood Flow 
Renal Perfusion 
Renal Vascular Resistance 
These keywords were added by machine and not by the authors. This process is experimental and the keywords may be updated as the learning algorithm improves.
Copyright information
© Springer Science + Business Media Inc. 2010