New and Conventional Strategies for Lung Recruitment in Acute Respiratory Distress Syndrome
Abstract
Mechanical ventilation is a supportive and life saving therapy in patients with acute lung injury (ALI)/acute respiratory distress syndrome (ARDS). Despite advances in critical care, mortality remains high [1]. During the last decade, the fact that mechanical ventilation can produce morphologic and physiologic alterations in the lungs has been recognized [2]. In this context, the use of low tidal volumes (VT) and limited inspiratory plateau pressure (Pplat) has been proposed when mechanically ventilating the lungs of patients with ALI/ARDS, to prevent lung as well as distal organ injury [3]. However, the reduction in VT may result in alveolar derecruitment, cyclic opening and closing of atelectatic alveoli and distal small airways leading to ventilator-induced lung injury (VILI) if inadequate low positive end-expiratory pressure (PEEP) is applied [4]. On the other hand, high PEEP levels may be associated with excessive lung parenchyma stress and strain [5] and negative hemodynamic effects, resulting in systemic organ injury [6]. Therefore, lung recruitment maneuvers have been proposed and used to open up collapsed lung, while PEEP counteracts alveolar derecruitment due to low VT ventilation [4]. Lung recruitment and stabilization through use of PEEP are illustrated in Figure 1. Nevertheless, the beneficial effects of recruitment maneuvers in ALIIARDS have been questioned. Although Hodgson et al. [7] showed no evidence that recruitment maneuvers reduce mortality or the duration of mechanical ventilation in patients with ALI/ARDS, such maneuvers may be useful to reverse life-threatening hypoxemia [8] and to avoid derecruitment resulting from disconnection and/or airway suctioning procedures [9].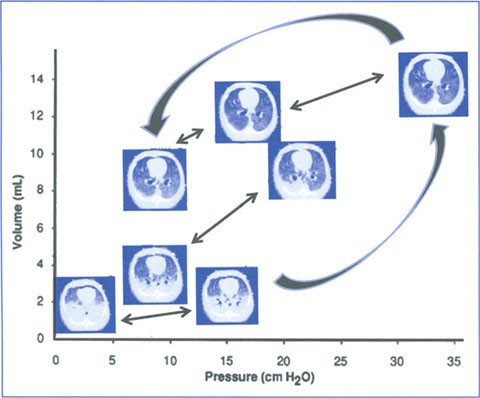 Keywords
Lung Injury 
Acute Lung Injury 
Acute Respiratory Distress Syndrome 
Respir Crit 
Recruitment Maneuver 
These keywords were added by machine and not by the authors. This process is experimental and the keywords may be updated as the learning algorithm improves.
Copyright information
© Springer Science + Business Media Inc. 2010