Intra-aortic Balloon Counterpulsation in Cardiogenic Shock
Abstract
What can we expect from the implementation of an intra-aortic balloon counterpulsation pump (IABP) in a patient with shock (Fig. 1)? The conventional indication for IABP is cardiogenic shock of ischemic etiology. With the IABP in place in the thoracic aorta, inflation of the balloon in diastole and active deflation in systole induces higher perfusion pressures in the brain and the coronary arteries in diastole and unloads the diseased heart by reducing left ventricular afterload in systole. Of special relevance is the volume shifting of about 40 ml per beat by the IABP, increasing left ventricular ejection fraction and thereby cardiac output in the range of at best 1 l/min.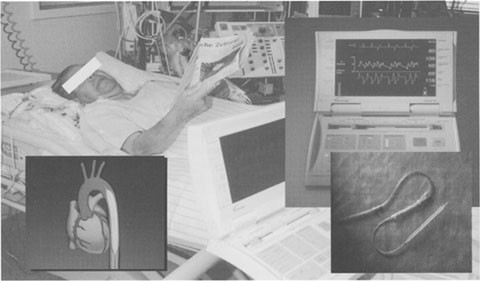 Keywords
Septic Shock 
Percutaneous Coronary Intervention 
Cardiogenic Shock 
Left Ventricular Assist Device 
STEMI Patient 
These keywords were added by machine and not by the authors. This process is experimental and the keywords may be updated as the learning algorithm improves.
Copyright information
© Springer Science + Business Media Inc. 2010