Growth of Children in Conflict
Abstract
Growth of children in regions of conflict is likely to be disrupted by lack of food and an excess of psychological stress and physical disease. An example of the severe effects of conflict was seen in the northeast of Sri Lanka which has suffered more than 20 years of economic sanctions and long periods of active warfare in the Tamil struggle for autonomy. An anthropometric survey in 2005 revealed 34.3% of children <5 years old in Kilinochchi, the de facto capital of the northeast, to be under-nourished compared with 13.2% in the capital of Sri Lanka, Colombo. Ultrasound measurement of the lengths of the kidneys of these children revealed a progressive fall from the mean, suggesting a renal contribution to the cardiovascular disease in developing countries. Measurements of Tamil children in the tea estates in the mountainous centre of Sri Lanka revealed even greater stunting and wasting. The mothers of these children were also stunted and many displayed signs of vitamin and mineral deficiency. The low birthweight rate of 45% confirmed an inter-generational effect of under-nutrition according to the theory of the 'developmental origins of health and disease'. The degree of stunting and wasting of Tamil children in the northeast and the tea estates is much worse than that of the other major ethnic group in Sri Lanka, the majority Sinhalese, in whom progress in nutrition has been recorded in the last 25 years. Indeed, when compared to anthropometric reports from other regions of conflict throughout the world, the under-nutrition of Tamil children in the tea estates and the northeast of Sri Lanka is revealed to be the worst. The under-nutrition in the tea estates is the worst of all reported, confirming the concept that 'silent' conflict, distant from the world's media and the pressures of international rivalry, may have a greater effect on the growth of children. The WHO database, Anthro 2006, is a useful tool in the field with which to record individual and communal anthropometry and make comparisons with an international standard. There are some technical difficulties in its use but the greatest impediment to the accurate measurement of the anthropometry of children in conflict remains neither the database nor even accuracy of measurement. The greatest impediment is access to the children.
Keywords
Severe Acute Malnutrition 
Acute Malnutrition 
Underweight Child 
Renal Size 
Renal Length 
These keywords were added by machine and not by the authors. This process is experimental and the keywords may be updated as the learning algorithm improves.
Abbreviations
BMI

Body mass index

GAM

Global acute malnutrition

H/A

Height/age

LTTE

Liberation Tigers of Tamil Eelam

NCHS

National Center for Health Statistics

SAM

Severe acute malnutrition

SD

Standard deviation

W/A

Weight/age

W/H

Weight/height

WHO

World Health Organization
121.1

Introduction

Normal growth of children requires sufficient substrates of food, minerals and vitamins and a minimum of distractions for the successful interplay of the intensely complex genetic commands, hormonal messages and cellular responses that are involved. The process begins from conception and is defined as ending when long bones have matured, though brain maturation continues into the third decade.

Growth is not merely the accretion of size. The growth of the brain, for example, is more than an increasing head circumference. It implies maturation of the development and interplay of the trillion neurons that house the cognitive ability, consciousness and executive control of a child that are prerequisites for a life of contribution to society.

Substrates include proteins, fats, carbohydrates, micronutrients, minerals and vitamins. Distractions include under-nutrition, stress and disease. Under conditions of conflict, supply of substrates is likely to be reduced, stress increased and disease more prevalent. In consequence the complex interplay of physical and psychological factors that determine a child's physical size, organ maturation, reaction to disease and emotional and intellectual development is likely to be disrupted with, perhaps, permanent results.

This review will consider challenges to growth and its measurement in regions of conflict. It will use the specific example of Tamil children exposed to racial and political conflict in Sri Lanka. It will consider growth in a recognised region of violent conflict in that island and in an unrecognised region. It will compare anthropometry of children in those regions with data reported from other, Sinhalese, parts of Sri Lanka as contained in that country's official Demographic and Health surveys and with data reported by other investigators from conflicts in other parts of the world.

The recognised region of conflict in Sri Lanka that will be considered is the northeast which is the traditional region of habitation by Tamils who comprise about a quarter of the population of Sri Lanka. For over 30 years there has been a struggle by these Tamil people, under the leadership of the Liberation Tigers of Tamil Eelam (LTTE), for autonomy from the Sinhala majority government based in Colombo. During that time, mothers and children in the northeast have been subjected to prolonged periods of actual warfare, longer periods of displacement and sustained economic sanctions. The Asian tsunami of 2004 ravaged the entire coastline adding natural devastation to man-made conflict. The physical violence of this conflict ended in May 2009 with the military victory of the Government of Sri Lanka but the population remains displaced.

The unrecognised region of conflict resides in the tea estates in the mountains of southern Sri Lanka where Tamils were brought as labourers by the British colonial power over a hundred years ago and where they continue to serve. Marginalised by the Sinhala government, these Tamils exist in poverty, and the growth of their children is restricted under the 'silent' unrecognised conflict of economic serfdom.

This review will be based on research performed by one of the authors when he was visiting lecturer in paediatrics at the Medical College of Tamil Eelam in Kilinochchi, in 2005 (Whitehall, 2008). Kilinochchi was then the administrative centre for the Tamil northeast of Sri Lanka and access to the region was possible under the Ceasefire Agreement of 2002 between the Government of Sri Lanka and the LTTE.

As part of the paediatric curriculum delivered by this author, students were divided into research groups, one of which measured heights and weights, renal lengths and blood pressure of a group of children in Kilinochchi and compared the results with published international standards. This study will be referred to as the Kilinochchi Children's Project. Another group performed a study referred to as the Kilinochchi Perinatal Project which reviewed perinatal data of mothers who had delivered in Kilinochchi in the preceding year and compared that data with international standards. Another group of students, at another time, but still under the author's direction, performed a nutritional survey of Tamil children and mothers in a representative tea estate in the mountains of Sri Lanka, referred to as the Estate Children's Project and the Estate Perinatal Project.

In these studies, measurements of children were entered in the WHO Anthro 2006 software program based on the new WHO Child Growth Standards compared to the older reference values of the National Center for Health Statistics (NCHS) (WHO, 2006). Both new standards and old reference values are contained in the downloadable software program of the WHO.
121.2

Perinatal Anthropometry in Regions of Conflict in Sri Lanka

The Kilinochchi Perinatal Project revealed that there had been 1124 live births in 2005, of whom 14% weighed <2500 g and were thus classifiable as 'low birthweight'. Sixty-four mothers were aged <20 and one hundred and thirty >35 years old. There was no relationship between maternal age and birthweight.

The mean weight of all mothers at delivery was 56.65 kg but 271 (24.4%) weighed <50 kg at delivery and their babies were statistically lighter than those of heavier mothers (2814 vs 3010, p = 0.0000). Birthweights increased proportionally with maternal weight.

The mean height of the mothers was 154.7 cm but 107 (9.6%) were <145 cm and the mean weight of their babies was significantly lighter (2839 vs 2976 g, p = 0.0046). Birthweights increased proportionally with maternal height.

A total of 266 (29.5%) mothers had a BMI at delivery of <20. Seventy-three (8%) had a BMI at delivery of <18 and their babies were significantly lighter (2618 vs 2802, p = 0.035).

Of 774 mothers, 72 (9.3%) had a diastolic blood pressure >90 mmHg before delivery and produced babies significantly lighter (2837 vs 2981 g, p = 0.0125).

The Estate Perinatal Project included 130 mothers who revealed even greater wasting and stunting than those in Kilinochchi. They were not pregnant when measured and, therefore, complete comparison with Kilinochchi is not possible but their mean height was significantly shorter (149.43 vs 154.7 cm, p = 0.003). One-fifth of the women were <145 cm in height. The mean weight of the estate mothers was 44.36 kg. Sixty percent had BMI < 20, and 30% < 18.

About 15% of these mothers had signs of vitamin A deficiency, 7% were markedly pale and 6% had goitres. The mean birthweight of their children was 2480 g; 45% of the newborns weighed <2500 g.
121.3

Anthropometry of Children in Regions of Conflict in Sri Lanka

In the Kilinochchi and Estate Children's Projects, anthropometry of Tamil children under 5 years of age in Kilinochchi in 2005 and in tea estates in 2006 revealed stunting and wasting worse than in predominately Sinhala regions of Sri Lanka as revealed by official statistics of the Department of Health of that country (Demographic and Health Surveys, 2007; Table

121.1

).

Table 121.1

Disproportionate malnutrition in regions of Sri Lanka
| Region | W/H <–3SD | W/H <–2SD | H/A <–3SD | H/A <–2SD | W/A <–3SD | W/A <–2SD |
| --- | --- | --- | --- | --- | --- | --- |
| Kilinochchi | 14.3 | 34.3 | 5.7 | 22.9 | 14.3 | 40 |
| Tea estate plantation | 14.1 | 43.6 | 20.3 | 39.2 | 26.6 | 62 |
| Colombo | 2.1 | 13.2 | 1.4 | 8.4 | 1.5 | 14.1 |
| Sinhala Rural 1 | 3.4 | 14.6 | 2.5 | 15.3 | 2.9 | 25 |
| Sinhala Rural 2 | 3.7 | 20.9 | 5.8 | 18.8 | 4.2 | 23.8 |
| Sinhala administrative centre of tea estates | 2.0 | 10.5 | 13.5 | 40.8 | 5.4 | 25.3 |
Government reports of growth parameters of children <5 years of age reveal a progressive improvement in growth since 1993 of children in the Sinhala capital, Colombo, and other predominately Sinhala regions. There are no earlier measurements of Tamil children for comparison but anthropometry from the Kilinochchi and Estate Children's Projects reveals current indices in Kilinochchi and, especially, the tea estates to be worse than the original indices of Sinhala children (Table
121.2
).
Table 121.2
Disproportionate progress in reduction of malnutrition in Sri Lanka
Region

W/H

H/A

W/A

 

1993

2005

1993

2000

2005

2006

1993

2000

2005

2006

Kilinochchi

 

28.6

 
 

20

 
 
 

48.6

 

Tea estates

 
 
 
 
 

36.3

 
 
 

66.4

Colombo

12.2

 

19.7

7.4

 
 

31.2

18.2

 
 

Other urban

16.8

 

16.8

8.6

 
 

29.9

21.3

 
 

Rural

16.4

 

22.9

12.8

 
 

38.3

30.8

 
 
Comparison of growth parameters of Tamil children aged from 5 to 12 years from Kilinochchi also shows significant restriction compared with measurements of children of that age from urban centres in predominantly Sinhala Colombo (Table
121.3
).
Table 121.3
Indices of growth of children 5–12 years of age in Sri Lanka
|   | H/A | W/A |
| --- | --- | --- |
| Kilinochchi boys | 14.2 | 35.7 |
| Colombo boys | 5.1 | 7.0 |
| Kilinochchi girls | 50 | 54.6 |
| Colombo boys | 5.2 | 6.8 |
A major contributor to growth restriction in Kilinochchi and the tea estates was lack of substrate. Even under the Ceasefire Agreement from 2002 to 2006 when people were able to plant without the fear of war, production was hindered by sanctions against fertilisers and fuel, and the diet for children remained restricted to rice with lentils and occasional beans. Despite the Ceasefire Agreement, the area of arable land in the northeast was severely reduced by its requisition into so-called Security Zones by the Colombo government. Restrictions on the traditional fishing industry in the interests of 'national security' meant consumption of animal protein was confined to a small portion of fish or perhaps an egg about once a week. Coconut was expensive and bananas restricted to about twice a week. In the tea estates, the diet for children was similar. Tea pluckers earn about a dollar a day.
Living conditions in the tea estates predisposed to ill health of children, impairing growth. Tea pluckers live at high altitudes, in 'lines' of narrow tenements persisting from the Dickensian period in which they were built. The workers cook and heat their dwellings with fuel fires contributing to pulmonary disease while inadequate sewage and lack of clean water contribute to a high rate of intestinal parasitosis and diarrhoea.
The restricting effects on growth of the foetus, the infant, and then the Tamil child in the northeast and the estates resulted in degrees of wasting and stunting worse than reported from other regions of Sri Lanka. Government statistics report a steady improvement in growth in Sinhala areas since 1993 and Sri Lanka has been cited as an example of 'particular interest' because 'it has improved nutritional status despite fairly low income per head' (Bryce et al., 2008). This improvement does not pertain to Tamil children in regions of conflict where current measurements are worse than the original measurements in Sinhala areas.
121.4

Renal Size in Kilinochchi

The lengths of the kidneys of the children in Kilinochchi were compared with their ages and their heights and with mean blood pressure. The renal lengths fell progressively from the mean for both age and height, when referred to an Australian nomogram and to reports from Indian children.

No statistical difference in the mean systolic blood pressure was detected within age groups of children in Kilinochchi in correspondence with differences in heights and weights or with renal lengths (Figs.

121.1

and

121.2

).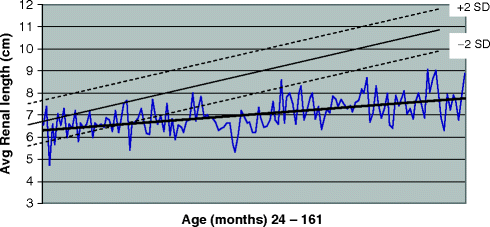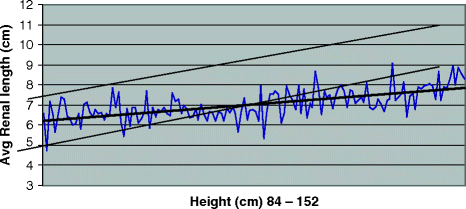 121.5

Comparison of Anthropometry Between International Regions of Conflict

Comparison of anthropometric data of children <5 years of age from Kilinochchi and the tea estates with that reported from various other sites of conflict in the world reveals Tamil children to have been amongst the worst affected. Tamil children attempting to grow under the conditions of the unrecognised conflict in the tea estates are revealed to be most affected (Table

121.4

).

Table 121.4

Comparison of under-nutrition in regions of conflict in Sri Lanka with other sites throughout the world
|   | Year | W/H | H/A | W/A |
| --- | --- | --- | --- | --- |
| Kilinochchi | 2005 | 34.3 | 22.9 | 40 |
| Tea estates | 2006 | 38.1 | 36.3 | 66.4 |
| East Timor (Bucens and Maclennan, 2006) | 2003 | 12.4 | 49.4 | 45.8 |
| North Korea (WHO, 2007) | 2002 | 6.5 | 53.6 | 17.9 |
| Afghanistan (Mashal et al., 2008) | 2006 | 13.6 | 33.1 | 25.8 |
| Sierra Leone (WHO, 2000) | 2000 | 9.9 | 33.8 | 27.2 |
| Iraq (Tawfeek and Salom, 2001) | 1994 | 10.8 | 21 | 21.8 |
| West Bank and Gaza (Abdeen et al., 2007) | 2007 | 3.4 | 10.7 | 5.1 |
| Kalma, South Darfur, Sudan (Grandesso et al., 2004) | 2005 | 23.6 |   |   |
121.6

The Inter-generational Effect of Stunting

There is very significant stunting and wasting of Tamil mothers in the regions of conflict, particularly in the tea estates. The value of BMI at delivery is limited because of varying patterns of weight gain in pregnancy, especially in malnourished pregnancies, but perspective on the degree of maternal under-nutrition is gained by comparing the percentage of mothers with BMI < 20 in Kilinochchi with those reported from the United States: 29.5 vs 0.8% (Ehrenberg et al., 2003).

The stunting and wasting of these mothers was associated with life under sustained conflict through periods of economic oppression alternating with the actual terrors of war. The women suffered chronic limitation of diet, sustained stress, the demands of heavy physical labour and a prevalence of disease, all of which are known to be associated with growth restriction (Christian, 2009).

These factors would, in turn, have affected the growth of their unborn babies, predisposing to low birthweight. The specific lack of minerals and vitamins observed in the mothers in the tea estates would have contributed to ill health in their offspring. The relatively high incidence of hypertension in the mothers in Kilinochchi (9.3 vs 3.7% in developed countries) would have contributed to the incidence of low birthweight.

Other traditional causes of low birthweight were not apparent in the Tamil women. Consumption of cigarettes and alcohol was nonexistent in Kilinochchi and not common in women in the estates. Malaria had been brought under control around Kilinochchi since the Ceasefire Agreement and is not seen in the mountains. HIV is rare but tuberculosis in not uncommon.

The birthweight of the mothers in Kilinochchi and the tea estates was not known but is likely to have been low and to have contributed to the smallness of the mothers, to which would have been added the major influences of under-nutrition and stress. These factors would have contributed to the recorded low birthweight rate of 14% in Kilinochchi and 46% in the tea estates. A confirmatory rate of 34% has been reported elsewhere in the tea estates (Dechering and Perewa, 1991).

These LBW rates compare with the 50% reported from Bangladesh; 30% from India; 25% from Nepal; 23% from Myanmar; 23% from Bhutan; 8% from Thailand (Rai and Dali, 2003); and 5–7% from Europe and North America where prematurity and not growth restriction is the major cause (De Onis et al., 1998).

The perinatal data in Kilinochchi and Tea Estates projects support the concept of the inter-generational effect of under-nutrition. The birthweight of the mothers was not known, but they were stunted and wasted in their reproductive years and, as measured in Kilinochchi, the degree of stunting and wasting correlated with the birthweight of their offspring. Restriction of growth of children under conflict begins with that of their mothers.
121.7

The Developmental Origins of Health and Disease

As mentioned, restriction of growth is not merely a matter of overall size but involves the internal development of individual organs. In 1989, Barker and his coworkers (Barker and Martyn, 1992) found an association between foetal growth restriction and the eventual development of cardiovascular disease, provoking a sustained interest in the 'programming' of the foetus by extraneous insults. Review of the effects of the Dutch Winter Famine of 1944–1945 suggested specific programming in each affected trimester. Starvation in the first trimester was associated with more cardiovascular morbidity in later life. In the second trimester, it was associated with microalbuminuria. In the first and second trimesters, it was associated with obstructive lung disease and in the third trimester with restrictive disease. Starvation was also associated with subsequent insulin resistance and glucose intolerance, as well as mental disease (Painter et al., 2005).

Animal studies supported the association between maternal under-nutrition and the development of cardiovascular disease, diabetes and obesity, leading to a broader appreciation of 'The developmental origins of health and disease' that encompasses effects on the oocyte, foetus, infant and child.

The effect of maternal under-nutrition on the foetal kidney is an example of a developmental origin of disease. This effect was studied by Brenner who first proposed that intrauterine growth retardation impaired nephrogenesis (Brenner et al., 1988). Subsequently, reduced nephron number was confirmed in rats and humans exposed to intrauterine deprivation, and this reduction has been associated with reduced renal size. In Australian aborigines, it has been found that the reduced renal size is associated with higher blood pressures and albuminuria. It has been postulated that antenatal deprivation leads to a reduced number of nephrons whose glomeruli then hypertrophy to meet the challenge of reduced filtration area, but they are damaged in the process, eventually sclerosing and exaggerating the problem.

The mean renal lengths of children <5 years of age in Kilinochchi were significantly shorter than those reported from nourished children in India (Mathur et al., 1996). In the age groups 2–3, 3–4 and 4–5 years, the lengths were 6.42  + 0.85 vs 6.86 cm, 6.54 + 0.46 vs 7.01 and 6.70 + 0.51 vs 8.0 cm, respectively (p = 0.000 for each group). Extrapolating from those figures, the renal lengths in Kilinochchi could be seen to fall progressively from the Indian mean.

The reason for the progressive reduction in renal lengths in Kilinochchi is not clear. Nephrogenesis is essentially complete by 36 weeks gestational age and the kidney grows in subsequent size by hypertrophy of existing elements. Perhaps maternal under-nutrition and stress reduced the number of developing glomeruli and retarded the capacity of the remaining to enlarge. Perhaps postnatal under-nutrition interfered with that capacity to hypertrophy.

The slight reduction in male renal size in children >5 years of age in Kilinochchi (7.12 + 0.86 vs female 7.19 + 0.68, p = 0.66) may represent a vain attempt by future mothers to mitigate that inter-generational effect. In laboratory studies a sparing effect of female sex in conditions of moderate antenatal deprivation has been found, arguably due to the effect of female hormones on the foetus or due to a differing effect of stress on the placenta. This effect is lost under greater deprivation (Woods, 2007).
121.8

Longer Term Effects of Stunting and Wasting

The stunting and wasting of infants and children has acute and chronic effects. Severely underweight children have more than an eightfold risk of death, moderately underweight children a four- to fivefold greater risk and even mildly underweight children a two- to threefold risk compared with normal children (Behrman et al., 2004). As well as contributing to an estimated 2.2 million annual deaths and 21% of disability-adjusted life-years for children <5 years of age, under-nutrition may retard brain development, either by reducing exploratory play and social interaction in the formative period or by direct interference with neuronal development. Cognitive and behavioural impairment may result, reducing the 'adult health and human capital' of the next generation (Victora et al., 2008). In Sri Lanka, the effect of the reduction of such capital will increase the effect of political obstruction to the advancement of the Tamils.
121.9

Politics and Growth of Children

Compared to indices of under-nutrition from other prominent sites of conflict throughout the world, children under the 'silent' conflict in the Tamil tea estates and under the active conflict in the Tamil northeast have demonstrated leading rates of emaciation. The children in the tea estates also have a comparatively high rate of stunting. These results correlate negatively and positively with international publicity and policy.

Publicity of the conflict may have an indirect relationship to growth restriction. The Intifada in the West Bank and Gaza has been prominent in the international media but the rates of growth restriction are small compared with other current regions of conflict. The sparing effect of publicity is associated with greater involvement of the 'humanitarian assistance community' and its food aid. Such has been the extent of this assistance that almost half of Palestinian households are reported to have received food aid, with one-third of the population relying on aid for at least a quarter of its food budget (Palestine Central Bureau of Statistics, 2004).

The use of food aid as a lever for the achievement of foreign policy objectives by Western governments has positively affected public nutrition in certain regions of conflict. The incorporation of food aid into foreign policy is concluded, for example, to have prevented an increase in wasting of children in Kosovo in 1999, when its incidence was maintained in refugee camps at 2.4% by the intentional supply of food (Young et al., 2004).

In Afghanistan, the incorporation of food aid into the 'war on terror' appears to have maintained the percentage of children <–2SD for weight-for-height under 10% (WHO Global Database, 2009), though a recent survey in Kabul Province reports a prevalence of 13.6% (Mashal, 2009).

While there are positive results for some children involved in the 'war of terror', in that food aid may be assured, the appellation of 'terror' may condemn others to greater deprivation. Since the current 'global war on terror' began after the September 2001 bombings in New York, the definition of 'terrorist' appears to have broadened to include 'someone who opposes the established order…even if engaged in a restrained military campaign against an undemocratic, racist or repressive regime'. Consequently, there has been a change in morality: 'what the terrorist does is always wrong, what the counter-terrorist (the established order) has to do to defeat them is invariably, necessarily right' (Gearty, 2003). In this war on terror, as defined, the rights of children as obliged under the UN Convention are being judged secondary to proclaimed interests of national sovereignty.

The definition of terror has adversely affected the nutrition of children in the northeast of Sri Lanka. Proscribed as 'terrorist' by the international community, the military destruction of the LTTE since the abrogation of the Ceasefire Agreement in 2006 has been able to be pursued with little apparent regard for the children involved. As the population is now confined to 'displaced persons' camps to which access is denied to foreign aid organisations, the situation exemplifies that final problem of anthropometry of children under conflict – lack of permission to apply the scales.

Sri Lanka, however, demonstrates the worse fate for children when there is no publicity and no policy: when the children suffer under 'silent' conflict. This occurs in the tea estates where children appear to be more adversely affected than in any other conflict in the world. These reveal the pernicious effect of lack of interest in application of the scales.
121.10

Applications to Other Areas of Health and Disease

The restriction of renal length in children in Kilinochchi is a significant finding in the context of developmental origins of disease. Renal lengths fell progressively from the norm of Australian and Indian children, suggesting a proclivity to renal stunting which might be fundamental to the incidence of renal and cardiovascular disease in developing countries.
121.11

Practical Methods and Techniques

Measurements in the Sri Lanka studies were not performed in the strict manner advised by the World Health Organization; nevertheless, they were entered in the software of that organisation and compared with its international standards. Poverty precluded precision – an inherent problem in such research in places of greatest conflict. In Kilinochchi, there was only one cuff for the sphygmomanometer, one old set of scales which were calibrated with kilogram weights and a tape measure affixed to the wall rather than a stadiometer. Though the instruments of measurement were not ideal, the manner of examination was standard. Sonographic measurements of renal length were obtained with an ultrasonic scanner, HS 2000 (Honda Electrics Japan), and a 2.8–3.5 mHz probe.

In April 2006, the World Health Organization released standards based on surveys of the growth of children from 0 to 60 months of age which had occurred under optimal circumstances in six different countries from 1977 to 2003 (WHO, 2006). Their mothers were well nourished, healthy, did not smoke and the children were breastfed for at least 6 months. The standards were based on the belief that children from all races are genetically predisposed to grow to a similar extent under an optimal environment.

The new WHO standards were designed to show how children should grow, as compared to the earlier references produced by the National Center for Health Statistics, the Center for Disease Control and Prevention and WHO in 1978. These earlier references were based on how a cross section of American children did grow in the 1960s–1970s, many of whom were bottlefed. The earlier reference was useful for comparisons of individual and population growth and, until the WHO produces ideal growth standards for children older than 5 years, it will continue to be used for that group.

In 2006, the WHO standards were released in a software package that would allow the growth of an individual to be compared with the ideal and to be recorded for monitoring of progress. The accumulated data of measured individuals would allow the growth of a population to be expressed and compared with the ideal and with other populations.

Individual data of birth date, height and weight are entered in the software and ratios of height-for-age (H/A), weight-for-age (W/A), and weight-for-height (W/H) are calculated and compared with WHO standards.

The WHO values are expressed in Z scores with each Z representing one standard deviation (SD) from the mean. A score of 1Z thus represented 1SD (or 68.2%) from the mean; 2Z, 2SD (or 95.4%); and 3Z, 3SD (or 99.9%) from the mean. The WHO software will also display calculations of growth parameters of children aged under 5 years compared with the NCHS reference data. For children older than 5 years, all data are compared with the NCHS references. WHO recommends the use of Z scores for prevalence studies and for individual assessment because they better account for the distribution of measurements within a population.

Two definitions are commonly used to describe the extent of under-nutrition in a population. 'Global acute malnutrition' refers to the percentage of children with a weight-for-height (W/H) ratio below –2Z of the median and defines 'moderate deprivation'. 'Severe acute malnutrition' includes children with a weight-for-height ratio below –3SD. Children with moderate under-nutrition (<–2Z) warrant supplementary feeding. Those with severe deprivation (<–3SD) need therapeutic feeding.

Several problems emerge with the use of Anthro 2006 in situations of conflict. The first is the likely lack of standardised equipment. The second is the opportunity or permission to use it. The third is the presence of oedema in an under-nourished child which will increase apparent weight and underestimate the problem. The clinical presence of oedema should, therefore, cause the child to be diagnosed as 'severely affected' for epidemiological and therapeutic purposes.

The fourth is the discrepancy between the percentages reported under-nourished by the WHO standards compared to the NCHS reference tables. This is because the WHO standards are what children should be like. This greater prevalence of under-nutrition will mean feeding programmes for deprived children will need to be more extensive than suggested by calculations based on the earlier NCHS data. It has been reported that the numbers of children qualifying for supplementary feeding under the WHO standards may increase by 1.5–2.1 times (Seal and Kerac, 2007). Comparing the use of the WHO standard and the older NCHS reference expressed in percentage of the median, eight times more children were diagnosed as suffering from severe malnutrition in Niger (Isanka et al., 2009). In Darfur, the incidence of global acute malnutrition was increased by 14% and severe acute malnutrition was increased by 100% when based on WHO rather than NCHS references. In that project in Darfur, use of the WHO Z scores would have increased the number of children diagnosed as severely malnourished from 6800 to 30,000, adding an estimated $4.7 million to the costs of treatment of SAM, not including the cost of GAM (MMWR, 2009).

In Sri Lanka, a marked difference in the percentage of children affected by under-nutrition was found between the WHO standards and the NCHS references. In Kilinochchi, for wasting <5 years of age, 14.3% of children were <–3SD and 34.3 <–2SD according to WHO standards compared with 8.6 and 28.6% using NCHS reference. In the tea estates, for wasting <5 years, 14.1% were <–3SD and 43.6% <–2SD according to the WHO standards compared with 4.4 and 38.1%, respectively, using the NCHS references. In other words, the incidence of severe under-nutrition was under-reported by two to three times using the NCHS reference (Table

121.5

).

Table 121.5

Comparison of prevalence of under-nutrition according to WHO standards and NCHS references in Sri Lanka
|   | WHO <–3SD | WHO <–2SD | NCHS <–3SD | NCHS <2SD |
| --- | --- | --- | --- | --- |
| Kilinochchi | 14.3 | 34.3 | 8.6 | 28.6 |
| Tea estates | 14.1 | 43.6 | 4.4 | 38.1 |
A fifth problem with the new standards is the potential for confusion in the interpretation of published data. Parameters expressed according to the WHO standards cannot be accurately compared to those based on NCHS references. On the whole, the WHO incidence will be greater but the effect will be skewed according to the number of children of various ages included in the study. The discrepancy between the two standards is greatest at 60 cm in length of the child and then reduces and even reverses (but minimally) at greater lengths. There is, therefore, no reliable formula for comparison and particular note needs to be made of whether the parameters are based on WHO or NCHS standards.
121.12

Summary Points
In regions of conflict, growth may be interrupted by lack of food compounded by an excess of stress and disease.

The growth of individual organs is affected as well as the body as a whole.

There is an inter-generational effect of under-nutrition: small mothers produce small children who grow to be small adults, etc.

This inter-generational effect is basic to the concept of the 'developmental origins of health and disease'.

In the conflict in northeast Sri Lanka, Tamil children have been found to be severely wasted and stunted.

Moreover, their kidney length has been shown to have fallen progressively with age, perhaps revealing one of the causes of cardiovascular disease in adulthood in developing countries.

Children of Tamil labourers in the tea estates in central Sri Lanka have been found to be even more wasted and stunted than Tamil children in the northeast of that country.

The mothers of the children in the tea estates and the northeast have also been shown to be stunted and the low birthweight rate to be very high, particularly in the estates.

The wasting and stunting of the children of the northeast and the estates is worse than that reported from other current conflicts throughout the world.

The WHO database for anthropometry, Anthro 2006, allows comparison between individuals and communities with an ideal standard. It is very useful but has certain difficulties.
121.13

Key points
In regions of conflict, growth of children may be restricted by lack of food, compounded by an excess of stress and disease.

Organ development may be impaired, as well as linear growth. Under-development of the brain may result in cognitive and behavioural disturbance. Under-development of the kidney may predispose to cardiovascular disease.

Growth of children in regions of conflict is affected by the international political importance given to the conflict: growth in regions of 'silent' conflict is likely to be the most affected.
Notes
Acknowledgement
The authors gratefully acknowledge the secretarial assistance of Jennifer Binney.
Copyright information
© Springer Science+Business Media, LLC 2012