Abstract

Aging is associated with increased susceptibility to hypoxic/ischemic insult and declines in behavioral function which may be due to attenuated adaptive/defense responses. We investigated if diet-induced ketosis would improve behavioral performance in the aged rats. Fischer 344 rats (3- and 22-month-old) were fed standard (STD) or ketogenic (KG) diet for 3 weeks and then exposed to hypobaric hypoxia. Cognitive function was measured using the T-maze and object recognition tests. Motor function was measured using the inclined-screen test. Results showed that KG diet significantly increased blood ketone levels in both young and old rats. In the aged rats, the KG diet improved cognitive performance under normoxic and hypoxic conditions; while motor performance remained unchanged. Capillary density and HIF-1α levels were elevated in the aged ketotic group independent of hypoxic challenge. These data suggest that diet-induced ketosis may be beneficial in the treatment of neurodegenerative conditions.
Keywords
Normoxic Condition

Capillary Density

Hypoxic Exposure

Object Exploration

Object Recognition Test
These keywords were added by machine and not by the authors. This process is experimental and the keywords may be updated as the learning algorithm improves.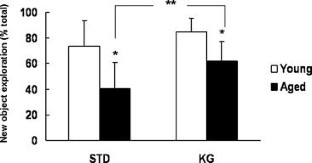 References
Prins ML (2008) Cerebral metabolic adaptation and ketone metabolism after brain injury. J Cereb Blood Flow Metab 28(1):1–16.

Puchowicz MA, Xu K, Sun X, Ivy A, Emancipator D, LaManna JC (2007) Diet-induced ketosis increases capillary density without altered blood flow in rat brain. Am J Physiol Endocrinol Metab 292(6):E1607–E1615.

Koppaka SS, Puchowicz, MA LaManna JC, Gatica JE (2008) Effect of alternate energy substrates on mammalian brain metabolism during ischemic events. Adv Exp Med Biol 614:361–370.

Puchowicz MA, Zechel JL, Valerio J, Emancipator DS, Xu K, Pundik S, LaManna JC, Lust WD (2008) Neuroprotection in diet-induced ketotic rat brain after focal ischemia. J Cereb Blood Flow Metab 28(20):1907–1916.

Chavez JC, LaManna JC (2002) Activation of hypoxia-inducible factor-1 in the rat cerebral cortex after transient global ischemia: potential role of insulin-like growth factor-1. J Neurosci 22(20):8922–8931.

Xu K, Sun X, Puchowicz MA, LaManna JC (2007) Increased sensitivity to transient global ischemia in aging rat brain. Adv Exp Med Biol 599:199–206.

Schulz D, Kouri C, Huston JP (2007) Behavior on the water maze platform: relationship to learning and open field exploration in aged and adult rats. Br Res Bull 74(4):206–215.

Xu K, Puchowicz MA, LaManna JC (2004) Renormalization of regional brain blood flow during prolonged mild hypoxic exposure in rats. Br Res 1027(1–2):188–191.

Pichiule P, LaManna JC (2002) Angiopoietin-2 and rat brain capillary remodeling during adaptation and deadaptation to prolonged mild hypoxia. J Appl Physiol 93(3):1131–1139.
Copyright information

© 2010 Springer Science+Business Media, LLC
About this paper
Cite this paper
Xu, K., Sun, X., Eroku, B.O., Tsipis, C.P., Puchowicz, M.A., LaManna, J.C. (2010). Diet-Induced Ketosis Improves Cognitive Performance in Aged Rats. In: Takahashi, E., Bruley, D. (eds) Oxygen Transport to Tissue XXXI. Advances in Experimental Medicine and Biology, vol 662. Springer, Boston, MA. https://doi.org/10.1007/978-1-4419-1241-1_9