Copper (Cu) has higher
conductivity
and resistance to
electromigration
(EM) than aluminum (Al) and has been the choice of the semiconductor industry for interconnecting metal in sub-100 nm devices. With rapidly
decreasing feature sizes
and more demand for circuit
speed
, low-
K
and passivation materials have been inserted with Cu-interconnects to address the additional
RC delay
reduction [
1
,
2
]. Unfortunately, as the thickness of the gate oxide becomes very thin because of the scaling down of channel length, quantum mechanical
tunneling
occurs for voltages below the Si/SiO
2
barrier height which is approximately 3.1 eV [
3
,
4
] (
Fig. 2.1
).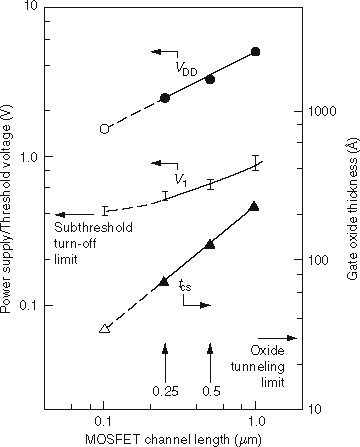 Keywords
Chemical Vapor Deposition 
Dielectric Material 
Atomic Layer Deposition 
Chemical Mechanical Polishing 
Plasma Enhance Chemical Vapor Deposition 
These keywords were added by machine and not by the authors. This process is experimental and the keywords may be updated as the learning algorithm improves.
Copyright information
© Springer Science+Business Media, LLC 2009