Creating Images with Peacock
Abstract
Peacock is a powerful effect construction application. Effects, as they are referred to in Aviary, are a process that alters the pixels in an image. Effects can range from simple color manipulation to distortions to complex pattern generators like the AutoPainter. These effects can be layered or connected into chains. Each effect in a chain adds its effect from the previous and passes the results to the next. Units called hubs produce effects in Peacock.
Hubs
are compositional units that perform one specific effect and have their own specific parameters (see
Figure 5-1
). For example, there is a hub that performs a blur effect and there is a hub that performs bilateral smoothing. Even though these two perform similar effects, their inner workings are much different, so each effect is contained in a hub with different parameters. Peacock's hubs are grouped into six different categories based on similar functions. These categories include Generators, Effects, Controllers, Resources, Blackboxes, and (User Interface) UI Elements.
Generator hubs
are hubs that generate an output image. You must always start a file with a Generator hub because it gives you resources.
Effect hubs
alter or manipulate the input.
Controller hubs
are utility hubs splitting inputs, outputs, orientation, and sizing. Resource hubs are imported images that can be used in a file.
Blackbox hubs
are precompiled Peacock files that are groups of hubs designed to be reused. These files are also used as Custom Filters in Phoenix.
UI Elements
are controls used with Blackbox hubs to add functionality. To create any effect imaginable, you can add any number of these hubs and connect them in an almost unlimited fashion.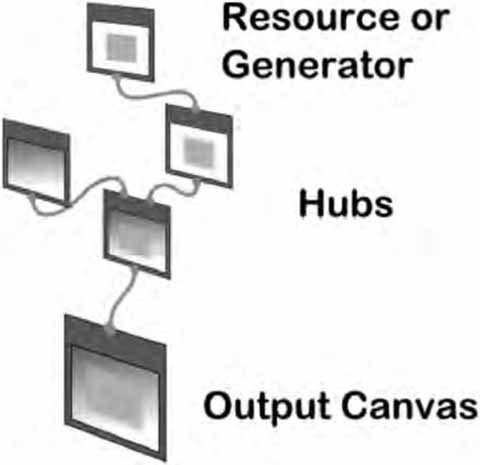 Keywords
Input Image 
Random Number Generator 
Connector Line 
Property Panel 
Foreground Color 
These keywords were added by machine and not by the authors. This process is experimental and the keywords may be updated as the learning algorithm improves.