Abstract
This book is about making projects with Kinect and Arduino, and one of the most direct ways of interfacing them is through Processing, a Java-based, open source programming language and IDE. You should be familiar with Arduino by now, so you will be glad to know that the Processing IDE much resembles Arduino's. In fact, the Arduino IDE was based on the Processing IDE (see Figure 3-1).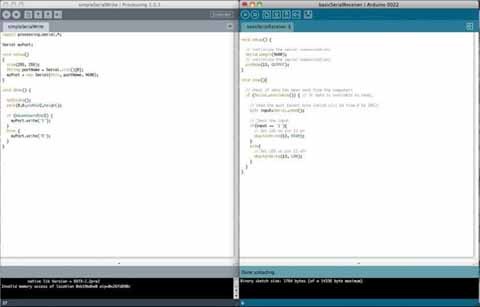 Keywords
Point Cloud 
Hand Gesture Recognition 
Hand Tracking 
Kinect Camera 
Processing Library 
These keywords were added by machine and not by the authors. This process is experimental and the keywords may be updated as the learning algorithm improves.
Copyright information
© Enrique Ramos Melgar and Ciriaco Castro Díez 2012