Kinect-Controlled Delta Robot
Abstract
This last chapter of the book will guide you through the process of building and programming your own Kinect-controlled delta robot (Figure 13-1). You will learn everything from the inverse kinematics of this specific kind of robot to the programming of the hand tracking routines and the process of translating the data from the virtual simulation into electrical pulses for the operation of the physical robot.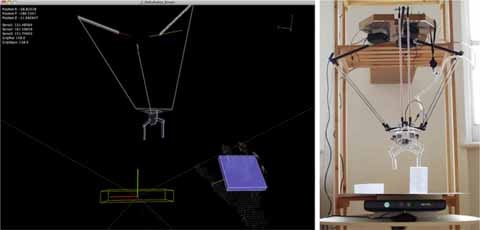 Keywords
Inverse Kinematic 
Servo Motor 
Parallel Robot 
Serial Communication 
Ball Joint 
These keywords were added by machine and not by the authors. This process is experimental and the keywords may be updated as the learning algorithm improves.
Copyright information
© Enrique Ramos Melgar and Ciriaco Castro Díez 2012