Complex Societies, Common Schools and Curriculum: Separate is not Equal
Abstract
This paper focuses on the issue of separate schooling. Diverse societies use schools to develop shared value systems, strengthen democratic engagements and provide better educational outcomes. However, in Europe, the United States, Australia and elsewhere groups of parents and communities have been invoking human rights claims to challenge the state, often successfully, to demand separate schools for their children or the right to send their children to a school of their choosing, irrespective of the consequences for society at large. Yet do such separate schools reflect an increased respect for the rights of minorities and a commitment to help them reach their full potential? Do they help remove marginalization and can they ever lead to the establishment of stable and peaceable communities? Or do they undermine societal commitments to intergroup harmony and perpetuate stereotypes, racism and ethnocentric thinking? Do they keep existing inequalities in place and deny young people the opportunities they need to become full-fledged members of society? It is argued here that regardless of location, separate schools are part of the problem, not the solution.
Keywords
Asylum Seeker 
Complex Society 
Multiple Intelligence 
Intercultural Education 
Separate School 
These keywords were added by machine and not by the authors. This process is experimental and the keywords may be updated as the learning algorithm improves.
Résumé
SOCIÉTÉS COMPLEXES, ÉCOLES COMMUNES ET PROGRAMME D'ÉTUDES ; LA SÉPARATION N'EST PAS L'ÉGALITÉ - Cet article se concentre sur la question de l'éducation séparée. Des sociétés diverses emploient les écoles pour développer des systèmes de valeur partagés, renforcer les engagements démocratiques et fournir de meilleurs résultats éducatifs. Pourtant, en Europe, aux États-Unis, en Australie et ailleurs, des groupes de parents et des communautés se sont réclamés des droits de l'homme pour défier l'état, souvent avec succès, pour exiger des écoles séparées pour leurs enfants ou le droit d'envoyer leurs enfants dans une école de leur choix, indépendamment des conséquences pour la société dans son ensemble. Cependant, de telles écoles séparées reflètent-elles un respect accru pour les droits des minorités et un engagement à les aider à atteindre leur plein potentiel? Aident-elles à supprimer la marginalisation et pourront-elles jamais conduire à l'établissement de communautés stables et pacifiques? Ou bien minent-elles les engagements sociaux à procéder à un regroupement harmonieux, perpétuant ainsi les stéréotypes, le racisme et la pensée ethnocentrique? Maintiennent-elles en place les inégalités existantes et refusent-elles aux jeunes les opportunités dont ils ont besoin pour devenir de véritables membres de la société? On soutient ici qu'indépendamment de leur emplacement, les écoles séparées sont une part du problème, non sa solution.
Zusammenfassung
KOMPLEXE GESELLSCHAFTEN, ALLGEMEINBILDENDE SCHULEN UND LEHRPLÄNE: GETRENNT IST NICHT GLEICH – Dieser Artikel befasst sich mit getrennter Beschulung. In den unterschiedlichsten Gesellschaften dient das Schulwesen dazu, gemeinsame Wertsysteme zu entwickeln, das demokratische Engagement zu stärken und bessere Lernergebnisse zu gewährleisten. Jedoch haben in Europa, den Vereinigten Staaten, Australien und andernorts Eltern und Gemeinden den Staat durch die Forderung in Bedrängnis gebracht, unter Berufung auf die Menschenrechte und oftmals mit Erfolg getrennte Schulen für ihre Kinder einzuklagen oder um das Recht zu streiten, ihre Kinder auf Schulen eigener Wahl zu schicken – ohne Ansehen der Konsequenzen für die Gesamtgesellschaft. Beweisen nun solche separaten Schulen eine besondere Respektshaltung gegenüber den Rechten von Minderheiten und das Bestreben, ihnen zum Erreichen ihres vollen Potentials zu verhelfen? Tragen sie zum Abbau von Ausgrenzung bei und können sie zur Einrichtung stabiler friedvoller Gemeinschaften führen? Oder untergraben sie die gesellschaftlichen Bemühungen um ein harmonisches Zusammenleben verschiedener Gruppen und schreiben bestimmte Stereotypen, Rassismus und ethnozentrisches Denken fest? Sorgen sie für die Aufrechterhaltung von Ungleichheit und verweigern jungen Menschen die Möglichkeit zur vollberechtigten Teilhabe am Gemeinwesen? Der Autor vertritt die Meinung, dass getrennte Beschulung ein Teil des Problems ist und nicht die Lösung.
Resumen
SOCIEDADES COMPLEJAS, ESCUELAS COMUNES Y PLANES DE ESTUDIO; SEPARACIÓN NO ES IGUALDAD – Este trabajo se centra en el tema de las escuelas separadas. Diversas sociedades usan las escuelas para desarrollar sistemas de valores compartidos, reforzar compromisos democráticos y ofrecer mejores resultados educativos. Sin embargo, en Europa, los Estados Unidos, Australia y cualquier otro sitio, grupos de padres y comunidades se han estado remitiendo a reivindicaciones de derechos humanos para instar al Estado, muchas veces con éxito, a exigir escuelas separadas para sus hijos u otorgarles el derecho de enviar a sus hijos a una escuela de su elección, pese a las consecuencias que esto pudiera tener a largo plazo para la sociedad. Entonces, ¿reflejan las escuelas separadas realmente un respeto incrementado de los derechos de minorías y el empeño por ayudarlas a aprovechar plenamente su potencial? ¿Ayudan a eliminar la marginalización y pueden, incluso, dar lugar a la creación de comunidades estables y pacíficas? ¿O socavan los compromisos de la sociedad en cuanto a armonía entre los grupos, perpetuando estereotipos, racismo y pensamiento etnocéntrico? ¿Mantienen en su lugar las desigualdades existentes y niegan a la gente joven las oportunidades que necesitan para ser miembros de la sociedad capaces de valerse completamente por sí mismos? En este trabajo, el autor argumenta que, independientemente del sitio, las escuelas separadas no son una solución, sino parte del problema.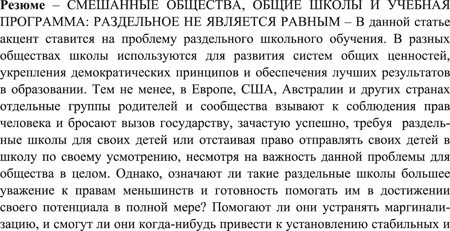 Copyright information
© Springer Science+Business Media B.V. 2008