Abstract
This paper reports a study that set out to test the personalization hypothesis in the domain of chemistry. E-learning environments were used in this study that were compulsory pre-laboratory activities, used to prepare students to carry out experiments in chemistry. Retention and transfer tests were conducted immediately after students had completed the pre-laboratory work and were used to investigate students' academic performance. Approximately 600 students took part in the project in semester 2, 2005 and about 800 participated in semester 1, 2008, as well as a small bridging course group in 2007. Each study covered a range of levels of prior knowledge within the domain. Characteristics of language background and gender were also taken into account.
Our findings revealed that the personalized group does not in general perform significantly differently from the non-personalized group. However, it appears that the different performance of personalized or non-personalized groups is dependent on prior knowledge of participants in the domain under study. If prior knowledge is weak, significant improvements have been found for personalized over non-personalized instruction.
Keywords
Academic Performance

Transfer Test

Online Module

Language Background

Chemistry Student
These keywords were added by machine and not by the authors. This process is experimental and the keywords may be updated as the learning algorithm improves.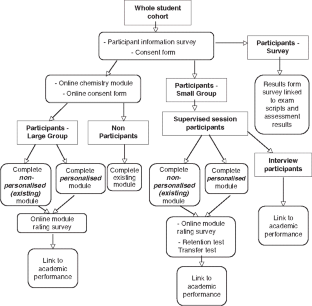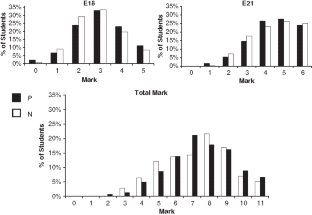 Abbreviations
BC: :

Bridging Course

CHEM1001:

Fundamentals of Chemistry 1A

CHEM1101:

Chemistry 1A

CHEM1901:

Chemistry 1A (Advanced)

CHEM1002:

Fundamentals of Chemistry 1B

CHEM1102:

Chemistry 1B

CHEM1902:

Chemistry 1B (Advanced)

ESB:

English-speaking background

HSC:

Higher School Certificate

N:

Non-personalized

NESB:

Non-English-speaking background

P:

Personalized

SID:

Student Identification Number
References
Mayer, RE and Moreno, R (2002) Aids to Computer-Based Multimedia Learning. Learn Instr 12:107–119.

Harp, SF and Mayer, RE (1998) How Seductive Details Do Their Damage: A Theory of Cognitive Interest in Science Learning. J Educ Psychol 90:414–434.

Moreno, R and Mayer, RE (2000) Engaging Students in Active Learning: The Case for Personalised Multimedia Messages. J Educ Psychol 92:724–733.

Moreno, R and Mayer, RE (2004) Personalised Messages That Promote Science Learning in Virtual Environments. J Educ Psychol 96:165–173.

Mayer, RE, Fennell, S, Farmer, L et alet al. (2004) A Personalisation Effect in Multimedia Learning: Students Learn Better When Words are in Conversational Styles rather than Formal Style. J Educ Psychol 92:389–395.

Kalyuga, S, Chandler, P and Sweller, J (1998) Levels of Expertise and Instructional Design. Hum Factors 40:1–17.

McNamara, D, Kintsch, E, Songer, NB et al.et al (1996) Are Good Texts Always Better? Interactions of Coherence, Background Knowledge, and Levels of Understanding in Learning from Text. Cognition Instruct 14:1–43.

Yeung, A, Jin, P and Sweller, J (1998) Cognitive Load and Learner Expertise: Split-Attention and Redundancy Effects in Reading with Explanatory Notes. Contemp Educ Psychol 23:1–21.

Kalyuga, S, Chandler, P and Sweller, J (2003) The Expertise Reversal Effect. Educ Psychol 38:23–31.

Sweller, J, van Merrienboer, JG and Paas, F (1998) Cognitive Architecture and Instructional Design. Educ Psychol 10:251–296.

Sweller, J (1999) Instructional Design in Technical Areas. ACER Press, Melbourne, Australia.
Acknowledgments
The authors would like to thank all University of Sydney students who agreed to participate in this study. Data collections described in this work were authorized by the University of Sydney Human Research Ethics Committee, project reference numbers 08–2005/4/8461.
Copyright information
© 2009 Springer Science + Business Media B.V.
About this chapter
Cite this chapter
Yeung, A., Schmid, S., George, A., King, M. (2009). Using the Personalization Hypothesis to Design E-Learning Environments. In: Gupta-Bhowon, M., Jhaumeer-Laulloo, S., Li Kam Wah, H., Ramasami, P. (eds) Chemistry Education in the ICT Age. Springer, Dordrecht. https://doi.org/10.1007/978-1-4020-9732-4_25