Abstract
Remote sensing has been used widely, and in many different ways, for wetlands. From simple wetland delineation and mapping to water body characterisation and the extraction of biophysical parameters, remote sensing images have provided useful results. Remote sensing offers synoptic and repetitive views of the same places on Earth. Additionally, remote sensors have been capturing long time series of images, with most sensors still fully active. This allows historical reconstruction of land cover changes and ensures future monitoring. However, several limitations exist and these must be taken into account when dealing with long time series of images. In this paper, we introduce the different remote sensing monitoring protocols adopted for Doñana marshlands, and present some results on mapping hydroperiod and flooding, water depth and turbidity with a multitemporal Landsat dataset (1975–2008). Interpretation of the results is allowing us to test the validity of actions proposed in the framework of the Doñana 2005 restoration project. We also present preliminary results from monitoring the spread of an alien species in Doñana.
Keywords
Landsat MSS

TM and ETM+

time series of images

density slicing

ground-truth

hydroperiod

water turbidity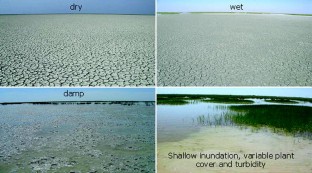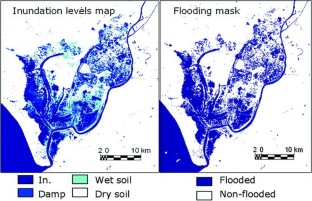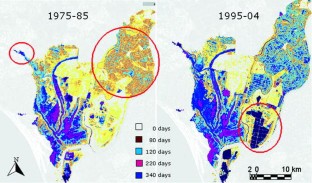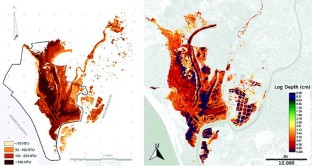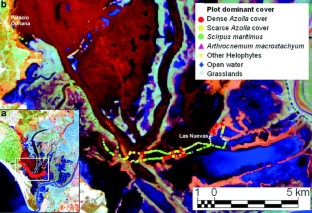 References
Ángel-Martínez MC (1994) Aplicación de la teledetección en la localización de superficies de agua. Unpublished CEDEX Technical Report, 120 pp

Baker C, Lawrence R, Montagne C, Patten D (2006) Mapping wetlands and riparian areas using landsat ETM+ imagery and decision-tree-based models. Wetlands 26:465–474

Barret EC, Curtis LF (1999) Introduction to environmental remote sensing, 3rd edn. London, Routledge 457 pp

Bustamante J, Pacios F, Díaz-Delgado R, Aragonés D (2009) Predictive models of turbidity and water depth in the Doñana marshes using Landsat TM and ETM+ images. J Environ Manage 90:2219–2225

Castaño S, Mejuto MF, Vela A, Quintanilla A, Ruiz JR (1999) Monitoring of wetlands evolution. In: Montesinos S, Castaño S (eds) Application of space techniques to the integrated management of river basin water resources (ASTIMwR). European Commission, Brussels, pp 27–49

Crist EP, Cicone RC (1984) A physically-based transformation of thematic mapper data: The TM Tasseled Cap. IEEE Trans Geosci Remote Sens GE-22:256–263

Díaz-Delgado R, Bustamante J, Pacios F, Aragonés D (2006a) Hydroperiod of Doñana marshes: Natural or anthropic origin of inundation regime? In: ESA & Ramsar Convention (eds) Proceedings of the 1st GlobWetland Symposium. 19–20 October, Frascatti, Italy

Díaz-Delgado R, Bustamante J, Aragonés D, Pacios F (2006b) Determining water body characteristics of Doñana shallow marshes through remote sensing. In: IGARSS 2006 (ed) IEEE international conference on geoscience and remote sensing symposium, July 31–August 4, Denver, pp 3662–3663

Domínguez Gómez JA (2002) Estudio de la calidad del agua de las lagunas de gravera mediante teledetección. PhD thesis, Alcalá de Henares, Universidad de Alcalá, 320 pp

Engman ET, Gurney RJ (1991) Remote sensing in hydrology. Chapman & Hall, London, 225 pp

Gardiner N, Díaz-Delgado R (2007) Trends in selected biomes, habitats and ecosystems: Inland waters. In: Strand H, Höft R, Strittholt J, Miles L, Horning N, Fosnight E (eds) Sourcebook on remote sensing and biodiversity indicators. Secretariat of the Convention on Biological Diversity, Montreal, pp 83–102

Kyu-Shun L, Tae-Hoon K, Yeo-Sang Y, Sang-Ming S (2001) Spectral characteristics of shallow turbid water near the shoreline on inter-tidal flat. Korean J Remote Sens 17:131–139

McFeeters SK (1996) The use of the Normalized Difference Water Index (NDWI) in the delineation of open water features. Int J Remote Sens 17:1425–1432

Ozesmi SL, Bauer ME (2002) Satellite remote sensing of wetlands. Wetlands Ecol Manage 10:381–402

Susskind J, Rosenfield J, Reuter D, Chahine M (1984) Remote sensing of weather and climate parameters from HIRS 2/MSU on TIROS-N. J Geophys Res Atmos 89:4677–4697
Acknowledgements
This study was funded by the Doñana National Park administration (Spanish Ministry of Environment) through the research project "Reconstruction of bird population dynamics during the last three decades", by the Spanish Ministry of Science and Education through the research project HYDRA (# CGL2006-02247/BOS) and by help from the National Environmental Remote Sensing Network (# CGL2007-28828-E/BOS). Doñana National Park and Natural Park provided permits for field work in protected areas with restricted access. A. Travaini, H. Le Franc, D. Paz, A. Polvorinos, C. Rodríguez, and I. Román helped with field work. J.C. Gilabert, J.L. Pecharromán, L. M. Campoy and P.L. Porta helped with image processing. The authors want also to thank Clive Hurford for reviewing the manuscript and for his suggestions to improve the readability of the chapter.
Copyright information
© 2010 Springer Science+Business Media B.V.
About this chapter
Cite this chapter
Díaz-Delgado, R., Aragonés, D., Ameztoy, I., Bustamante, J. (2010). Monitoring Marsh Dynamics Through Remote Sensing. In: Hurford, C., Schneider, M., Cowx, I. (eds) Conservation Monitoring in Freshwater Habitats. Springer, Dordrecht. https://doi.org/10.1007/978-1-4020-9278-7_31