Introduction
Hexaphenylethane,
1
, is interesting because all attempts to make it have failed, and its synthesis would represent the denouement to a historical saga and shed light on certain questions of theoretical interest.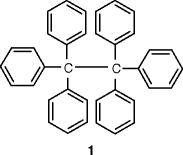 Keywords
Bond Dissociation Energy 
Silver Salt 
Molar Free Energy 
Cyclohexane Solution 
Calculated Vibrational Frequency 
These keywords were added by machine and not by the authors. This process is experimental and the keywords may be updated as the learning algorithm improves.
Copyright information
© Springer Science+Business Media B.V. 2008