Oligomers and Polymers of Carbon Dioxide and CO2/N2
Introduction
In Chapter 10 we considered oligomers and polymers of dinitrogen. Here we finish our look at covalent aggregates of small, stable molecules by examining dimers, trimers etc. of carbon dioxide and of carbon dioxide with dinitrogen. We will consider primarily the molecules shown in Figs.
11.1
and
11.2
. These species are interesting in themselves, because of their structural novelty; they are also interesting in comparison with the nitrogen compounds of Chapter 10, with regard to investigating the effect of replacing ―N=N― units by ―C(=O)O―. Like the N
2
allotropes of Chapter 10, these putative compounds are based wholly or partly on another small, common, stable molecule, CO
2
. Unlike the all-nitrogen compounds they do not seem to have been examined explicitly as potential high-energy density materials. Some carbon oxides which are not stoichiometrically CO
2
oligomers will also be peripherally mentioned.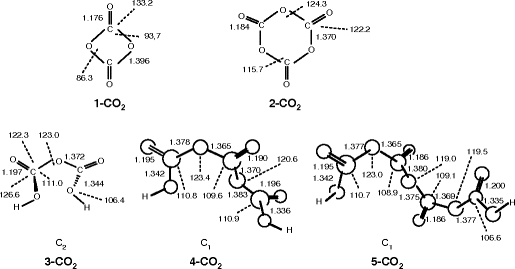 Keywords
Reaction Energy 
Relative Minimum 
Cyclic Transition State 
Real Molecule 
Imaginary Vibration 
These keywords were added by machine and not by the authors. This process is experimental and the keywords may be updated as the learning algorithm improves.
Copyright information
© Springer Science+Business Media B.V. 2008