Eco-Restoration Impact on Fishery Biodiversity and Population Structure in Chilika Lake
Abstract
Chilika lake is not only the largest coastal wetland and a much focused Ramsar Site of international importance but also a unique fragile brackishwater ecosystem of distinction being regarded as the store house of rich living aquatic resources and hot spot of biodiversity
(Fig. 1)
. With unique ecological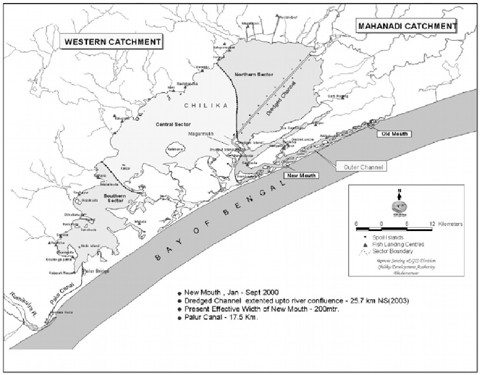 characters resulting mostly from two antagonistic hydrological processes (freshwater inflow and sea water influx), Chilika has no parallel in the tropical world. The economic valuations of Chilika ecosystem has clearly established the importance of fisheries resources which accounts for more than 71% of the total valuation of the lake ecosystem (
Ritesh Kumar, 2003
), apart from providing food and livelihood securities to nearly 0.20 million people depending on lake fisheries. Fisheries of Chilika lake has been supporting the state economy and contributing to the earning of valuable foreign exchange to the extent of about 200 million rupees. However, fisheries of the lake suffered the most during the critical eco-degradation phase (last two decades) both in terms of yield and biodiversity status due to continued natural changes and unabated anthropogenic pressure.
Keywords
Northern Sector 
Crab Species 
Inventorisation Survey 
Shellfish Fauna 
Chilika Lagoon 
These keywords were added by machine and not by the authors. This process is experimental and the keywords may be updated as the learning algorithm improves.
Copyright information
© Capital Publishing Company 2008