Andy Warhol's Velvet Underground
Part of the Insights book series
Abstract
This essay is a reading which articulates two texts: a record,
The Velvet Underground and Nico
, and a body of images produced by Andy Warhol. It is a critical analysis of two unwritten (i.e. not written) texts and a demonstration of the mechanisms by which they come to stand for a still unwritten text: New York City in the late 1960s. Let's go back to Roland Barthes. In 'Myth Today', an essay which inhabits very much the same cultural environment as the texts under discussion here, he produced the following diagram:
1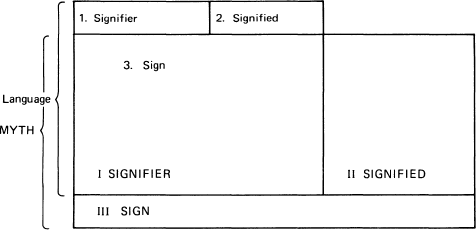 To use this ancient rebus marks me out, I suppose, as a fellow-traveller from an antique land but what I want to say about the Velvet Underground, Warhol's art and New York City will, to some extent, disclose the avant-garde's necessary dependence on tradition, within the economic processes of the art world. In this case an elementary semiotic model which permits a generalisation of the particular operations of the text may not be out of place.
Keywords
York City 
American Study 
Mass Culture 
Sunday Morning 
Race Riot 
These keywords were added by machine and not by the authors. This process is experimental and the keywords may be updated as the learning algorithm improves.
Copyright information
© the Editorial Board, Lumiere (Co-operative) Press Ltd 1990