Driving of spindle primary endings by static β axons
Abstract
The motor innervation of mammalian spindles is mainly provided by specific fusimotor or γ motoneurones, whose axons supply intrafusal muscle fibres exclusively. In addition, some spindles also receive collateral branches of motor axons supplying ordinary or extrafusal muscle fibres. These axons, termed skeleto-fusimotor or β. axons comprise the same two functional types, dynamic and static, that exist among γ axons. The two types of β axons differ not only by the actions they exert on spindle endings (
Fig 1
) but also by their conduction velocities, by their intrafusal distribution and by the type of muscle fibres composing the extrafusal portion of their motor units. Dynamic β axons have conduction velocities under 85m/s and innervate intrafusal bag
1
fibres as well as extrafusal type 1 fibres whereas static β axons, with conduction velocities above 85m/s, are distributed to intrafusal chain fibres and extrafusal type 2 fibres (see references in Laporte et al. 1981). In the cat peroneus tertius muscle, 30% of motor units are innervated by β axons, of which one third are dynamic and two thirds are static (Jami et al. 1982).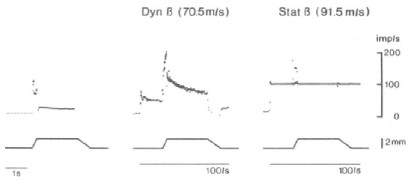 Keywords
Motor Unit 
Conduction Velocity 
Instantaneous Frequency 
Muscle Spindle 
Muscle Length 
These keywords were added by machine and not by the authors. This process is experimental and the keywords may be updated as the learning algorithm improves.
Copyright information
© I. A. Boyd and M. H. Gladden 1985