Atherosclerosis, the main cause of heart attacks, stroke, and gangrene of the extremities, is a disease of the medium and large arteries. It often begins early in life and progresses in a series of stages throughout adulthood. This progression, as shown in Fig.
6.1
, begins with some form of injury or disturbance to the normal flow of blood near the arterial wall, and with an accumulation of cholesterol in that region. These two abnormalities combine to produce inflammation.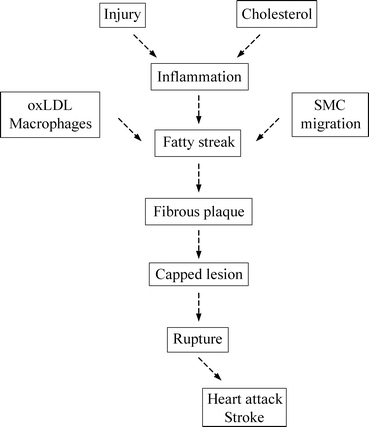 Keywords
Shear Stress 
Tight Junction 
Wall Shear Stress 
Fluid Shear Stress 
Leukocyte Rolling 
These keywords were added by machine and not by the authors. This process is experimental and the keywords may be updated as the learning algorithm improves.
Copyright information
© Springer Science+Business Media, LLC 2009