Extracorporeal Membrane Oxygenation for Cardiac and Pulmonary Indications: Improving Patient Safety
Abstract
Extracorporeal membrane oxygenation (ECMO) is used for patients with the most severe acute respiratory distress syndrome (ARDS) or for cardiopulmonary assist due to cardiogenic shock, cardiac arrest, or low cardiac output after cardiac surgery. Most centers use modified cardiopulmonary bypass (CPB) devices without automated control or safety concepts
(Fig. 1)
, although there is no continuous observation by a perfusionist on the intensive care unit (ICU).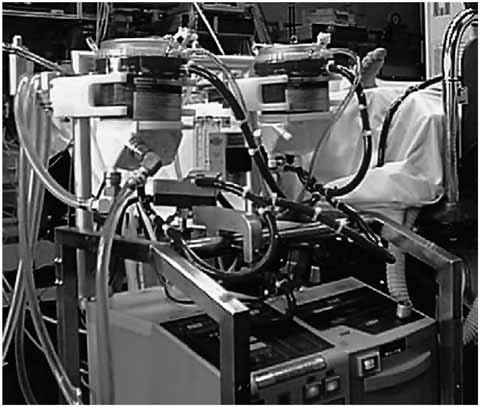 Keywords
Extracorporeal Membrane Oxygenation 
Blood Pump 
Safety Concept 
Plasma Leakage 
ECMO Circuit 
These keywords were added by machine and not by the authors. This process is experimental and the keywords may be updated as the learning algorithm improves.
Copyright information
© Springer-Verlag Berlin Heidelberg 2009