Abstract

The greater and lesser occipital nerves originate from the dorsal ramus of second cervical spinal nerve (C2) and innervate the posterior portions of the scalp. Occipital nerve blocks are useful for any surgery involving the scalp and are also useful for diagnosing and treating certain headaches. Anesthesia of these nerves is useful in children; however, the nerves are small and often difficult to visualize under ultrasound. Techniques for occipital nerve block are discussed in this chapter.
Keywords
Greater occipital nerve block

Lesser occipital nerve block, scalp block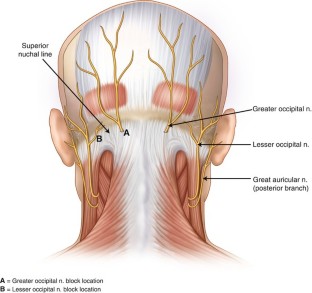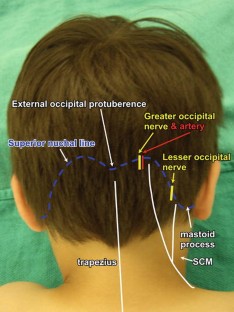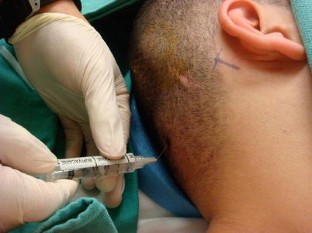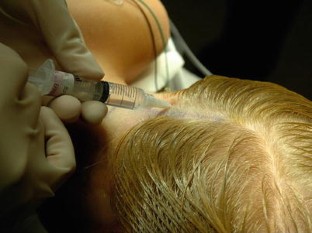 References
Becser N, Bovim G, Sjaastad O. Extracranial nerves in the posterior part of the head. Anatomic variations and their possible clinical significance. Spine. 1998;23:1435–41.

Greher M, Moriggl B, Curatolo M, et al. Sonographic visualization and ultrasound-guided blockade of the greater occipital nerve: a comparison of two selective techniques confirmed by anatomical dissection. Br J Anaesth. 2010;104:637–42.
Suggested Reading
Belvis D, Voronov P, Suresh S. Head and neck blocks in children. Tech Reg Anesth Pain Manag. 2007;11(4):208–14.

Suresh S, Polaner DM, Cote CJ. Regional Anesthesia. In: Cote CJ, Lerman J, Anderson BJ, Eds. 5th ed. Philadelphia: WB Saunders; 2013. p. 835–79.

Suresh S, Voronov P. Head and neck blocks in infants, children, adolescents. Pediatr Anesth. 2012;22(1):81–7.
Copyright information

© 2016 Springer Science+Business Media New York
About this chapter
Cite this chapter
Tsui, B.C.H. (2016). Occipital Nerve Blocks. In: Tsui, B., Suresh, S. (eds) Pediatric Atlas of Ultrasound- and Nerve Stimulation-Guided Regional Anesthesia. Springer, New York, NY. https://doi.org/10.1007/978-0-387-79964-3_17
DOI: https://doi.org/10.1007/978-0-387-79964-3_17

Publisher Name: Springer, New York, NY

Print ISBN: 978-0-387-79963-6

Online ISBN: 978-0-387-79964-3

eBook Packages: MedicineMedicine (R0)