When it comes to trying to achieve a particular set of desired food safety related behaviors or a certain level of food safety performance, food safety professionals often turn to training as the solution. In fact, training (along with testing and inspections) is one of three of the most commonly used tools in the field of food safety. This point is illustrated by a survey of nationally recognized food safety experts in the United States (Sertkaya, Berlind, Lange, & Zink, 2006). This panel of experts was asked to list the top ten food safety problems in the United States. As shown in Fig.
5.1
, of all the potential problems this panel has listed, deficient employee training was listed as number one.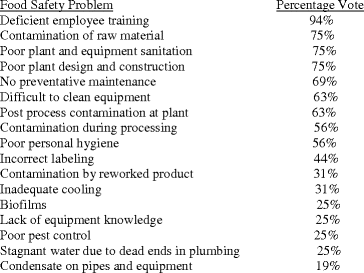 Keywords
Food Safety 
Food Allergy 
Foodborne Disease 
Individual Case Study 
Diverse Workforce 
These keywords were added by machine and not by the authors. This process is experimental and the keywords may be updated as the learning algorithm improves.
Copyright information
© Springer Science+Business Media, LLC 2009