Abstract
Glycogenosis type III (GSD III) is an autosomal recessive disorder due to amylo-1,6-glucosidase deficiency. This disease causes limit dextrin storage in affected tissues: liver, skeletal muscles, and heart in GSD IIIa and only liver in GSD IIIb. Cardiomyopathy is quite frequent in GSD IIIa with variable severity and progression of manifestations. It is not clear if diet manipulation may interfere with cardiomyopathy's progression. Recent case reports showed improvement of cardiomyopathy following a ketogenic diet.
Two siblings (girl and boy), 7- and 5-year-old, both affected with GSD IIIa, developed severe and rapidly worsening left ventricular hypertrophy in the first years of life, while treated with frequent diurnal and nocturnal hyperproteic meals followed by orally administered uncooked cornstarch. Subsequently they were treated with high-fat (60%) and high-protein (25%), low-carbohydrate (15%) diet. After 12 months exertion dyspnea disappeared in the girl and biochemical blood tests, cardiac enzymes, and congestive heart failure markers improved in both (CK 3439→324, 1304→581 U/L; NT-proBNP 2084→206, 782→135 pg/mL, respectively); ultrasound assessment in both patients showed a relevant reduction of the thickness of interventricular septum (30→16, 16→11 mm, respectively) and left ventricle posterior wall (18→7, 13→8 mm, respectively) and an improvement of the outflow obstruction. A diet rich in fats as well as proteins and poor in carbohydrates could be a beneficial therapeutic choice for GSD III with cardiomyopathy. Future research is needed to confirm the beneficial effect of this treatment and to design treatment strategies with the aim to provide alternative source of energy and prevent glycogen accumulation.
Keywords
Amylo-1,6-glucosidase

Cardiac hypertrophy

GSD III

High-protein diet

Ketogenic diet

Low-carbohydrate diet
Competing interests: None declared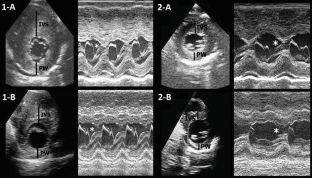 References
Austin SL, Proia AD, Spencer-Manzon MJ, Butany J, Wechsler SB, Kishnani PS (2012) Cardiac pathology in glycogen storage disease type III. JIMD Rep 6:65–72

Dagli AI, Zori RT, McCune H, Ivsic T, Maisenbacher MK, Weinstein DA (2009) Reversal of glycogen storage disease type IIIa-related cardiomyopathy with modification of diet. J Inherit Metab Dis Suppl 32(Suppl 1):S103–106

Fuehrlein BS, Rutemberg MS, Silver JN et al (2004) Differential metabolic effects of saturated versus polyunsaturated fats in ketogenic diets. J Clin Endocrinol Metab 89:1641–1645

Kishnani PS, Austin SL, Arn P et al (2010) Glycogen storage disease type III diagnosis and management guidelines. Genet Med 12:446–463

Sentner CP, Calistan K, Vletter WB, Smit GPA (2012) Heart failure due to severe hypertrophic cardiomyopathy reversed by low calorie, high protein dietary adjustments in a Glycogen Storage Disease type IIIa patient. JIMD Rep 5:13–16

Valayannopoulos V, Bajolle F, Arnoux JB et al (2011) Successful treatment of severe cardiomyopathy in glycogen storage disease type III with d,l-3-hydroxybutyrate, ketogenic and high-protein diet. Pediatr Res 70(6):638–641
Acknowledgments
We gratefully acknowledge the family and the wonderful children; the head of the Department of Pediatrics, Prof. Andrea Biondi; the nurses of the Pediatric Dept in San Gerardo Hospital; and the secretary of the Rare Metabolic Diseases Unit, Mrs. Vera Marchetti. We also acknowledge Prof. Giuseppe Vallar for his useful suggestions and Fondazione Pierfranco e Luisa Mariani for their generous financial support to our clinical activity.
Additional information
Communicated by: Jean-Marie Saudubray
Appendices
Compliance with Ethics Guidelines
Conflict of Interest
Alessandra Brambilla, Savina Mannarino, Roberta Pretese, Serena Gasperini, Cinzia Galimberti and Rossella Parini declare that they have no conflict of interest.
Informed Consent
All procedures followed were in accordance with the ethical standards of the responsible committee on human experimentation (institutional and national) and with the Helsinki Declaration of 1975, as revised in 2000. Informed consent was obtained from patients' parents for including their children in the study.
Details of the Contributions of Individual Authors
All authors are involved in the planning of the different treatment and conception and design of the paper; Alessandra Brambilla analyzed the data and prepared a draft of the article; Savina Mannarino analyzed and interpreted the cardiac data and revised the draft critically; Serena Gasperini, Roberta Pretese, and Cinzia Galimberti revised the draft critically; and Rossella Parini revised the draft critically, accepts full responsibility for the work and/or the conduct of the study, had access to the data, and controlled the decision to publish.
Copyright information
© 2014 SSIEM and Springer-Verlag Berlin Heidelberg
About this chapter
Cite this chapter
Brambilla, A., Mannarino, S., Pretese, R., Gasperini, S., Galimberti, C., Parini, R. (2014). Improvement of Cardiomyopathy After High-Fat Diet in Two Siblings with Glycogen Storage Disease Type III. In: Zschocke, J., Gibson, K., Brown, G., Morava, E., Peters, V. (eds) JIMD Reports, Volume 17. JIMD Reports, vol 17. Springer, Berlin, Heidelberg. https://doi.org/10.1007/8904_2014_343
DOI: https://doi.org/10.1007/8904_2014_343

Received:

Revised:

Accepted:

Published:

Publisher Name: Springer, Berlin, Heidelberg

Print ISBN: 978-3-662-44577-8

Online ISBN: 978-3-662-44578-5

eBook Packages: MedicineMedicine (R0)