Abstract
Background: Type 1 hereditary tyrosinaemia (HT1) is a rare metabolic disorder caused by an enzymatic defect in the metabolism of the amino acid tyrosine. Primary treatment for HT1 is nitisinone (Orfadin) in conjunction with a low-tyrosine/phenylalanine diet. The appropriate use of nitisinone medication and adhering to specialist diet is thus central to the successful management of HT1.
Objective: To date, no published research has examined adherence (to medication and diet) and factors that influence it in the context of HT1. This study aimed to ascertain the extent to which non-adherence is a problem in this patient population, identify perceived barriers and facilitators to treatment adherence and explore the role of illness beliefs and treatment perceptions in treatment management.
Methods: The present study used a combination of qualitative interviews and quantitative survey methods with patients, carers and health-care professionals (HCPs).
Results: This study found adherence to medication to be high amongst patients with HT1 and their carers who administer it. However, adherence to diet was reported to be much lower. A key factor influencing adherence to diet was age, with adolescents reported to have most difficulty adhering.
Conclusions: The results indicate that adherence to dietary instructions becomes more problematic as children with HT1 grow older. Greater involvement in managing their condition and in their consultation at an early stage may have a positive impact on future adherence by increasing their investment and understanding of the treatment regime, potentially making adherence rates more stable and less influenced by moving through different life stages.
Keywords
Illness Perception

Dietary Recommendation

Dietary Instruction

Illness Belief

Amino Acid Tyrosine
These keywords were added by machine and not by the authors. This process is experimental and the keywords may be updated as the learning algorithm improves.
Competing interests: None declared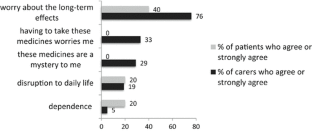 Notes
1.

Comité de Protection des Personnes – ethics committee in France.

2.

Comité consultatif sur le Traitement de l'Information en matière de Santé – a consultative committee specialising in health which gives advice to the data protection committee for medical projects.

3.

Commission nationale de l'informatique et des libertés – data protection committee.

4.

The French physician organisation.
References
Broadbent E, Petrie KJ, Main J, Weinman J (2006) The brief illness perception questionnaire. J Psychosom Res 60:631–637

Dean AJ, Walters J, Hall A (2010) A systematic review of interventions to enhance medication adherence in children and adolescents with chronic illness. Arch Disease Child 95:717–723

Gale NK, Heath G, Cameron E, Rashid S, Redwood S (2013) Using the framework method for the analysis of qualitative data in multi-disciplinary health research. BMC Med Res Methodol 13:117. doi:10.1186/1471-2288-13-117

Horne R, Weinman J (2002) Self-regulation and self-management in asthma: exploring the role of illness perceptions and treatment beliefs in explaining non-adherence to preventer medication. Psychol Health 17:17–32

Horne R, Weinman J, Hankins M (1999) The beliefs about medicines questionnaire: the development and evaluation of a new method for assessing the cognitive representation of medication. Psychol Health 14:1–24

Hutchesson A, Bundey S, Preece MA, Hall SK, Green A (1998) A comparison of disease and gene frequencies of inborn errors of metabolism among different ethnic groups in the West Midlands, UK. J Med Genet 35:5

Kroenke K, Spitzer RL, Williams JB (2003) The Patient Health Questionnaire-2: validity of a two-item depression screener. Med Care 41:1284–1292

Kroenke K, Spitzer RL, Williams JB, Monahan PO, Löwe B (2007) Anxiety disorders in primary care: prevalence, impairment, comorbidity, and detection. Ann Intern Med 146:317–325

Masurel-Paulet A, Poggi-Bach J, Rolland MO, Bernard O, Guffon N, Dobbelaere D, Sarles J, de Baulny HO, Touati G (2008) NTBC treatment in tyrosinaemia type I: long-term outcome in French patients. J Inherit Metab Dis 31:81–87

Nunes V, Neilson J, O'flynn N, Calvert N, Kuntze S, Smithson H et al (2009) Clinical guidelines and evidence review for medicines adherence: involving patients in decisions about prescribed medicines and supporting adherence. National Collaborating Centre for Primary Care and Royal College of General Practitioners, London, p 364

O'Cathain A, Thomas K (2006) Combining qualitative and quantitative methods. Qual Health Care 3:102–111

Orphanet (2007) Tyrosinemia type 1. http://www.orpha.net/consor/cgi-bin/Disease_Search.php?lng=EN&data_id=3494

Petrie KJ, Perry K, Broadbent E, Weinman J (2012) A text message programme designed to modify patients' illness and treatment beliefs improves self-reported adherence to asthma preventer medication. Br J Health Psychol 17:74–84

Richie J, Spencer L (1994) Qualitative data analysis for applied policy research. In: Burgess RABA (ed) Analysing qualitative data. Routledge, London, pp 173–194

Sabaté E (2003) Adherence to long-term therapies: evidence for action. World Health Organization, Geneva

Salema NEM, Elliott RA, Glazebrook C (2011) A systematic review of adherence-enhancing interventions in adolescents taking long-term medicines. J Adolesc Health 49:455–466

Sherbourne CD, Stewart AL (1991) The MOS social support survey. Soc Sci Med 32:705–714

Sniderman King L, Trahms C, Scott C (2006) Tyrosinemia type 1. SourceGeneReviews™[Internet]. Seattle (WA): University of Washington, Seattle

SOBI (2010) NTBC Study: Swedish Orphan AB Report No. 2000 010 02

Wisse RP, Wittebol-Post D, Visser G, van der Lelij A (2012) Corneal depositions in tyrosinaemia type I during treatment with Nitisinone. BMJ Case Rep. doi:10.1136/bcr-2012-006301
Acknowledgements
The authors would like to acknowledge the involvement of Sarah Carter and Vanessa Cooper for their support in the analyses of the research data.
Additional information
Communicated by: Francois Feillet, MD, PhD
Appendices
Disclaimer
The views expressed in this article are those of the authors and do not represent an official position of the institution or funders associated. The work represented in this article was carried out independently from the funding source.
Source of Support
This work was conducted with funding from Sobi, Swedish Orphan Biovitrum AB, Stockholm.
Take-Home Message
Patients with HT1 and their carers need greater support adhering to the low tyrosine/phenylalanine diet necessary for successful management of this condition, through education and increased involvement in consultations.
Compliance with Ethics Guidelines
The submitting authors have circulated the article and secured final approval of the version to be peer-reviewed from all co-authors prior to article submission. We can also conclude:
Absence of previous similar or simultaneous publications.

That all authors have inspected and approved the manuscript.

That all authors have made a substantial contribution to the work (all authors should have been involved in (a) conception and design, or analysis and interpretation of data, and (b) drafting the article or revising it critically for important intellectual content).

All authors have agreement to submission.
Conflict of Interest
Dr Sumaira Malik, Dr Sinead NiMhurchadha, Dr Christina Jackson and Dr Lina Eliasson PhD are all employed by Atlantis Healthcare, which received funds from Swedish Orphan Biovitrum AB to carry out this project.
Professor John Weinman has received consulting fees from Swedish Orphan Biovitrum AB, to carry out this project and attend scientific meetings.
Dr Sandrine Roche has received Professor Weinman is also a part time employee of Atlantis Healthcare. Support from Swedish Orphan Biovitrum AB, to attend scientific meetings and to carry out data collection for this study in France.
Professor John H. Walter has received support from Swedish Orphan Biovitrum AB, to attend scientific meetings.
Informed Consent
All procedures followed were in accordance with the ethical standards of the responsible committee on human experimentation (institutional and national) and with the Helsinki Declaration of 1975, as revised in 2000 (5). Informed consent was obtained from all patients prior to inclusion in the study.
Details of the contributions of individual authors:
SM: study conception and design, data collection, analysis and interpretation and drafting of the manuscript. SNM: data collection, analysis and interpretation and drafting of the manuscript. CJ and LE: data interpretation and critical revision of the manuscript. Prof JW: study conception and design and critical revision of the manuscript. SR: data collection and critical revision of the manuscript. JW: data collection and critical revision of the manuscript. All authors gave final approval of the version to be published.
Copyright information
© 2014 SSIEM and Springer-Verlag Berlin Heidelberg
About this chapter
Cite this chapter
Malik, S. et al. (2014). Treatment Adherence in Type 1 Hereditary Tyrosinaemia (HT1): A Mixed-Method Investigation into the Beliefs, Attitudes and Behaviour of Adolescent Patients, Their Families and Their Health-Care Team. In: Zschocke, J., Baumgartner, M., Morava, E., Patterson, M., Rahman, S., Peters, V. (eds) JIMD Reports, Volume 18. JIMD Reports, vol 18. Springer, Berlin, Heidelberg. https://doi.org/10.1007/8904_2014_337
DOI: https://doi.org/10.1007/8904_2014_337

Received:

Revised:

Accepted:

Published:

Publisher Name: Springer, Berlin, Heidelberg

Print ISBN: 978-3-662-44862-5

Online ISBN: 978-3-662-44863-2

eBook Packages: MedicineMedicine (R0)