Abstract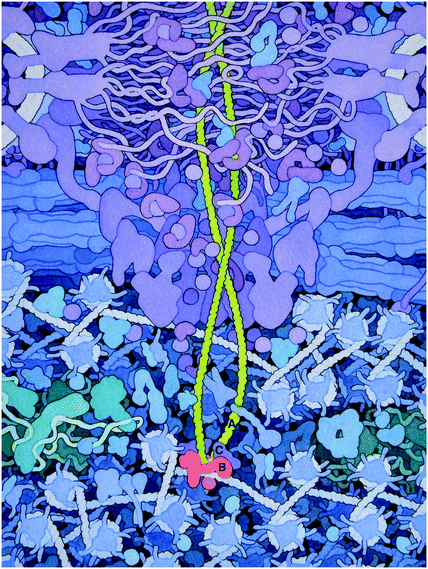 Multimeric HIV-1 integrase (IN) plays an essential, multifunctional role in virus replication and serves as an important therapeutic target. Structural and biochemical studies have revealed the importance of the ordered interplay between IN molecules for its function. In the presence of viral DNA ends, individual IN subunits assemble into a tetramer and form a stable synaptic complex (SSC), which mediates integration of the reverse transcribed HIV-1 genome into chromatin. Cellular chromatin-associated protein LEDGF/p75 engages the IN tetramer in the SSC and directs HIV-1 integration into active genes. A mechanism to deregulate the productive interplay between IN subunits with small molecule inhibitors has recently received considerable attention. Most notably, allosteric IN inhibitors (ALLINIs) have been shown to bind to the IN dimer interface at the LEDGF/p75 binding pocket, stabilize interacting IN subunits, and promote aberrant, higher order IN multimerization. Consequently, these compounds impair formation of the SSC and associated LEDGF/p75-independent IN catalytic activities as well as inhibit LEDGF/p75 binding to the SSC in vitro. However, in infected cells, ALLINIs more potently impaired correct maturation of virus particles than the integration step. ALLINI treatments induced aberrant, higher order IN multimerization in virions and resulted in eccentric, non-infectious virus particles. These studies have suggested that the correctly ordered IN structure is important for virus particle morphogenesis and highlighted IN multimerization as a plausible therapeutic target for developing new inhibitors to enhance treatment options for HIV-1-infected patients.
Keywords
Dime Interface 
Strand Transfer 
Prototype Foamy Virus 
Catalytic Core Domain 
Bury Surface Area 
These keywords were added by machine and not by the authors. This process is experimental and the keywords may be updated as the learning algorithm improves.
Abbreviations
IN

Integrase

PIC

Preintegration complex

SSC

Stable synaptic complex

NTD

N-terminal domain

CCD

Catalytic core domain

CTD

C-terminal domain

LEDGF

Lens epithelium-derived growth factor

IBD

Integrase-binding domain

ALLINI

Allosteric integrase inhibitors

LEDGIN

LEDGF-IN Inhibitor

NCINI

Non-catalytic integrase inhibitor

tBPQAs

tert-butoxy-(4-phenyl-quinolin-3yl)-acetic acids

INLAIs

Integrase-LEDGIN allosteric inhibitors

INSTI

Integrase strand transfer inhibitor

RAL

Raltegravir

EVG

Elvitegravir

DTG

Dolutegravir

RNP

Ribonucleoprotein complex

2-LTR

2-long terminal repeat

HTRF

Homogeneous time-resolved fluorescence

SAXS

Small-angle X-ray scattering

PFV

Prototype foamy virus

MVV

Maedi–visna virus

BSA

Buried surface area

FRET

Förster resonance energy transfer

DLS

Dynamic light scattering

HTS

High-throughput screening
Notes
Acknowledgments
This work was supported by NIH grants AI062520, AI110310 and GM103368 (to M.K), and AI097044 and AI110270 to J.K.
Copyright information
© Springer International Publishing Switzerland 2015